7 Back-to-School Tips to Help Manage an Uncertain Autumn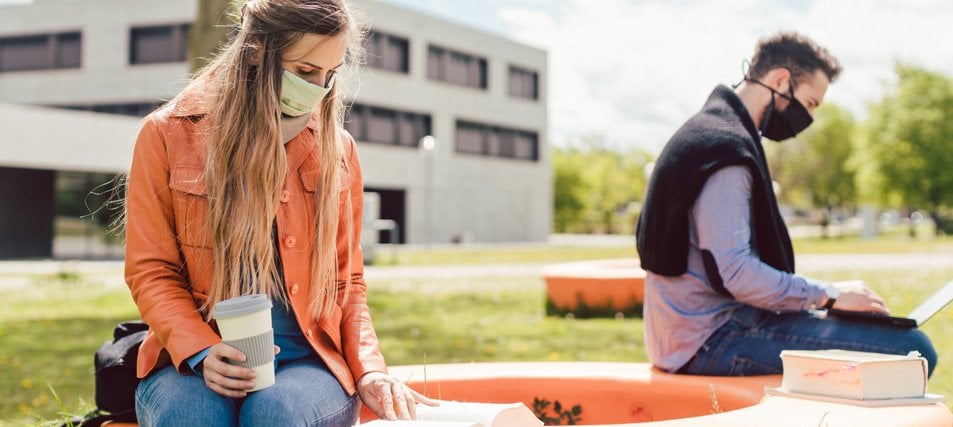 For many students, going back to school to this fall may be a constantly changing landscape with many unknowns. While you might find yourself pivoting from in-person to online classes or vice versa during the first weeks or months of the 2020-2021 school year, you can still set yourself up for success. Here are some ways to prepare for "back-to-school," no matter what your situation holds.
1. Set up Your Learning Space
Whether it's a dorm room on a college campus—or your bedroom at your parents' house---setting up your room for online learning and effective studying is critical. Experts suggest setting up a designated area of your room devoted only to studying, having proper lighting that isn't too bright or too dim, eliminating noise and distractions with noise-canceling headphones, and stocking your learning space with not only school supplies but healthy snacks.
For some inspiration on creating your ideal work space, check out:
2. Prep for College Prep
One way to cope with the Coronavirus pandemic is to stay focused on your future—and on what you want your life to look like once the pandemic ends. For high school students, this means keeping up your grades and maintaining your focus on college prep. Here are some resources to help you stay on track.
3. Create a Daily Routine
Time management experts agree that having a daily routine is important—especially if you are learning from home. Start thinking about what that routine might look like once school starts, including how much time to devote to studying each day. The tutors at PrepScholar have posted some guidelines for creating a daily schedule for distance learning.
4. Plan Ways to Socialize
Connecting socially is important for your mental health. You might find that you need to be proactive to maintain your social connections and reach out to others, especially if you are learning from home. Consider creating an online study group or invite friends to take part in a regularly scheduled virtual meet-up. One suggestion: consider hosting an online video watch party.
If you are starting freshman year of college online, you might be especially concerned about making friends. You are not alone. Check in with the student activities department or residential life department at your college. Clubs are recruiting and finding ways to meet virtually. Many sororities and fraternities are continuing to recruit pledges either in person or remotely depending on the rules at their campus, according to the National Panhellenic Conference.
This discussion thread from In the Know.com provides some insight and advice from current and former college students about making friends online.
For more ways to socialize and reach out to others during the coronavirus—and for some entertaining videos, visit Seize the Awkward.
5. Practice for the SAT and ACT
If your back-to-school plans include taking the SAT or ACT, you have more SAT and ACT test dates to choose from, and more opportunities to practice.
Join Khan Academy on YouTube on August 8 for SAT National Practice Day. The Khan Academy team and SAT student ambassadors will guide you through a full-length online practice test and give away prizes. Contact Khan Academy for more information and to RSVP.
Also, the ACT has released a free downloadable guide: Preparing for the ACT Test, which includes a full-length practice test as well as test-taking strategies.
6. Review Your (and Your Parents') College Budget
Regardless of your financial circumstances, it's important to be on the same page with your parents about how you will pay for college—and if your financial situation has changed during the economic downturn, it's even more critical to have this discussion.
College financial aid experts recommend that students have the "money talk" with their parents as soon as possible during their junior year of high school. It's not an easy discussion to have or to initiate. For tips, see How to Talk with Your Parents About Paying for College.
Your money talk might include college loans and how much loan debt you and your family are willing to take on to pay for college. A new tool from the Consumer Financial Protection Bureau (CFPB) helps students and families understand their financial aid offers and evaluate how much debt they can afford.
7. Get a "back-to-school" lunchbox and find ways to eat healthy
What says "back-to-school" better than a stylish, new or retro lunch box? It can be a great conversation starter no matter where you are eating lunch.
As for what to put in that lunch box, check out these easy and healthy recipes for college (and high school) students.
The tips, recommendations, and resources above are just suggestions. We recommend you adapt the list to your situation. We hope you enjoy your college or high school experience wherever it takes you in the fall!
For the latest information about the Coronavirus, visit the CDC website.