How to Spend Less in College - During and After COVID-19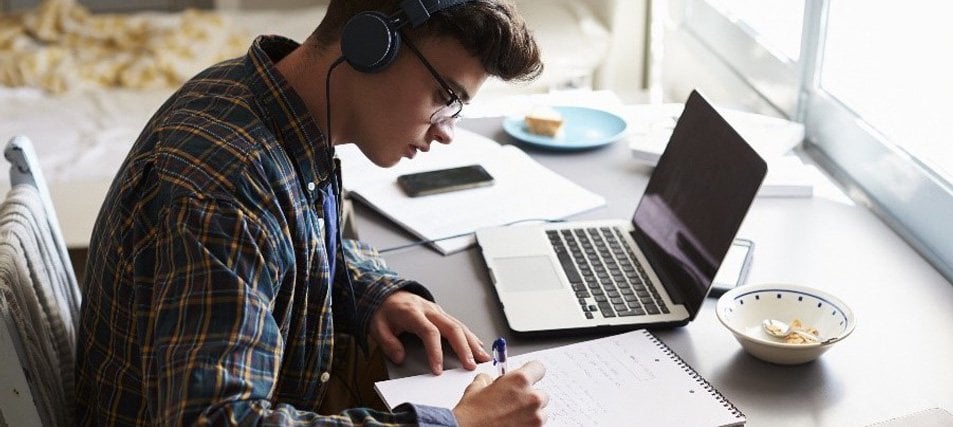 What will your freshman year of college be like? The future is still uncertain. But one thing is for sure--whether you are distance learning from home, attending college classes on campus, or some combination of the two, it's likely that you will be on a tight budget. Here are some tips for spending less in college that will apply to life during and after COVID-19.
1. Don't own a car
One of the biggest expenses for students—regardless of whether they are learning online or on campus—is a car. The cost of car payments, maintenance, insurance, and parking will quickly drain your spending money.
Even when you return to campus, avoid buying or leasing a car if you can. When it is safe to do so, use public transportation or ride-share services or get a scooter or bicycle, or walking.
2. Limit eating out and food delivery services
It's possible to eat healthy on a budget in college. If you picked up some new culinary skills during the pandemic, these can save you money. Making food at home is less expensive than services like Uber Eats or having food delivered from a restaurant.
When you return to campus, choose the most economical meal plan offered and use it. Or, if you are preparing your own meals, find a reasonably-priced market or food co-op (just don't shop when you are hungry). Try to keep eating out and ordering-in to a minimum.
3. Bargain-shop for textbooks
Compare prices for used textbooks, eTextbooks, or rental textbooks before purchasing new books from the campus bookstore. Purchase your books early, keep books in good condition, and resell them as soon as the term is over. Check your college's library to see if any of your textbooks are available to borrow or use.
4. Use your student I.D.
Many businesses (particularly those in and around college towns) will offer student discounts. Even if the business doesn't advertise these discounts, always inquire about them just in case.
5. Get a part-time job or side hustle
Working and earning money while you are in school can be helpful, even if you're working only a few hours a week. While finding work is more challenging during the pandemic, opportunities still exist. Consider getting a part-time job at an essential business, such as a grocery store, bank, food-delivery service, or pharmacy. Or consider babysitting for parents who work in essential jobs or who need help while they work from home.
Look into remote "work-from-home" jobs like proofreading and transcription. Some students take online surveys for businesses, researchers or political organizations.
6. Use credit cards wisely
Limit credit card use to necessary or emergency purchases that you can afford to pay off each month. Do not exceed your credit limit and make sure you pay at least the minimum payment due on time every month to avoid late fees. Consider a debit or prepaid card with a fixed spending limit instead of a credit card that will charge you interest on unpaid balances.
7. Sell the stuff you no longer use
If you have good-quality clothing, sports equipment, musical instruments, and furniture, there's a chance someone will be willing to buy it. Consider selling your items on eBay, Poshmark and other online retailers selling used items. Consider putting the cash you earn into a savings account or an emergency fund for unexpected expenses.
8. Set a savings goal
Perhaps you want a new phone, or to save some money. Setting some money aside each month toward your goal will not only help you achieve it but will also motivate you to keep your spending under control.
9. Start repaying your student loans
You do not have to wait until after you graduate to start paying down your student loan. It might sound impossible to contribute to a savings account and student loan payments when you are a college student on a limited income. However, even paying less than $100 a month will help you get used to making monthly payments and will gradually reduce your debt.
Sticking to a college budget and controlling your spending are skills that will serve you well in life -- no matter how you spend your first year as a college student.
This article was adapted from 8 Ways to Stretch Your College Dough on CollegeData.com.