Julian

- Dartmouth College - Class of 2021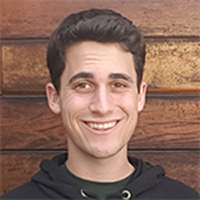 "I convinced myself that applying for an Early Decision was the only way I could get into a top school. But after applying ED, I immediately regretted it."
Hometown: Redondo Beach, CA
High School: Public
GPA: 3.94/4.33 (weighted)
SAT: 1470
Major: Undeclared
Goals: Get a great education, study abroad, become fluent in French
Finding "my perfect fit" seemed nearly impossible, especially when, to avoid heartbreak, I wouldn't allow myself to get attached to any one school.
Summer

Productivity

Procrastination
I pledged that I would spend the summer before senior year researching colleges and writing my personal statement. As quick as I could say the word "procrastination" the summer was almost over and I had made little progress. Without knowing my major, the type of academic program, or even the size of school I wanted, I was lost.
Touring Boston's many institutions helped me get a better sense of what I wasn't looking for. Boston University made me realize I didn't want a large school, Wesleyan confirmed my lack of interest in a tiny school, and Northeastern helped me see that an urban campus wasn't for me. While I saw a few schools I enjoyed, I didn't feel a true connection with any of them.
Then I toured Yale and it absolutely blew me away. I loved the campus, the architecture, the small class sizes, the shopping period for courses, and the institution's academic flexibility. Knowing the odds of admittance were slim, I didn't allow myself to become too attached, and instead looked for what I liked about Yale in other schools. Duke and Northwestern, along with Yale, became my top choices.
How many schools? How many essays?
I was dead set on applying to my reach schools--and there were a lot of them. Suggestions to "keep a balanced list" had me adding a proportional amount of target and safety schools I had little interest in. Soon my list had ballooned to twenty-five schools. I was going to have to write a lot of essays.
With a browser history bursting with "College Essays that Actually Worked!!!!!!" and full weekends dedicated to writing, I attempted to write a personal statement to match my perfectionist standards. Each essay just didn't feel good enough, and my constant comparisons to works online further emphasized that my writing was trash. I ended up writing five fully completed personal statements, each on a different topic.
ED = Extreme Dread
I convinced myself that the only way I could get into a top school was by applying Early Decision. By the time I had completed a personal statement that I liked, the ED deadlines for most of my schools had passed, except for Washington University in St. Louis: my fourth choice. I liked WashU but didn't love it. Yet I submitted my ED application anyway—and I immediately regretted it. Part of me felt I was selling myself short by not even trying to gain admittance into my top choices. In the ensuing month, I experienced huge waves of anxiety and dread. Finally, the decision arrived. I was deferred—and overjoyed!
A Clear Winner
My denials from Yale, Duke, and Northwestern were not as joyous. Rejections and acceptances continued to roll in after that, but my mood quickly became locked in a steady neutral. Each decision, acceptances and rejections alike, was thoroughly unfulfilling: an unexpected consequence of applying to schools I was not fully committed to. This mindset continued up until a certain Big Green email came through my inbox: my acceptance to Dartmouth!
Dartmouth hadn't been a top choice (becoming attached to another Ivy was not high on my list), and so I hadn't extensively researched it. But when I did, it was clear that it was perfect: small class sizes, an outdoorsy environment, a tight-knit community, a wide breadth of opportunities, and a flexible quarter system perfect for an undeclared student like myself. I had finally found my fit! Attending the college's accepted students weekend confirmed that choosing Dartmouth was the right decision.
My ups and downs
My biggest up was finding out that my girlfriend also got accepted into Dartmouth. And the biggest down was watching her accept an offer she couldn't refuse from Duke.
What I learned
Although I wouldn't wish this amount of work on my worst enemy, writing five personal statements helped me better understand what I had to contribute to each college and led me to a deeper understanding of what I was actually looking for in higher education.

I added too many colleges to my list that I wasn't fully committed to and at the same time, I wouldn't allow myself to get too attached to the colleges I really liked. This mindset drained the joy out of the process--especially the process of receiving my acceptances.
The money factor
I received a no-loan, grant-based aid package from Dartmouth that covers nearly all expenses. My family and I will pay about 13 percent of the total cost, minus additional outside scholarships.
My advice
If you get writer's block while developing your personal statement, try working on your supplements instead. Writing the shorter essays first helped me create ideas for the more in-depth prompts. Also, I definitely recommend writing more than one complete personal statement. You can turn the writing you don't use into supplements.

Most of all, don't apply for a binding early decision unless you are absolutely sure you want to attend that school. Nothing is worth the anxiety of feeling trapped in the consequences of a wrong decision.

And, although it's hard, try not to compare yourself (or your essays) to others. This was the cause of the majority of my stress.
Read More Student Stories:
| | | |
| --- | --- | --- |
| | Rayael - UNC Charlotte "I applied to schools left and right in fear of not getting accepted anywhere. When I got all my acceptance letters back, my brain froze, and I realized I had no clue where I really wanted to go." | |
| | Hannah - University of Richmond "I had convinced myself for so long that Duke was 'my' school, I felt that I couldn't change my mind -- even if it wasn't the best academic or social fit." | |