Rayael

- University of North Carolina - Charlotte - Class of 2024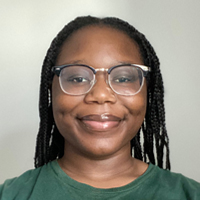 "I applied to schools left and right in fear of not getting accepted anywhere. When I got all my acceptance letters back, my brain froze, and I realized I had no clue where I really wanted to go."
Hometown:

Raeford, NC

High School:

Public
High School GPA: 2.93/3.6 (weighted)
ACT: 21
Major: Biology
Goals:

Figure out what my best skills are and to step out of my comfort zone.
I did not start my college search like most prospective students. I was not looking for anything specific. I didn't have a dream school. I just knew that I needed to apply to colleges because not going to college was not an option. So, I applied to all the colleges I knew about in my state that had my major and hoped that I would get accepted to one.
Doubts about getting in
UNC-Charlotte and East Carolina were at the top of my list, but I thought I hadn't done anything special enough to be considered for these schools -- like starting a club or being class president or receiving an award. Plus, my ACT score was one point below the standard required to get in. I knew students who did much better than me on the ACT and/or had higher GPAs who were not accepted, so I felt certain that I was not going to be accepted either.
I attended an early college high school that allowed me to take classes at a local community college and graduate with a high school diploma and an associate degree. I hoped that would show my promise with being able to balance high school classes, extracurricular activities, and college classes. Still, I wanted a back-up plan in case I wasn't accepted, so I applied to six other schools.
Each college had different aspects that I liked. For instance, UNC-Pembroke and Wingate had affordable tuition. East Carolina had a strong pre-med program. North Carolina A&T was an Historically Black College, UNC-Greensboro embraced diversity, West Carolina and Queens were intimate and small, and UNC-Charlotte was big and spread out.
Accepted! Now what?
I did not expect to get accepted to every college I applied to. It felt amazing and my self-confidence skyrocketed! Now I had too many choices and I didn't know what to base my decisions on. My brain froze, and I realized I had no clue where I really wanted to go.
It took me almost three months to decide. Fortunately, all the schools on my list were relatively close to home, so I toured almost all of them until COVID-19 happened and campuses closed.
Visiting campuses, though, didn't make my decision easier. When I imagined myself on different campuses, I could always think of something that I didn't like. For example, when I visited UNC, it was nice, but it was bigger than I expected, and I worried about how far my classes might be from each other.
Looking to the future
Almost every day I'd do a virtual tour to question if I could really see myself at one of these schools. Then, I started to think more about how each college would help me after graduation and with my transition to adulthood. I researched their programs, graduation rates, and employment rates.
UNC-Charlotte stood out. It seemed to understand how students' interests might change and that as young adults we might not be 100% sure about what we want to do in the future. Their Hire-A-Niner program gives students access to internships, jobs, and co-ops inside and outside of their specific major. I liked the idea of having this flexibility to develop new skills and find out what I enjoy doing. I waited until the day before the "Intent to Enroll" was due to make my final decision. I felt it in my gut to choose University of North Carolina at Charlotte.
What I learned
Your essay does not have to be about something grand. An essay was not required for all the schools on my list. I submitted one at schools where it was "optional" for that extra edge. I chose to write about overcoming my fear of flying and how after I overcame my fear, I became more of a risk taker inside and outside of school. I struggled writing it at first because I didn't think it was "important enough" -- it wasn't about a big event or a sad story. But I guess it worked.
The Money Factor
UNC-Charlotte is allowing me to waive certain fees, such as the housing deposit, and is graciously giving me grants that cover about 38% of the tuition. I have a parent who served in the military, which gives me the opportunity to use the GI Bill, which should cover most of the tuition including books and fees. I am working this summer and applying for scholarships. So far, I have received scholarships covering about 12% of my college education.
My advice
Get help from others.

The most helpful thing to me throughout the whole application process was other people, mostly friends and family, who were able to direct me to someone who had either gone to college or gone to the specific college I was applying to. The person was able to tell me about his or her experiences with the application and admission process and what I should expect or do to stand out.
Do your research before you apply.

Do your research and find out if a school fits your needs and personality before you put it on your application list. Consider small and big things, like class size, distance from home, tuition cost — and most important, your academic dreams.
Read More Student Stories:
| | | |
| --- | --- | --- |
| | Nicolas - Emory University "Each college had different positives and negatives and none of them were the perfect match for me." | |
| | Stanley - Vanderbilt University "Since I was mostly navigating the college admissions process on my own, I learned to trust my intuition to lead me to universities that were the right fit." | |