Jacob

- Princeton University - Class of 2027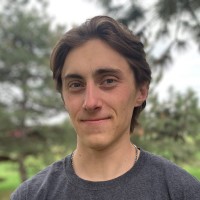 "Do in-depth research about programs, clubs and activities specific to your interests. If you can't find a plethora of enticing opportunities, it may not be worth the time and money to apply."
Hometown:

Morrison, CO

High School: Public
GPA: 4.0/4.65 (weighted)
SAT: 1540
Extracurriculars:

Research intern, Colorado School of Mines Chemistry Department; JV and varsity hockey, alternate team captain; Model UN; freshman orientation team leader; youth hockey coach; math club, chess club, Colorado Mineral Society; rock tumbling; owned landscaping business.

Major: Chemical Engineering
Goals: Graduate school or job in the chemical industry; conduct research on porous materials.
Like many of my high-school peers, my college admissions experience was a roller coaster. After being rejected by two of my dream schools, I planned to attend one of my safeties: the University of Delaware. UD had a lot to offer, and I was excited by the thought of going there. I thought my college journey had ended. However, I was too quick to settle.
A Three-Way Tie
I wanted a college with an excellent chemical engineering program, club hockey, a rowing team, and undergraduate research opportunities. The University of Pennsylvania, Massachusetts Institute of Technology, and Princeton University were all tied for number-one because they met all of my criteria.
I applied to Penn early decision to hopefully reap the rewards of its higher early decision acceptance rate. MIT didn't have a binding early admission program, so I applied early action. I applied to Princeton regular decision because its single-choice early action option didn't allow me to apply early to other private colleges.
My fourth choice was the University of Delaware. UD is ranked a top-five university in chemical engineering and met many of my criteria (a club hockey team, rowing, far from home). It also had an honors college which had benefits such as smaller class sizes and very nice dorms.
My Early Decision Strategy Fails
When I was denied early decision from Penn, then deferred and denied by MIT, I was flat-out disappointed. I had no idea where I could have gone wrong in my applications. After that, I had low expectations for Ivy Day, when I would hear from Princeton. In the meantime, I had been admitted to University of Delaware with a generous $68,000 merit scholarship and I attended UD's accepted students' day.
Finding Fit at U-Delaware
UD did a great job of making its accepted students' day feel personalized — all admitted students were separated by major and given a brief class with typical course content. In my class, I was surrounded by unique people who were just as interested in learning — and in chemical engineering — as I was. Afterwards, we were given a tour of the fascinating chemical engineering department building.
Despite UD being a large state school with ~ 20,000 students, after my tour I was no longer intimidated by its size. As I learned more about the university, including that it offered a 4+1 BS/MMSE program where I could earn a master's degree in materials science in just one additional year, I became increasingly comfortable with the idea of going there. I felt UD's engineering program was comparable to those of MIT and Penn, with similar student outcomes (high paying jobs at large chemical companies and a large proportion attending grad school).
Fade to Black – and Orange
On Ivy Day, I was expecting to be denied by Princeton, but, just as miraculous as Princeton's run to the Sweet Sixteen earlier that month, I was admitted! I was shocked, then ecstatic. I thought my choice would be a no-brainer, but at first, I felt a little bummed about turning down UD, the generous merit scholarship, and the possibility of attending a 4+1 master's program.
Yet, I didn't want to miss out on the advantages of attending Princeton — including the chance to conduct research as an undergraduate. At Princeton, this is a guaranteed opportunity because research is a requirement with a mandatory senior thesis. At UD, current students told me that they often had to compete with graduate students for the time and attention of professors. Getting research opportunities at UD might require me to win a lab spot over a graduate student, which is a tall task.
Princeton's dedication to the undergraduate experience made my decision clear. I am thrilled to join the class of 2027 at Princeton!
What Helped Me Stand Out to Princeton and Other Colleges
I think that my research extracurricular at the Colorado School of Mines helped me stand out. It was a competitive internship open to high school juniors in my school district. Working with graduate students in a true research setting is not something that many undergraduates have the opportunity to experience, let alone high school students.
My College Essays
My essay was based on the Common Application prompt "Describe a topic, idea, or concept you find so engaging that it makes you lose all track of time." I wrote about my hobby of rock tumbling and my internship at the Colorado School of Mines. I related scientific research and rock tumbling with two key components of my character: perseverance and attending to precision.
In my supplemental essays, I wrote about my prior research and how I would like to continue it with specific professors at Princeton. I felt it would be shallow to just list professors with research I found interesting. Instead, I explained my specific fit for the university based on the professor's research and how my own experiences may complement their lab.
My Interview with Princeton
My Princeton interview was simply a conversation over Zoom with a graduate student. The interviewer began by asking about my school, hobbies, and goals. The conversation then branched off from there. I think to do well in an interview, it is important to know how to talk about yourself. I made sure that I could discuss my extracurriculars and interests in detail. I also spoke about what interested me at Princeton to illustrate that I was knowledgeable about the university.
The Money Factor
My parents are paying for all of my college costs, but I will need to generate my own spending money, which I will cover by working part-time during school. I also just started working nearly full time this summer in a local sandwich shop to save up cash in case I am not able to find a part-time job that fits my schedule.
My advice
Do in-depth research about programs, clubs, and activities specific to your interests. That's how I found out about the Princeton Materials Institute and the minor in materials science, for example. Because these things truly excited me, I could mention them in my essays and interview. The best sources for specific programs like these are college websites and the course handbook for your major.
Look at student outcomes to identify strong academic programs in your major. After I looked at rankings, I evaluated the quality of various university engineering programs by student outcomes — the types of jobs graduates get and how many go to graduate school. Most schools have a comprehensive annual report or website about what their alumni do after graduation.
Only apply to colleges that you are extremely excited about and that you could see yourself attending. If you can't find a plethora of enticing opportunities when you research the college, it may not be worth the time and money to apply.
Don't be afraid to apply to reach schools! Being accepted to a top university is possible!
How CollegeData Helped Me on My Road to College
CollegeData helped me with college research, estimating my chances of admission, and understanding concepts like "net price." The College Search tool logically ordered statistics about universities and allowed me to make specific searches. The college profiles compiled important data about colleges that are difficult to find together in one place, and College Chances helped me estimate my admission chances at different schools, which was fun — and reminded me that being accepted to a top university is in fact possible.