Everything You Need to Know About the Common App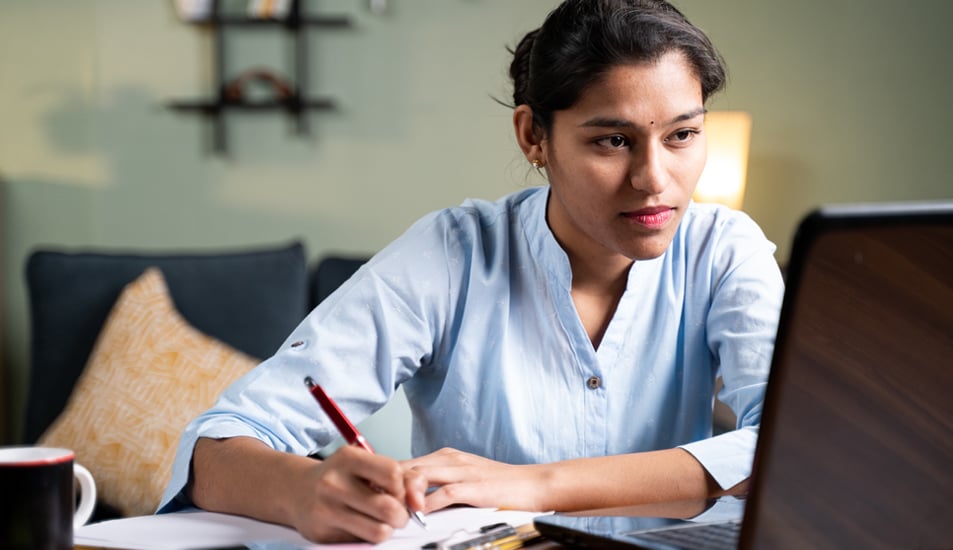 The journey towards a college degree starts with selecting and applying to various schools and universities, often more than one. Here are some tips for using the Common Application to apply to multiple colleges.
According to the College Board, most college counselors recommend that high school students fill out and submit five to eight college applications, each of which can have different requirements for essays, testing, transcripts, and recommendations. Keeping track of these details, as well as the application deadlines for each college, can be challenging. Even after submitting your applications, it's not uncommon to wonder if you filled them out completely.
The good news is that a free application service exists that can help make applying to college easier, and it is called the Common Application or the Common App. In this article, we'll explain what the Common App is, its benefits, and how to use it.
What Is the Common Application?
In 1975, 15 colleges got together to simplify the application and admission process. The result was the Common Application, a single application that students could send to multiple colleges.
Over the years, the Common App has evolved into an application platform and college admissions hub where students can research various colleges, find financial aid and scholarships, access university resources, find virtual mentors, and navigate their entire college application journey. A staggering 6.6 million applications were submitted through the Common App platform by more than 1 million students in 2021-2022 alone.
Which Colleges and Universities Accept the Common App?
Today, more than 1,000 colleges and universities accept the Common Application, including the Ivy League schools and some international institutions. While not every school accepts the Common App, at present, students can apply to universities in all 50 states and 20 countries through this platform.
How Can I Access the Common App?
Accessing the Common Application platform is easy and free for all students. Simply go to the Common App website or access it through the website of any of the colleges that accept it. Most colleges provide a link to the platform on their admissions or "how to apply" page. Students must pay the application fees required by the colleges or apply for a fee waiver.
When you enter the Common App, you will be asked to create a new account or log in. When you create your account, you'll need to identify yourself as a first-year student, transfer student, education professional, parent, or another adult. This helps the Common App adjust the platform to your needs.
How to Fill out the Common App
The Common App provides a user-friendly interface for students to apply or transfer to universities and colleges. Below, we outline the main steps to filling out the Common App.
1. Create a List of Universities and Colleges
Within the Common Application, students can access information about many colleges they are interested in or thinking about applying to. The platform provides links to the websites and virtual tours of colleges that accept the Common App to make it easy to see what the campus looks like and review academic offerings and majors all in one place. You can add colleges to your Common App "My Colleges" list as you learn more about them.
2. UNDERSTAND EACH COLLEGE's REQUIREMENTS
Each college's application has its own requirements. Some colleges require the submission of multiple transcripts, one or more recommendation letters, SAT or ACT scores, and essays, while others require some or none of these items.
It is essential to keep track of each application's requirements so that the application you submit to each college is timely and satisfies the applicable requirements. See CollegeData's Common App Guide for the application requirements for more than 850 Common App colleges in the U.S. The Common App website also contains the application requirements of more than 1,000 colleges worldwide, including:
Early decision and early action deadlines

Regular admission deadline

Application fees

Additional forms or portfolios

Essays and/or writing supplements

Number of recommendation letters from teachers and counselors

School and mid-year report requirements

SAT or ACT testing policy
3. ASK FOR RECOMMENDATIONS
Many colleges ask for one or more letters of recommendation from your teachers, guidance counselors, or others. Some schools may ask for two teacher recommendation letters, while others may require one teacher recommendation letter and one guidance counselor letter.
The Common Application makes it easy for you to request recommendations from your teachers and guidance counselors through its intuitive interface. Once you input their names and contact information, the Common App will send them an invitation to create an account, guide them through the recommendation form, and enable them to upload their recommendation letter to the Common App platform.
4. Complete Writing requirements
Many colleges ask applicants to submit essays with their application. Within the Common App, you will find:
The Common App

Personal Essay

, which is an essay response to one of several prompts provided by the Common App.

Writing Supplements

, which may include shorter essays or other questions specific to a college.

Optional COVID-19 Writing Prompt,

in which students are free to describe how their lives were impacted by the COVID-19 pandemic.
5. Submit Your Application
Once you have gathered all the required documents, completed your essays, and requested letters of recommendation and a copy of your high school transcript, you are ready to submit your applications. Be sure to complete and send your application by the deadline set by each school. While technical problems are rare, they do happen and thankfully the Common App has 24 x 7 technical support.
How to Write the Common App Essay
The Common App Essay is required by some, but not all, Common App colleges and can provide admissions officers with a window into your character, goals, and personality. The Common App provides seven essay prompts to choose from.
Here are the prompts for the 2023-2024 academic year.
Some students have a background, identity, interest, or talent that is so meaningful they believe their application would be incomplete without it. If this sounds like you, then please share your story.
The lessons we take from obstacles we encounter can be fundamental to later success. Recount a time when you faced a challenge, setback, or failure. How did it affect you, and what did you learn from the experience?
Reflect on a time when you questioned or challenged a belief or idea. What prompted your thinking? What was the outcome?
Reflect on something that someone has done for you that has made you happy or thankful in a surprising way. How has this gratitude affected or motivated you?
Discuss an accomplishment, event, or realization that sparked a period of personal growth and a new understanding of yourself or others.
Describe a topic, idea, or concept you find so engaging that it makes you lose all track of time. Why does it captivate you? What or who do you turn to when you want to learn more?
Share an essay on any topic of your choice. It can be one you've already written, one that responds to a different prompt, or one of your own design.
Find Out More About Colleges on CollegeData
The Common App makes it possible for students to use a unified application platform to apply to more than 1,000 colleges all across the U.S. and the globe. Before you consider using the Common App to apply to college, start researching potential colleges with CollegeData's College Search tool.