Olivia

- Florida State University - Class of 2026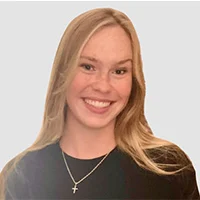 "I knew I had to pick the college where I thought I would be happiest, not necessarily the college everyone else likes better or speaks so highly of."
Hometown: Bradenton, FL
High School GPA: 4.0/4.4 (weighted)
SAT: 1250
Major: Environmental Science
My college admission experience was very exciting! Although applying to colleges, completing financial aid and scholarship forms, and sending transcripts and scores became overwhelming — it was so worth it in the end.
The first school I was really interested in was Auburn University in Alabama. At the time I was researching colleges, they had a deer tagging trial going on which I thought was fascinating and it went along with my interests in veterinary medicine and environmental science. Then I found out that I qualified for the Bright Futures Scholarship which awards from 75 to 100 percent of the cost of tuition and fees at qualifying in-state schools. So, it became extremely important for me to stay in Florida for college. I decided to apply to the University of Florida, University of South Florida, University of Central Florida, and Florida State because each one had good programs in my major, environmental science.
A Gator at Heart
I was really excited about the University of Florida and I was sure that it was going to be my school. I really loved the academic programs there, and I liked the fact that they had a horseback riding team.
Plus, University of Florida is considered by many to be the top-ranked school in the state. When people think of UF, they think of super smart kids. I liked the idea of attending a school that was so well-respected, and I had friends attending UF who raved about it.
However, when I visited the campus I just didn't connect with it like I expected to. The campus felt like a concrete jungle and very city-like. The students I saw looked pretty stressed and unhappy. In a college, I was looking for a beautiful, green campus and a homier feel.
A Better Vibe at Florida State
When I visited Florida State, I felt a completely different vibe. At FSU there was green space and beautiful brick walking paths, and I didn't feel like I was in a big busy city with a ton of cars. I watched students studying on the quad, and everyone looked happy to be there.
For some reason, though, I was still mentally attached to the University of Florida. I really didn't make my decision until much later, after I had been admitted to all four universities. That was when I felt I had to look closer and consider all the factors. I am a really indecisive person so picking the college I will attend for the next four years was extremely difficult.
Falling for a rival college
I made pros and cons lists for each college. I felt they were fairly equal regarding my major, academic offerings, and price. My factors came down to location, community, and student life. I also made a note about how the campuses looked and what there was to do around campus.
I realized how important it was to me to enjoy my location, and I could tell right away that Florida State was right for me, just by the feeling of the campus. I had been on team UF for so long, but I had fallen in love with a different college! It was hard to admit at first, since University of Florida and Florida State are such rivals. But at the end of the day, I knew I had to pick the college where I thought I would be happiest, not necessarily the college everyone else likes better or speaks so highly of.
My Ups and Downs
Applying to college during my first semester of senior year was hard, especially because I was busy with athletic training for my football team and helping with pre-season workouts after school. I would leave for school at 7 a.m. and not come home until 8 p.m.
I tried to work on the Common Application and the FAFSA a little bit each day, so I wouldn't fall behind. There were a few times when I was so busy I couldn't think straight, especially when an application asked for something I wasn't sure how to answer. Instead of leaving and coming back to the question — or asking my parents or my college advisor or looking on my student portal – I would just sit there and get worked up, which wasn't helpful.
Once I realized how easy it was to find and ask for college admissions help, things became easier. I was surprised how easy it was to communicate with college admissions officers. All I had to do was send an email to the right department (admissions or financial aid) and a representative responded very quickly.
The Money Factor
I'm paying for school through savings and Florida's Bright Futures scholarship. I'm extremely lucky to have received the Bright Futures scholarship because without it, I don't know what I would have done. I also have some savings from graduation presents from friends and family.
Right now, I have about 75 percent of my college costs paid for. I am set up pretty well financially because I have completed almost two years of college through a free dual enrollment program at my high school, which allowed me to take college courses for credit during high school. I plan to work during my summers to help pay for college. I don't believe I will have to worry about financial aid until graduate school.
My advice
Don't stress yourself out! Ask for help.

There is always someone to help you — admissions officers, teachers, fellow students, and simply online. There is literally help everywhere. I had an extremely helpful teacher at school. Never be afraid to ask questions because it is better to know the answer than to sit alone and get upset.

Tour colleges sophomore or junior year.

College visits can help you determine whether or not a college is right for you. But once senior year hits, you might not have time for college tours. Visit colleges before senior year, if you can.
How CollegeData helped me on my college journey
On CollegeData, I was able to read about different people and their college process, use helpful calculators, look for scholarships with Scholarship Finder, and find resources on financial aid.