Dominick

- University of Notre Dame - Class of 2026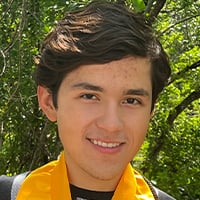 "Going to Notre Dame meant moving 1,400 miles across the country, living on my own, and making new social connections. The more I thought about it, the less prepared I felt."
Hometown: Brackettville, TX
High School: Public
GPA: 3.8
SAT: 1390
Extracurriculars: UIL Academics (social studies and current events competitions), National Honor Society,

student government (class president sophomore and junior years),

Trio Educational Talent Search

Major:

Undecided

Goals: Take a gap year to determine a major and career path.
*Applied through Questbridge College Match
In college I hope to experience the close-knit community of my small hometown and high school, but also be surrounded by ambitious, like-minded people who want to pursue their passions to a higher degree. I plan on graduating with a bachelor's degree in either biology, architecture, history, or business.
Fingers Crossed for Princeton
I applied to several Ivy League colleges through the Questbridge College Match — a scholarship program that provides high achieving, low-income students with the opportunity to apply to top-ranked colleges early and, if admitted, win a full, four-year scholarship.
Princeton University was my dream school since it was highly ranked in my favorite subject — history — and had the feel of a traditional university with its collegiate gothic architecture and rigorous culture of inquiry and study.
Unfortunately, I wasn't selected by Princeton or any of the colleges I applied to through Questbridge. I was hopeful because I could apply to these colleges again through regular decision, but I fared no better.
This was the worst moment in the application process, when I got the bulk of my rejection letters on Ivy Day, the day when Ivy League colleges release their decisions. It wasn't the rejection that had me down, but the fact that my work had not paid off in the way I had thought it would and that all the time I dedicated to completing supplemental essays had failed me in the end.
Keeping the Faith
While I was heartbroken, I thought, that's just how life is sometimes; you've got to pick yourself up and push on. Then things turned around. I got an email from Notre Dame while I was hanging out with my friends at IHOP. I was nervous but managed to quell my fear by telling myself that my application was my best effort and came from the heart, and that I need not fear rejection.
When I read the words "Congratulations!" I was delighted. I immediately turned to my brother and said, "Whoa dude, I got accepted into Notre Dame" in the most nonchalant way imaginable. Everyone at the table was dumbfounded because of the way I said it — and then ecstatic. I felt proud that I had accomplished a feat few others get to revel in.
In the end, I was accepted into four universities: Notre Dame, University of Virginia, Baylor University, and University of Texas at Austin — and I was indeed grateful.
Last-minute Research
Up to that point, I hadn't taken the time to imagine myself at these universities or consider the costs. When I did begin looking into the price, academic rankings, and overall atmosphere at each college, I weighed the overall quality of education I would receive based on the majors I was considering, honors colleges, internships, and support networks at each college.
My choices came down to UT Austin and Notre Dame. UT Austin was closer to home and the least expensive. Notre Dame was more expensive, but stood out for its strong alumni network, highly-ranked academics, and more aesthetically appealing campus (from what I could see from virtual tours).
Decisions and Deliberation
I wanted to get out of my small cove in Texas and attending Notre Dame seemed like the best and most secure way to do that. Plus, my mother had always wanted to go there herself but never got the chance. And just like that, my decision was made. Or so I thought.
My family and peers reminded me that going to Notre Dame meant moving 1,400 miles across the country, living on my own, and making new social connections. The more I thought about it, the less prepared I felt. Leaving home and moving to Indiana seemed like a massive undertaking — so did balancing college-level academics with adult responsibilities, not to mention the responsibility of paying for college or taking out loans. I wanted some time to adjust to my new college route and take a much-needed break from school.
Enter the Gap Year
At first, I thought a gap year would be a bad idea, since it would delay my career by at least a year. Then I realized the drastic change I was about to undergo – from being a small-town high school senior to a full-blown college student halfway across the county — and the idea grew on me. I could use my gap year to better myself, reset my brain, earn some money, and then go to Notre Dame.
I contacted Notre Dame and explained my plan to take a gap year. They responded with empathy and did not even question the reason. They simply told me to submit a formal request through email and that they would handle it from there on out.
In the fall, I will be moving to San Antonio — it is the closest major city to my hometown and is somewhat familiar to me. I will be living with three friends in an apartment near the University. I intend to work, preferably with an internship related to my career interests. I've applied for internships at NASA and with the 23rd congressional district. I'd also like to use my admissions experience to help my younger brother with his own.
The Money Factor
The grants, scholarships, and work-study provided by Notre Dame, plus family savings would have covered around 88 percent of the cost of attendance. If I get a similar financial aid package over the next four years, I will need to cover around $50,000 for my degree. Because I'm taking a gap year, I will need to apply for financial aid again next fall, and my package may change. After living on my own and supporting myself during my gap year, I may try to apply for financial aid as an independent student, which may result in more aid.
My Advice
Compare colleges early. I would advise future college aspirants not to wait until admission to a college to begin researching its academic programs and costs. I might have saved myself a lot of stress if I had done this earlier.
Don't ignore your character. In my essays, I focused too much on what I had done academically, when I should have also described how those achievements affected my character and overall outlook.


How Did CollegeData help you on Your College Journey?
CollegeData provided me with college admissions data and my admissions chances at different schools based on my qualifications and prior achievements.