Ivy

- Yale University - Class of 2026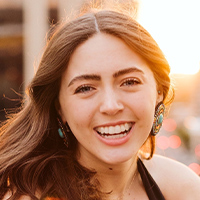 "The financial aid process is daunting; it's almost like learning a new language. It will be confusing, but it's a marathon, not a sprint."
Hometown: Spokane, WA
High School GPA: 4.0/4.63 (weighted)
SAT: 1260
ACT: 26
Extracurriculars: Student activism, track and field, climbing/land stewardship, debate, student government, class leadership, multicultural club, outreach to unhoused neighbors/community
Major: Ethnicity, Race, and Migration/Political Science
Goals: Gain an education that bolsters and compliments my cultural knowledge; learn for the purpose of service; honor my people
When it came to applying to college, I couldn't just enter the building and take the elevator to the top floor. I felt like I was starting with the blue prints, building the building, and climbing the stairs to the top, matriculating at Yale.
The college admissions process was completely foreign to me and my family. I am a first-generation, low-income, Indigenous student, and no one around me had much experience supporting or advising a young person applying to a top-20 school let alone the Ivy League. I read college admission books, listened to podcasts, and soaked up every bit of information I could to optimize my chances of admission. I also received guidance from Alexander Hamilton Scholars, a non-profit organization that supports underserved students.
Strong Academic Rep and Generous Financial Aid
I wanted to attend college without imposing significant debt on my parents, so I looked for schools that covered 100 percent of financial need. Any school that did not have a seemingly vibrant first generation, low income community and cultural center was immediately out of consideration.
The name recognition and academic prestige of Yale and other top-tier schools matched the trajectory I felt that I had set for myself as a student and community leader. I applied early action to Georgetown because of its reputation in my major and proximity to Washington D.C. I felt that it was the right choice for me despite having never visited campus.
Since I applied during the craze of COVID, most schools allowed me to apply test optional. Georgetown required that I send my scores, which I was hesitant to do, as they were below the admitted-student range.
Financial Aid Frustrations
I struggled to navigate financial aid on my own. In addition to the Free Application for Federal Student Aid (FAFSA), many schools on my list required another financial aid form called the CSS Profile, as well as additional financial aid forms.
Some of the information asked for on the forms – like the value of my family's cars — was difficult and time-consuming to acquire. It was daunting and scary to have to estimate and assign monetary value to my life. I struggled to procure tax documents from my parents and later found out that some forms were not even applicable to my parents as small business owners who file business taxes. At times, I was so frustrated that I almost stopped applying for aid entirely, but I knew I had to persevere if I wanted to attend college.
Congratulations Abound
My first acceptance -- to Georgetown – made all the work and stress worth it. Opening the portal and seeing the letters in a bold, "Congratulations," was a moment of joy, gratitude, and disbelief. I cried, called teachers and friends, and knew that this meant I had a good chance at the other prestigious schools I applied to.
When I was admitted to almost every college on my list – and received generous financial aid packages from Rice University and University of Washington covering almost 100 percent of my college costs -- I felt empowered. It was like all of my work, dedication, time, and tears had amounted to this. But I was also humbled. It's almost sort of silly how much a college acceptance can mean. You've spent months painting and perfecting the most accurate and impressive portrait of yourself so that an assortment of admissions officers can decide whether or not to grant you acceptance to their institution. You are going to thrive wherever you end up, and yet, we all strive so hard to fit into the box of "ideal candidate."
Yale, U-Washington, or Georgetown?
I heard many different opinions from parents, community members, friends, and elders. My dad wanted me to make the most financially reasonable decision, while my mom was set on having me go to the most academically rigorous school with the best opportunities. I knew, though, that when the time came to make my decision, they would support and celebrate my choice.
I narrowed it down to Yale, UW, and Georgetown. After visiting Georgetown and talking to the financial aid department, I realized that I wouldn't be able to receive the kind of financial and cultural support I wanted.
In April, I attended accepted student days at Yale, which helped me make my decision. I felt wanted at Yale. There were endless opportunities to build community; a wealth of resources for first generation and low-income students, including counseling, advising, and internships; and an open curriculum allowing me to explore several interests. To attend Yale though, I had to appeal my financial aid offer in hopes of making it a more affordable option when compared to UW.
How I Appealed My Financial Aid Offer from Yale
I appealed three times to Yale for more aid. The first time, with the help of my parents, I crafted an appeal letter to the financial aid office explaining my special financial circumstances. My family supported my grandparents, for example, and our small business took a financial hit during the pandemic. To help my parents' business, I worked for them throughout the pandemic and this income negatively impacted the amount of aid I could receive. This appeal improved my aid package slightly.
The second time, I wrote a similar letter but included the better offer I had received from Rice. I stated that I would, in a heartbeat, commit to Yale if they could adjust their financial aid offer to something analogous to Rice's — and they did!
The third time, I asked Yale to cover my campus health insurance, which Rice had also agreed to cover (after I asked). This time, Yale denied my request. Nothing happened though! There were no repercussions for trying. I simply accepted their previous offer.
Yale's financial aid award covers all but about $8,000 of my total costs over four years. I will be taking out loans to cover these costs, but I believe I will be able to pay them off relatively quickly after I graduate.
What I learned
Outside scholarships are more complicated than you think. I earned nearly $50,000 in private scholarships for college, but I couldn't use all of that money towards tuition. Colleges reduce a student's financial aid package by the amount of any outside scholarships the student receives because by federal law they cannot grant aid that exceeds a student's financial need. How they reduce your financial aid depends on the policies at the school. Some will reduce the scholarships and grants; others will reduce loans.
Yale calculates an amount parents must pay (a parent contribution) and a small amount that students must pay (a student contribution). At Yale, most outside scholarships cannot be used to cover the parents' contribution. This meant my parents still had to pay their share, and I had scholarships that went unused. Fortunately, Yale used some of my outside scholarships to eliminate my student contribution and my work study. I was also able to use some of my scholarship money to purchase an iPad.
My advice
Just ask!

Asking directly for more money or support from an institution is the only way you're going to get what you need. Ask for your travel expenses to be covered. Ask to get healthcare. Ask for money to buy weather-appropriate clothing. Ask for more support in the process. Ask to set up a meeting to discuss what all these foreign numbers and figures mean. If you ask politely, the worst thing you'll hear is a "no."

If you have questions, call the financial aid offices

of the specific schools you are applying to. If you are a first-generation or low-income student, explain that this is a new process for your family.

Check your email constantly (yes, even your spam folder)!

This is how admissions and financial aid teams will contact you with more information. You may receive scholarships or unexpected offers throughout the process. Consider creating a new email inbox for all things related to colleges. This will make sifting through emails much less overwhelming, especially if you're applying to many schools.

Stay grounded.

Students often forget they are not applying to colleges simply to go to the "best" college, but to explore their passions, purpose, and love of learning. Remembering this can keep you grounded, especially when you receive your decisions.




The financial aid process is daunting

; it's almost like learning a new language. It will be confusing, but it's a marathon, not a sprint. You can do it!

Do not let yourself get wrapped up in the disappointments.

Each response, rejection, deferment, or acceptance will guide you to the school where you belong.
How CollegeData Helped Me on My Road to College
I found CollegeData's student stories helpful. It was extremely beneficial to read how other students analyzed their college choices. Some of their experiences guided me as I went through the college application process myself.