10 FAFSA

®

Facts Every College-Bound Student Should Know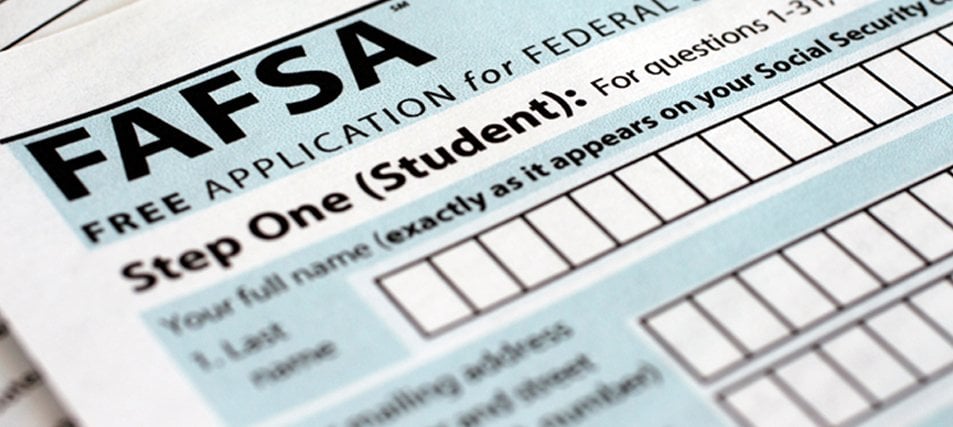 To get financial aid, you need to apply for it. Your first step is getting to know the Free Application for Federal Student Aid (FAFSA). Here are the basic facts about the FAFSA as well as information about changes made by the FAFSA Simplification Act to the application.
1. FAFSA stands for "Free Application for Federal Student Aid"
The FAFSA is the primary application for need-based financial aid. Colleges use the information from your FAFSA to determine your eligibility for financial aid. Colleges may also use information from your FAFSA to award private scholarships from their own funds, and your state may require the FAFSA to determine state-funded college aid.
2. You should file a FAFSA even if you think you won't qualify for financial aid
Many families don't complete the FAFSA because they think their income is too high. Others think the form is just too complicated. But anyone who fills out the FAFSA will at least qualify for a federally insured, direct student loan — and perhaps other grants, scholarships, work-study or loans. Some scholarships that are not based on financial need still require a FAFSA.
3. The FAFSA asks for information about both students and parents
Generally, students who are unmarried and under 24 years of age must report information on the FAFSA about themselves as well as their parents. This includes information about the student's income and assets as well as information about their parents' income and assets. Note that for FAFSA reporting purposes, the term "parent" refers only to your legal (biological or adoptive) parent or stepparent, or a person that the state has deemed your legal parent. Other family members or people you live with are not considered "parents" unless they have legally adopted you.
If your parents do not claim you as a dependent, you do not, in that case, need to report information about them on the FAFSA. The FAFSA form will walk you through a series of questions that will determine if you are an independent or dependent student.
4. Your FAFSA won't tell you how much financial aid you'll receive
Technically, the information from your FAFSA only determines your Expected Family Contribution (EFC), which is a number that colleges use to determine a student's financial aid eligibility. The EFC is not, as its name implies, an exact dollar amount that students and their families will be expected or required to pay for college. You'll receive your EFC from one to three weeks after submitting your FAFSA in a document called the Student Aid Report (SAR).
5. The first day you can access and submit the FAFSA is October 1
Be sure to complete and submit your application before the FAFSA deadline set by the colleges you plan apply to and by the deadline set by your state of residence. Filing the FAFSA as soon as possible after October 1 might put you near the front of the line for financial aid. To find FAFSA deadlines for your state, visit the Department of Education's student aid deadlines page.
6. You can complete the entire FAFSA on your computer or phone
Go to the Federal Student Aid website to access the online form. The FAFSA can be completed on your desktop or mobile device or you can download a PDF of the form, print it out and submit it on paper. To complete the FAFSA, you will need your and your parents' income tax return from two years prior to your anticipated college entrance date. For example, students planning to enroll in college in the fall of 2024, would use tax data from 2022. The FAFSA offers a data retrieval tool that transfers your tax information from the IRS website directly into your FAFSA.
7. You can select up to 10 colleges to receive your FAFSA and Student Aid Report
You can add or remove colleges later, if you need to. These colleges will see your Student Aid Report, which includes your EFC and a summary of the information in your FAFSA, but they won't see the other colleges you selected to receive this information.
8. FAFSA help is available
Don't be afraid to ask for help if you need it. Your high school counselor, a college's financial aid office, and the FAFSA website are all good resources. Many states hold FAFSA events (sometimes called "College Goal Sundays" or "Cash for College") where students can get free, onsite, professional assistance with completing the FAFSA form. The FAFSA website also has an extensive help section.
9. You May make SOME Changes to YOUR FAFSA After You Submit It
Most of the information you provide on the FAFSA cannot be updated once you submit it because it must be accurate as of the day you file the form. For example, if you spent some of your savings after filing the FAFSA, you may not update this information. You can, however, correct a mistake on your Student Aid Report after you submit your FAFSA through the FAFSA website or by calling the Federal Student Aid Information Center at (800) 433-3243.
If your family's circumstances change after you submit your FAFSA, such as one or both of your parents or guardians lose their job or unemployment benefits, you cannot adjust the FAFSA form directly. But you can contact the financial aid office of each of the colleges you selected to receive your FAFSA information and explain the change in circumstance. The college may ask you to submit a letter detailing the changes along with a copy of supporting documentation.
For more information about how to report errors, changes in family income, and other updates, visit StudentAid.gov.
10. You might be selected for FAFSA verification
Sometimes, colleges will ask you to provide documentation for the information you reported on the FAFSA. This is called being selected for "verification." If this happens, it doesn't mean you did anything wrong—some schools verify all students' forms and others are selected at random. Be sure to save the records and materials you used to complete the FAFSA in case this happens. And lastly, be sure to save a copy of the FAFSA before you submit it for your records.
CHANGES ARE COMING TO THE FAFSA
The FAFSA Simplification Act, which was enacted into law on December 27, 2020, includes several changes to the FAFSA, most of which will be phased in beginning with the 2023-2024 FAFSA form. However, three changes were in effect for the 2022-2023 filing year:
Male students no longer need to register with the selective service to qualify for federal financial aid. Students will still be asked if they want to register for the selective service on the FAFSA, but their answer will not affect their financial aid eligibility.

Having a drug conviction will no longer disqualify a student from receiving financial aid. This question will also appear on the FAFSA form, but students' answers will not affect their aid eligibility.

In the past, the federal government placed a time limit on how long students could receive subsidized federal student loans. The federal government pays the interest on a subsidized loan while the student is in college and for six months after graduation. Beginning in 2013, students could receive subsidized loans only for a period of up to 150 percent of the length of the educational program in which they were enrolled. For example, students pursuing a four-year degree program could receive subsidized loans for six years. After this time, any unpaid loans would begin to accrue interest.

The FAFSA Simplification Act removes this 150 percent restriction beginning with loans disbursed on or after July 1, 2021. It also retroactively reinstates the interest subsidy for any students who lost it for exceeding the time limit. Students will be eligible for subsidized loans until they reach their aggregate maximum loan limit, which is $31,000 for dependent students.
SOURCE: U.S. Department of Education, Federal Student Aid office; https://studentaid.gov/