10 FAFSA Facts Every College-Bound Student Should Know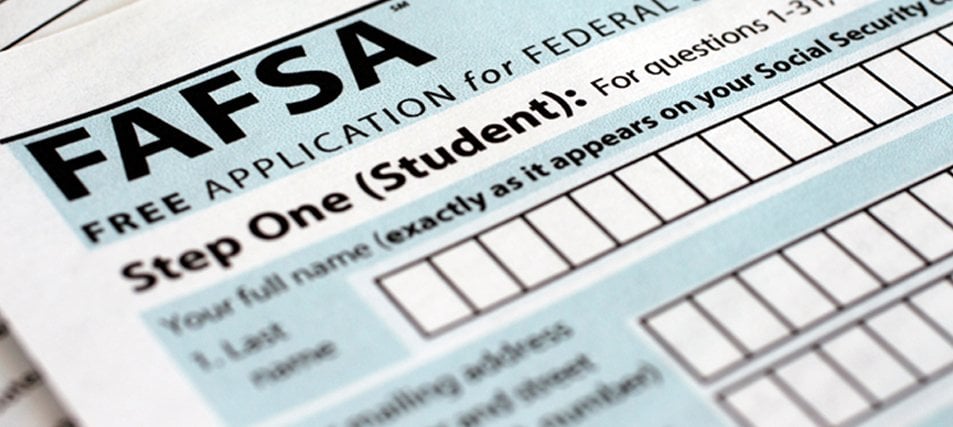 To get financial aid, you need to apply for it. Your first step is getting to know the Free Application for Federal Student Aid. Here are the basic facts.
1. FAFSA® stands for "Free Application for Federal Student Aid."
The FAFSA is the primary application for need-based financial aid. Colleges use the information from your FAFSA to determine your eligibility for financial aid. Colleges may also use information from your FAFSA to award private scholarships from their own funds, and your state may require the FAFSA to determine state-funded college aid.
2. You should file a FAFSA even if you think you won't qualify for financial aid.
Many families don't complete the FAFSA because they think their income is too high. Others think the form is just too complicated. But anyone who fills out the FAFSA will at least qualify for a federally insured, low-cost loan—and perhaps other grants, scholarships, work-study or loans. Some scholarships that are not based on financial need still require a FAFSA.
3. The FAFSA asks for information about both students and parents (if the student is unmarried and under 24).
This includes information about your and your parents' or family's income and assets and basic facts about the student's household. It must be accurate as of the day you file your FAFSA.
4. Your FAFSA won't tell you how much financial aid you'll receive.
Technically, the information from your FAFSA only determines your Expected Family Contribution (EFC). Your EFC is the amount the government thinks you and your family can afford to pay for college. You'll receive your EFC from one to three weeks after submitting your FAFSA in a document called the Student Aid Report (SAR).
5. The first day you can access and submit the FAFSA is October 1.
Be sure to complete and submit your application before the FAFSA deadline set by the colleges you plan apply to and by the deadline set by your state of residence. Filing the FAFSA as soon as possible after October 1 might put you near the front of the line for financial aid. To find FAFSA deadlines for your state, visit the Department of Education's student aid deadlines page.
6. You can complete the entire FAFSA on your computer or phone.
Go to the Federal Student Aid website to access the online form. The 2021–22 FAFSA can be completed on your desktop or mobile device or you can download a PDF of the form, print it out and submit it on paper. To complete the FAFSA, you will need your and your parents' income tax return from two years prior to your anticipated college entrance date. For example, students planning to enroll in college in the fall of 2021, would use tax data from 2019. The FAFSA offers a data retrieval tool that transfers your tax information from the IRS website directly into your FAFSA.
7. You can select up to 10 colleges to receive your FAFSA and Student Aid Report.
You can add more colleges later. You need to include the federal school code for each college to which you are applying. The school codes are provided in the FAFSA application. These colleges will see your Student Aid Report, which includes your EFC and a summary of the information in your FAFSA, but they won't see the other colleges you selected to receive this information.
8. FAFSA help is available.
Don't be afraid to ask for help if you need it. Your high school counselor, a college's financial aid office, and the FAFSA website are all good resources. Many states hold FAFSA events (sometimes called "College Goal Sundays" or "Cash for College") where students can get free, onsite, professional assistance with completing the FAFSA form. Visit the resources page at Form Your Future to find specific events in your state. The FAFSA website also has an extensive help section.
9. Changes to your or your family's financial situation that occur after you sign your FAFSA usually cannot be updated.
However, if a parent or guardian suddenly loses a job, for example, you can contact the college's financial aid office and explain your situation. You may be asked to submit a letter detailing the new considerations, backed up by copies of relevant documents. For more information about how to report changes in family income due to the coronavirus pandemic, visit StudentAid.gov
If you find mistakes on your Student Aid Report, you can submit corrections via the FAFSA website or by calling the Federal Student Aid Information Center at (800) 433-3243.
Common FAFSA Mistakes will help you anticipate the most typical errors students tend to make.
10. You might be selected for FAFSA verification.
Sometimes, colleges will ask you to provide documentation for the information you reported on the FAFSA. Be sure to save the records and materials you used to complete the FAFSA in case this happens. And lastly, be sure to save a copy of the FAFSA before you submit it, for your own records.
SOURCE: U.S. Department of Education, Federal Student Aid office; https://studentaid.ed.gov/sa/fafsa