Resources / Transition to College
Transition to College: Here's What Students Have to Say About It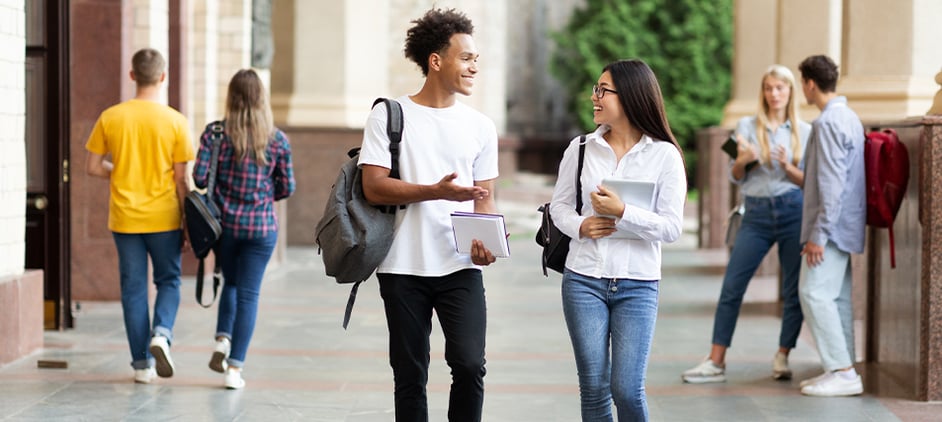 What did CollegeData students find most challenging about their freshman year of college, and what advice do they have for making the transition to college easier? Here are the results of CollegeData's "Transition to College" Survey 2023!
Making the shift from high school to college isn't easy for everyone. If you're going through this transition now or will be in the near future, we thought it might be helpful to hear from students who have already gone through the transition-to-college process. In June of 2023, we surveyed* registered users of CollegeData who attended college during the 2022-2023 academic year. More than 90 percent of the students we contacted had just completed their freshman year of college. We wanted to find out what surprised them most about college life and what helped them adjust.
When asked the question "What aspect of college were you least prepared for," the responses fell into four main areas: academics, finances, social issues, and school/life balance. Below is more detail on how students responded within each category.
Students Felt Least Prepared for College Academics
Studies have shown that many students have trouble acclimating to the pace and rigor of college-level work. In a 2021 survey of college freshmen conducted by the Higher Education Research Institute at UCLA, almost 50 percent of the students polled said they had some difficulty adjusting to the academic demands of college, and almost 30 percent found it "very" or "somewhat" difficult to understand what their professors expected of them academically.
Similarly, 50 percent of the CollegeData students surveyed said they felt least prepared for the academic side of college, especially the amount of studying required.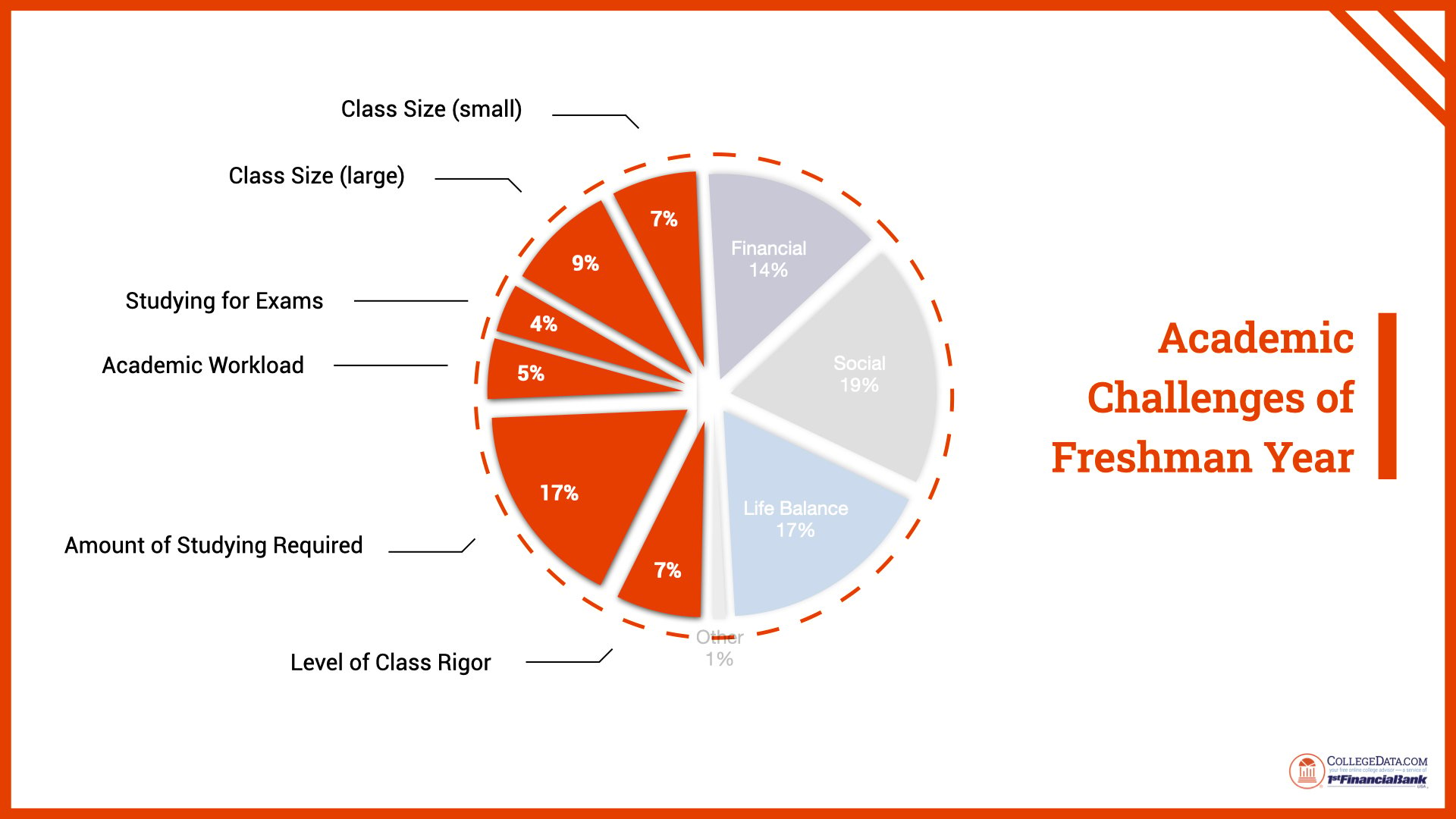 More than 17 percent were surprised by just how much studying they needed to do to succeed in their classes. "I've found it's impossible to succeed in college without studying an intensive amount," said one student. "I took all online classes but was still surprised at the amount of studying I had to do," remarked another.
Another 16 percent weren't prepared for the change in class size, with 9 percent surprised by large classes. Seven percent were unaccustomed to small classes or they were pleasantly surprised that classes were smaller than expected.
Close to 7 percent of the survey participants said the level of academic rigor of their classes was a shock, while 5 percent were unprepared for the workload.
"I chose to attend a college with a reputation for being rigorous, so I should have expected the insane workload. I've never struggled so much with school," admitted one student. "I was used to being the smartest in my class, and then I was struggling to be average," said another.
Four percent felt unprepared when it came to studying for college exams. "My study habits from high school didn't work," said one student. "I had to learn how to study in a completely different way," agreed another.
SOME STUDENTS STRUGGLE WITH THE SOCIAL ASPECTS OF COLLEGE
Of the 19 percent of students who said they felt unprepared for the social side of college, 5 percent said they thought meeting new people or making friends in college was more challenging than they expected. "Friend groups form and end fast and [they] can be difficult to break into once orientation is over," commented one student.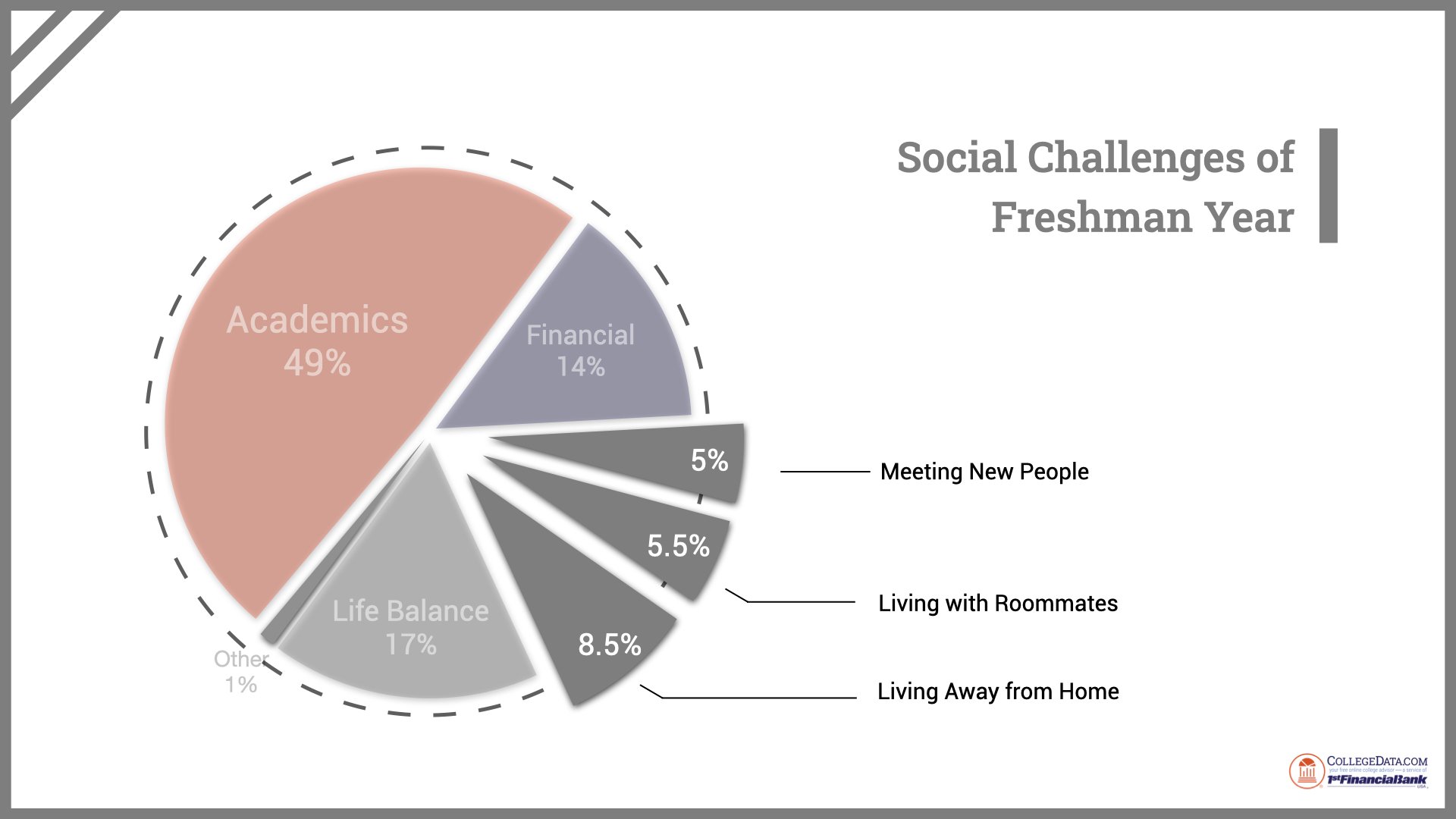 "Meeting new people is hard to do if you don't live on campus," said another student. "No one can make you go out and meet people, so it's something you have to do intentionally."
"It took a while to find people I felt comfortable around," another student said. Remarked another, "I felt alone and didn't have the support I once had in high school."
A little more than 8 percent of the students surveyed said they struggled with living away from home for the first time, and 29 percent said they felt homesick "occasionally" or "often" during their first quarter or semester.
"I didn't think homesickness was going to be as bad as it was," said one student, "but it was really hard first semester."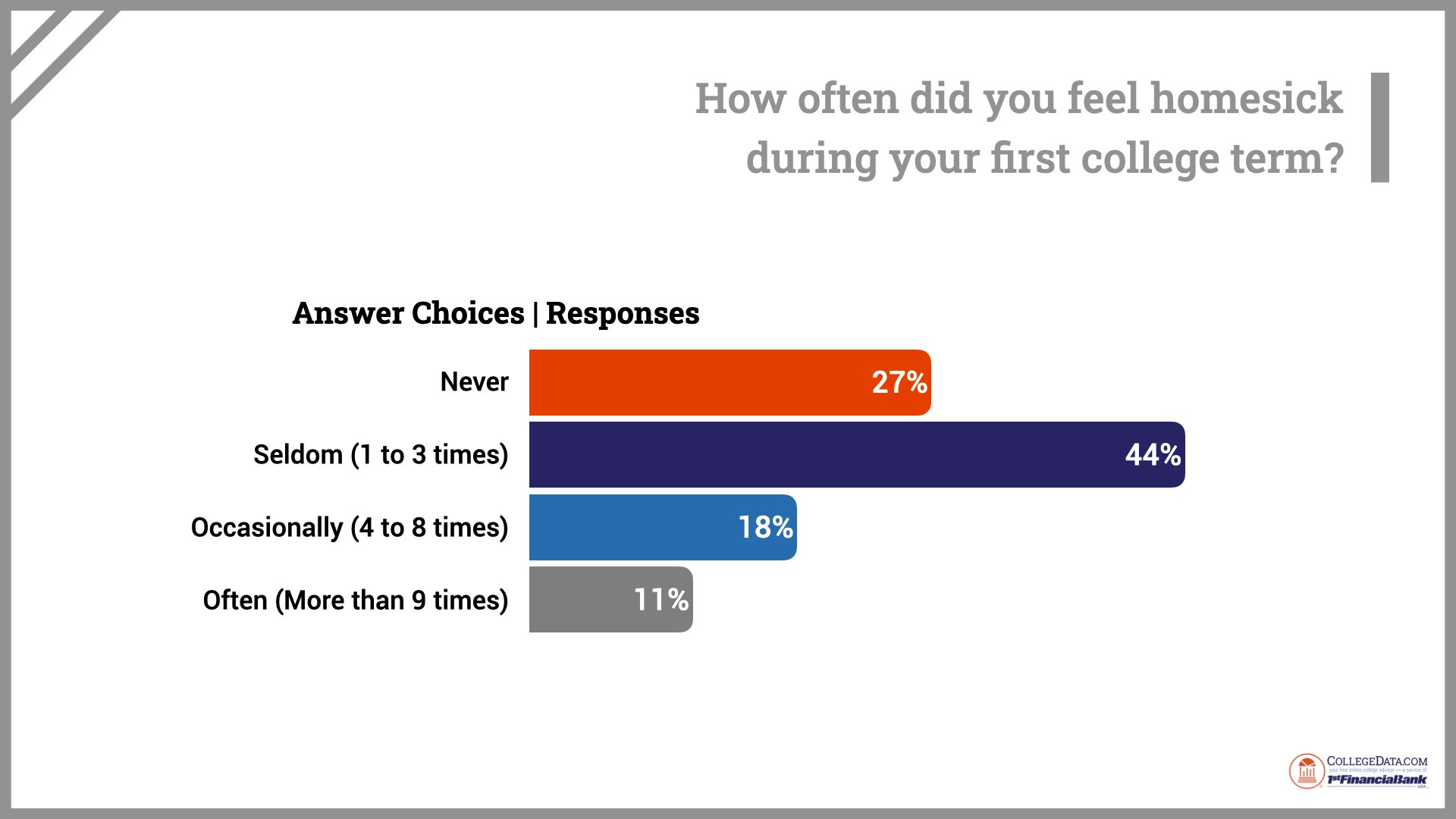 For 5.5 percent of survey respondents, living with roommates was their most difficult adjustment. "It was hard to adjust to sharing a space with someone you don't really know," one student said.
"I lived in one room with two roommates who were raised completely different than me," explained another student. "I had to learn to adapt and realize that I can't just run away from uncomfortable situations."
One student added, "I have never shared a room before and while I'm an extreme extrovert, I was unprepared for the complete lack of alone time." A fourth student said, "It was hard to find a dynamic and schedule that worked for everyone."
It's Tough to Balance Academics and Social Life
While college can present many exciting social and academic opportunities, all of this can be hard to juggle especially for incoming freshmen. Add a part-time job, family responsibilities, participation in clubs and/or sports, and you have a lot of balls in the air. It's therefore not surprising that a portion of our survey-takers (17 percent) found it difficult to find life balance during their freshman year.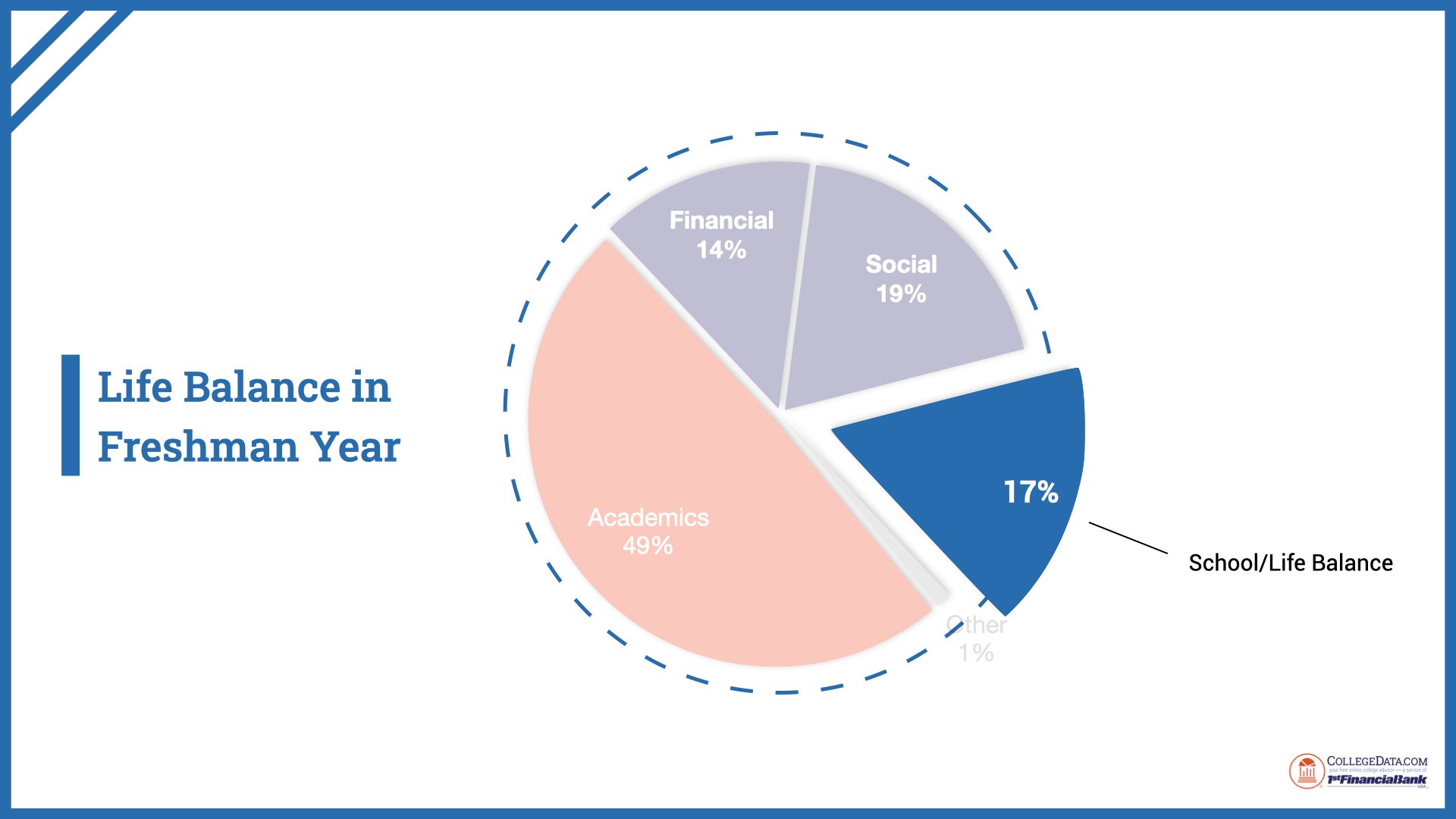 "In high school, balancing social life and academics was never a problem for me but I struggled with it in the first few weeks of college," said one student. "You don't want to say 'no' to any social things [...] and it takes a couple of weeks to realize when to say "no" and prioritize your studies.
Another agreed, "It's a learning curve! Being social and academic is sometimes not compatible. Freshman year is a lot of socializing and FOMO."
COLLEGE COSTS AND MANAGING MONEY WERE ANOTHER CHALLENGE
A little more than 14 percent of the students we surveyed said they were least prepared for the financial aspects of college. This is down 7 percent from last year's survey, in which 21 percent of students said they felt unprepared in this area. Of this group, almost 10 percent felt they were least prepared for managing their own money. College expenses challenged 4 percent of the students we surveyed, which is 6 percent lower than last year's survey.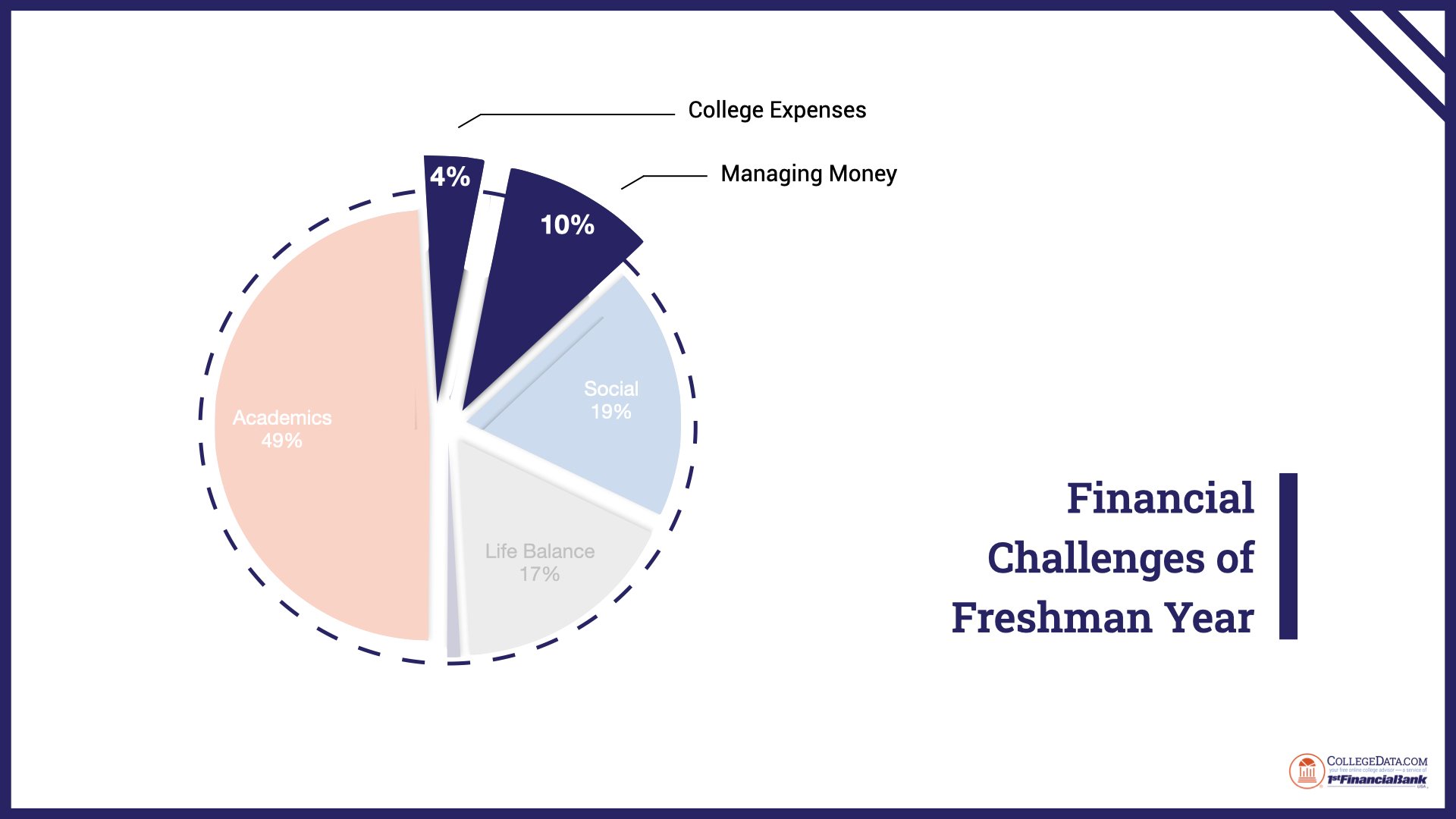 "I had full control over my money and I was not able to manage it well," revealed one student. "No one ever really explained to me how to manage my own money," said another.
It's not surprising that some college students have trouble managing money. College may be the first time some students are faced with creating and sticking to a budget, and many do not have income from work.
"[I] was not ready to balance my budget and pay for things I wasn't used to paying for," one student explained. "I spent a lot of money on useless things," said another.
MOST STUDENTS SAID THEY DIDN'T USE A BUDGET
While having a budget can help students keep track of their spending, more than half of the students surveyed (58 percent) admitted that they didn't use one during freshman year.
However, even when students use a budget, they are sometimes thrown by the indirect costs of college, which include transportation, school supplies, entertainment and other non-tuition costs that students don't pay directly to their college. One study involving interviews with 150 college students found that 80 percent had encountered an unexpected indirect expense at least once during college.
Colleges usually include some indirect expenses in their Cost of Attendance estimates, but indirect or hidden costs can vary depending on the school, your major and your situation. Students may be unaware of these indirect costs or discover that they are more expensive than they expected. Comments from some of our survey participants illustrate a few of the unexpected expenses college students can encounter.
"As a photography major I have to pay for all my own camera equipment, prints for critique, transportation to photo shoots, among other things and none of that is on my loans, so I had to come up with the money myself."
"Everyone fails to tell you that even though you pay for tuition, you still have to pay for websites to [access] your homework."
Of the unexpected, un-budgeted or under-budgeted expenses students reported, textbooks and food — including take out, eating out, and snacks — were cited most often. Other expenses included personal toiletries, gas and car insurance, parking fees, public transportation and ride services, car maintenance and repairs, laundry, sorority dues, dorm décor and supplies, and coffee.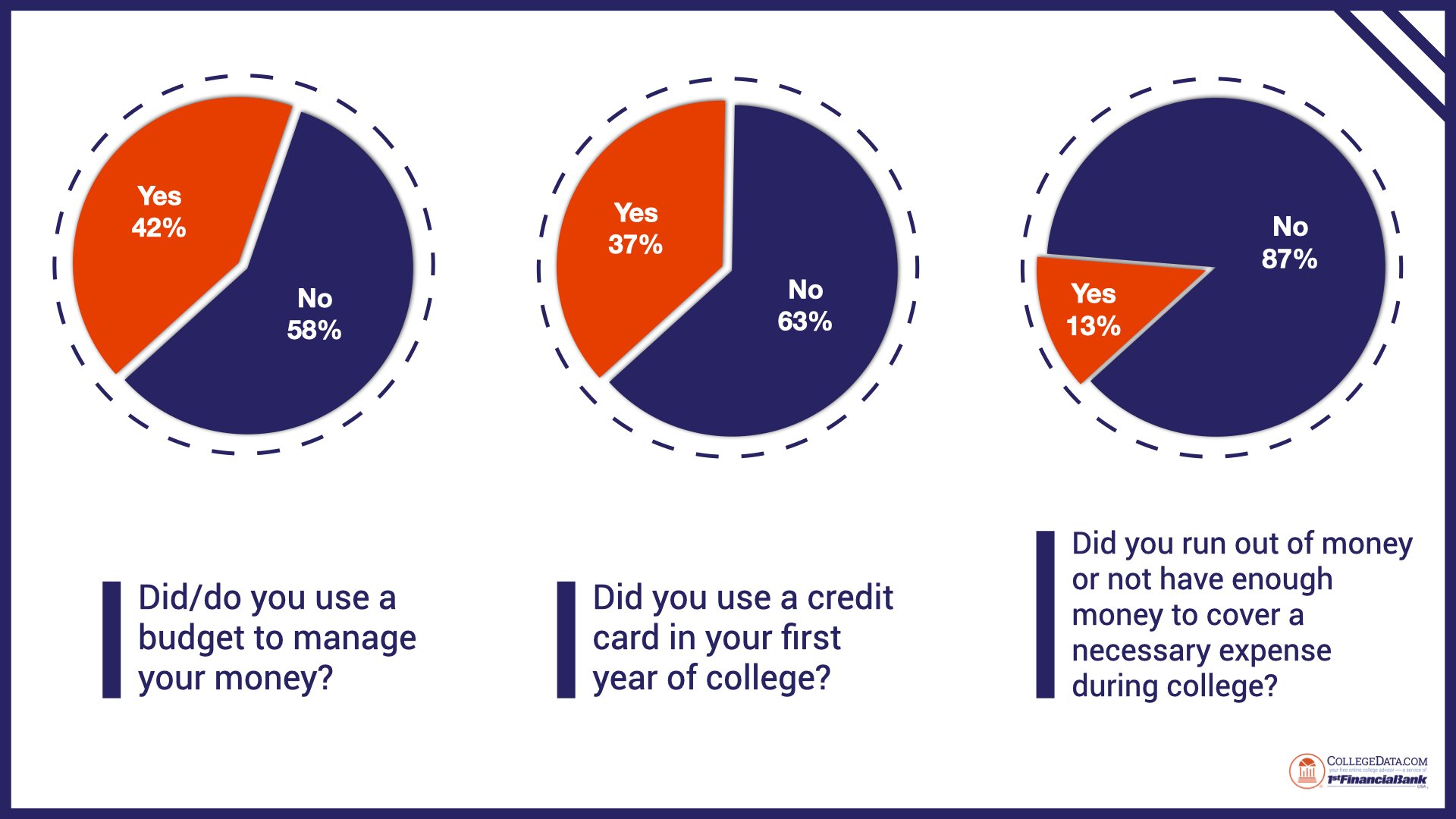 13 Percent RAN OUT OF MONEY AT LEAST ONCE
We asked students if, at any point during their freshman year, they had run out of money or not had enough money to cover a necessary expense. Fortunately, 87 percent of students surveyed said they had not; however, almost 13 percent said they had.
"I had this extra book I needed to get for a class that wasn't on the syllabus. I ended up not having money to cover that expense, but luckily I was able to get my parent to purchase it for me online."
"At one point I didn't have money for gas and I had to borrow [...] from a friend while I waited on my job to pay me"
"Sometimes I would only be able to eat ramen for the week in order to pay for gas or other needs."
In these situations, some students used a credit card, if they had one. Many college students, once they turn 18 or 19, have the opportunity to get a credit card in their own name. Usually, student credit cards have very low credit limits and are meant to help students develop responsible spending habits and start building credit.
However, more than 60 percent of the students surveyed said they did not use a credit card during their freshman year. The 37 percent of students who did use a credit card said they used it primarily to pay for groceries, dining out, and gas.
What helped students prepare for the transition from high school to college?
We also asked our survey-takers to look back at the summer between high school and college and tell us the one thing they did during this period that helped prepare them for college life. Two answers stood out: working over the summer and attending freshman orientation.
Thirty-seven percent of students surveyed said working over the summer — either at a full- or part-time job or an internship related to a major — helped them prepare for the demands of being a college student, improved their time management and organizational skills, and gave them insight into a prospective career. "[Working] helped me become more organized, responsible, and friendly, all of which helped me in college in the academic and social setting," one student responded.
Twenty-four percent of the students surveyed found freshman orientation to be most helpful in preparing them for college because it provided them the opportunity to get familiar with their campus, understand academic expectations, and meet fellow students. "It helped me feel more connected with other students and less afraid that I wasn't going to make any friends," one student said.
"I was able to make friends that lasted me throughout my freshman year, and having those strong connections really facilitated my transition into my college environment," said another.
Survey respondents also indicated a range of additional things that helped them prepare for college, including taking a college class or getting a head start with class assignments over the summer, traveling, and meeting with other incoming students.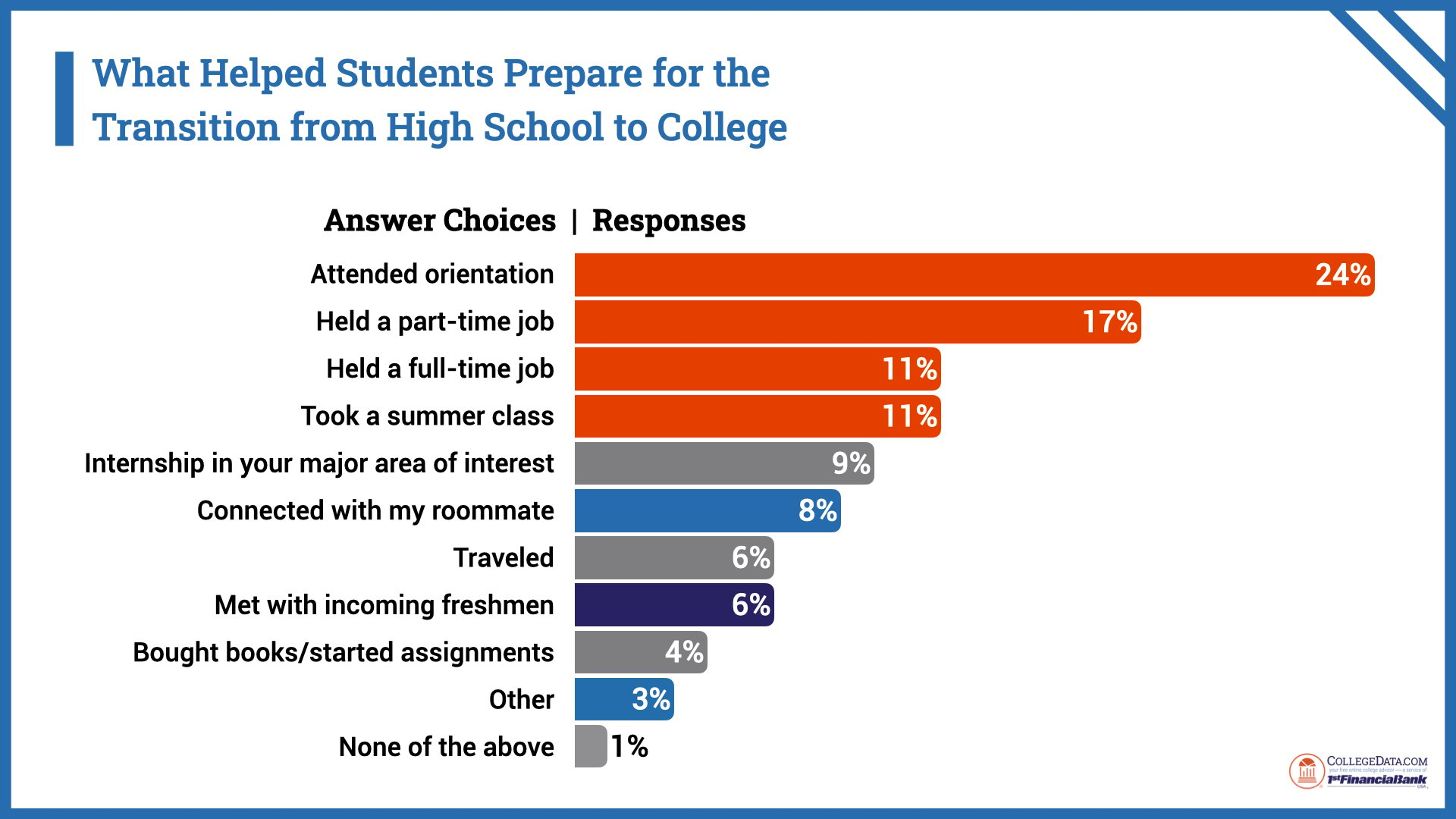 WHAT ON-CAMPUS RESOURCES DID FRESHMEN USE AND FIND MOST HELPFUL?
Most colleges offer a variety of resources to support students and ease the transition for college freshmen. These include mental health services, career centers and writing centers, just to name a few.
Which services did students take advantage of most? Forty-two percent said they used campus tutoring and academic support services, followed by professors' office hours (37 percent), study groups (36 percent), and the financial aid office (35 percent). In the survey, students could select more than one resource.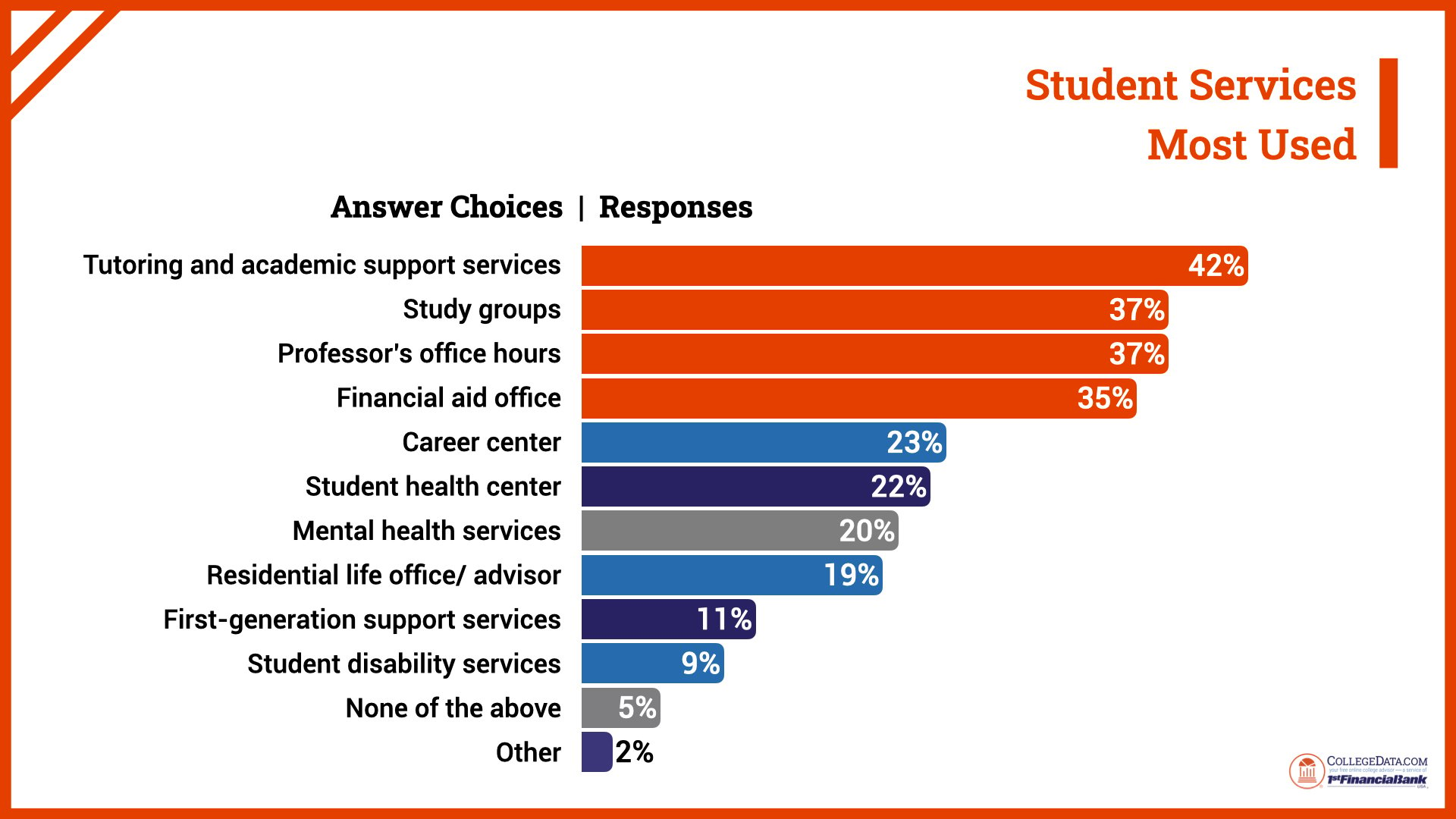 Not surprisingly, students found the same three resources — academic support, professors' office hours and study groups — to be the most useful, followed by campus mental health services.
Since the beginning of the COVID-19 pandemic, colleges have reported a rise in demand for on-campus mental health services. One study found that 60 percent of college students are living with mental health disorders. In this year's survey, 20 percent of respondents reported using mental health services provided by their college and 11 percent reported these services to be the most helpful.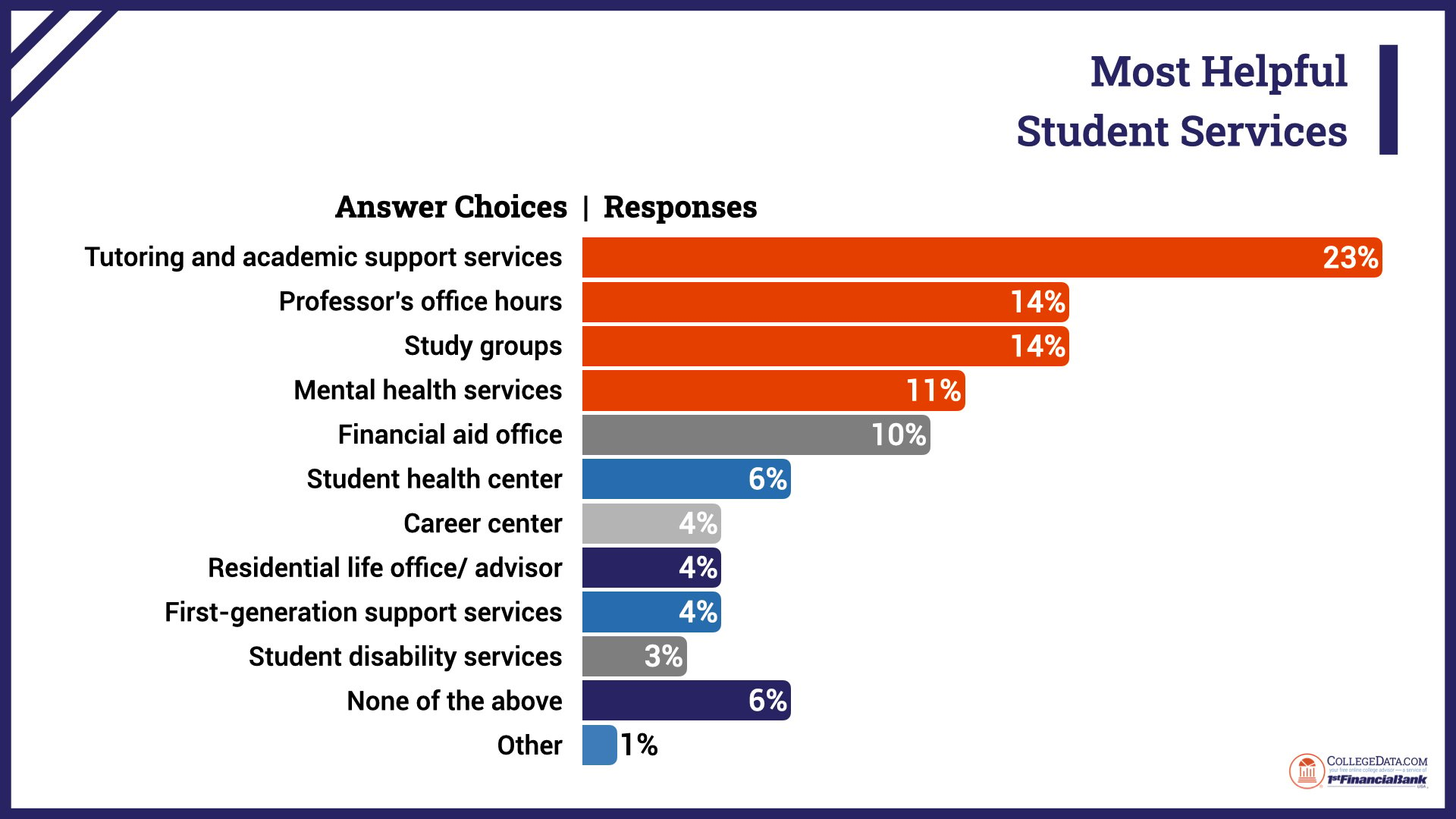 WHAT LIFE SKILLS DO YOU NEED TO SUCCEED FRESHMAN YEAR?
College is often a student's first step into adulthood and first experience living on their own. Even if you're living at home, college requires a higher level of organization, communication, and accountability. When we asked students what life skill they used most or wish they had mastered prior to freshman year, the winners were time management (28 percent), money management (21 percent), and stress management (13 percent).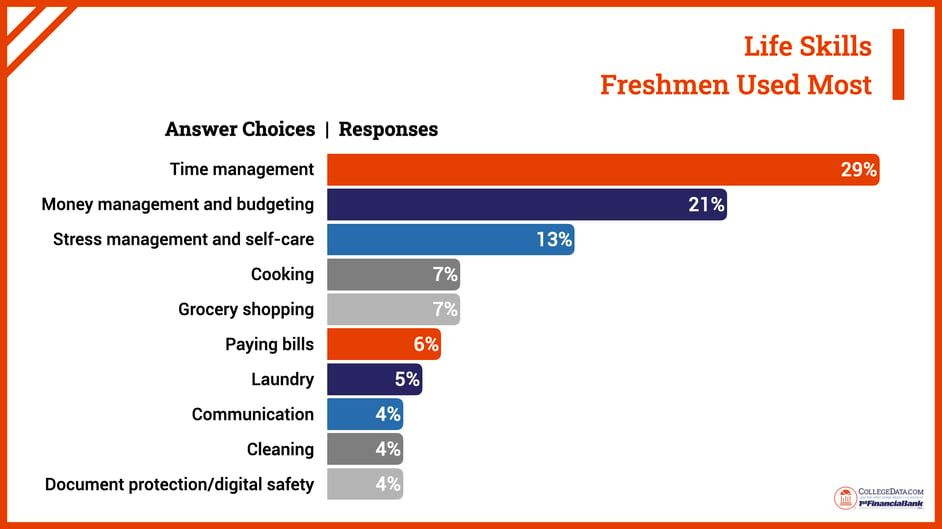 It's normal to have some doubts about your college choice
Some students enter college with outsized expectations and soon realize that their "dream" college isn't so dreamy after all. If you end up feeling this way, you're not alone. Almost 70 percent of students in our survey said they felt disappointed or dissatisfied with their college "occasionally" or "often."
It's important to realize that no college is perfect and your friends at different schools probably aren't having a better time than you are, despite what it may look like on Instagram. It's not uncommon to discover things about your college that are disappointing or different from what you expected. On the flipside, most of the students we surveyed (67 percent) reported "never" or "seldom" having these negative feelings, which indicates that your chances of being happy at college are quite good.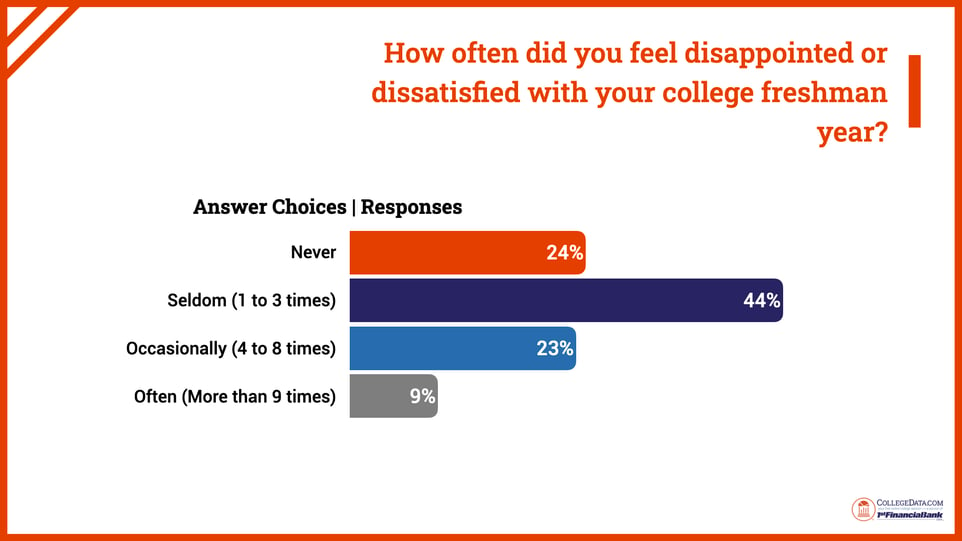 Be Patient: It Can Take Time to Adjust to College
It can take students an entire year (or more) to feel comfortable living away from home, acclimate to college classes, make friends, and adjust to the new independence that college brings. As one student put it, "College is strange in that the highs are very high, but the lows are very low. Sometimes you feel like a kid living a life too adult for you, and sometimes you feel like an adult who's really starting to come into their own."
Here are some things CollegeData students said helped them survive the transition from high school to college:
"My college's first-gen support system. We met monthly and attended events together. It helped me feel less alienated from my peers."
"Being close with my RA."
"Knowing my roommate and willingly joining clubs."
"Keeping a routine to help me get used a lot of free time."
"Understanding that not everyone needs to have friends all the time to have a good life in college."
"Going to floor events and meeting people."
"Going to the mental health center and talking about my feelings."
"Joining a fraternity."
"Making friends and getting involved."
"Communicating with friends and family back home."
"...making my space my own and having things that reminded me of home."
"Just giving it some time."
Whether you're feeling anxious about starting college next year, or you're in the process of acclimating to college life now, we hope you'll keep these survey results and student experiences in mind, so you know that, whatever you might be going through, you're probably not alone.
*Methodology: Survey results presented in this article were generated from an email survey of CollegeData registered users sent to college freshmen and students attending college in 2022-2023. A total of 366 CollegeData registrants completed the survey. Responses were provided anonymously.