Resources / Transition to College
Transition to College: Here's What Students Have to Say About It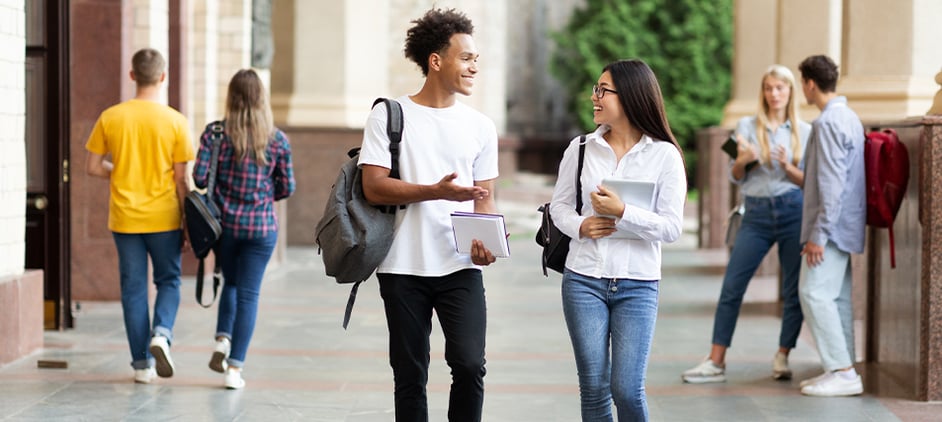 What did CollegeData students find most challenging about their freshman year of college, and what advice do they have for making the transition to college easier? Here are the results of CollegeData's "Transition to College" Survey.
Making the shift from high school to college isn't easy for everyone. If you're going through this transition now or will be in the near future, we thought it might be helpful to hear from students who have already gone through the transition-to-college process. In June 2021, we surveyed* a group of college freshmen and sophomores who are registered users of CollegeData about their first year of college. We wanted to find out what surprised them most about college life and what helped them adjust.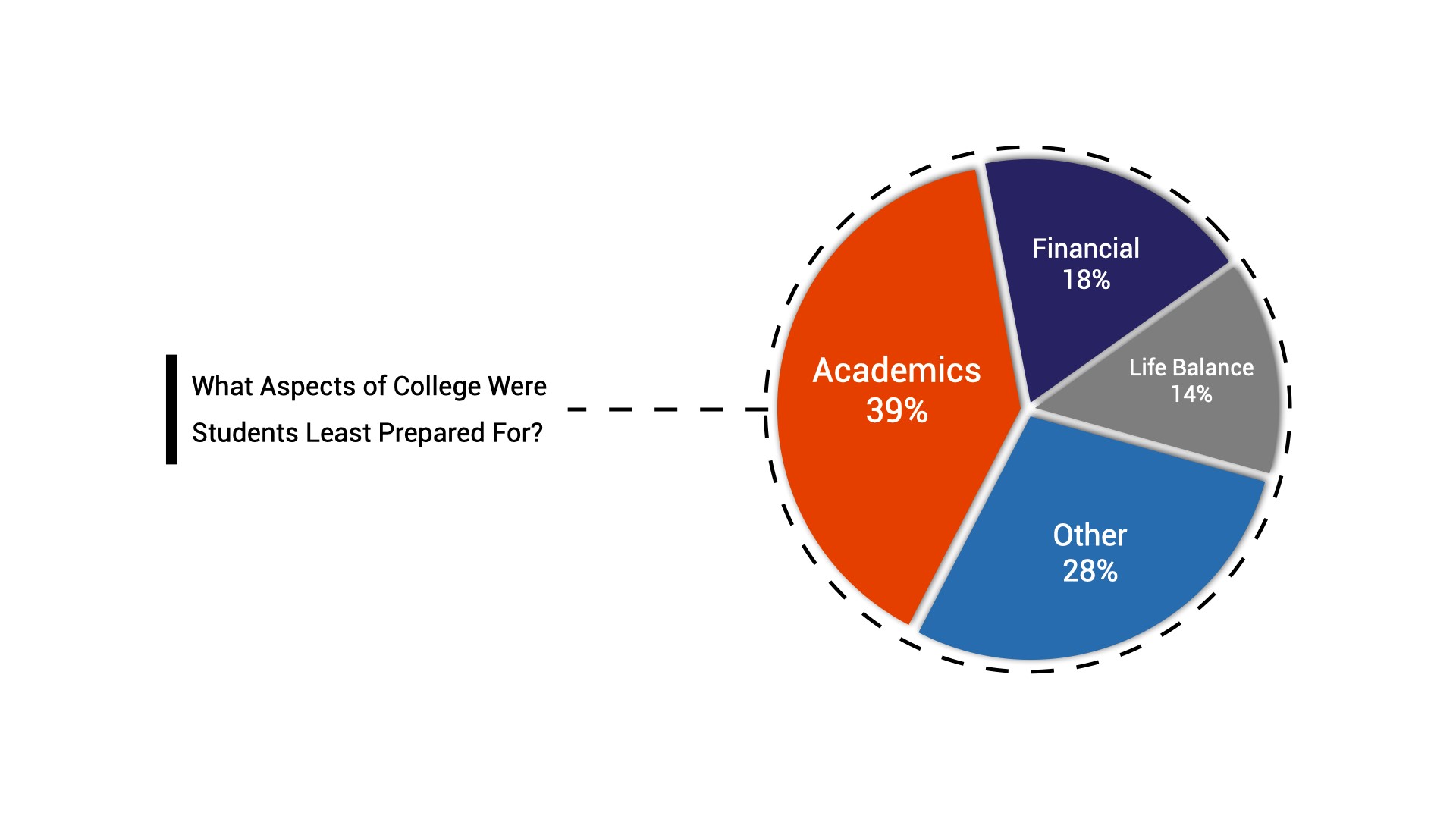 When asked the question "What aspect of college were you least prepared for," the responses fell into three main areas: academics, finances, and finding life balance. Below is more detail on how students responded within each category.
Students Felt Least Prepared for College Academics
Thirty-nine percent of the college freshmen and sophomores surveyed said they felt least prepared for the academic side of college. Of that group, 21 percent said they were most surprised by the amount of studying required to succeed in their classes. "Studying for college is completely different, even though I had taken many AP and IB classes before," one student responded. Another 3.5 percent mentioned studying for exams to be the most challenging.
Eleven percent of the survey participants said that they found their academic workload to be the biggest adjustment. "I went to a private school that did prepare me for a lot of work in college, but I was still amazed at how much I had to do at times." Another 3.5 percent were unprepared for the level of class rigor.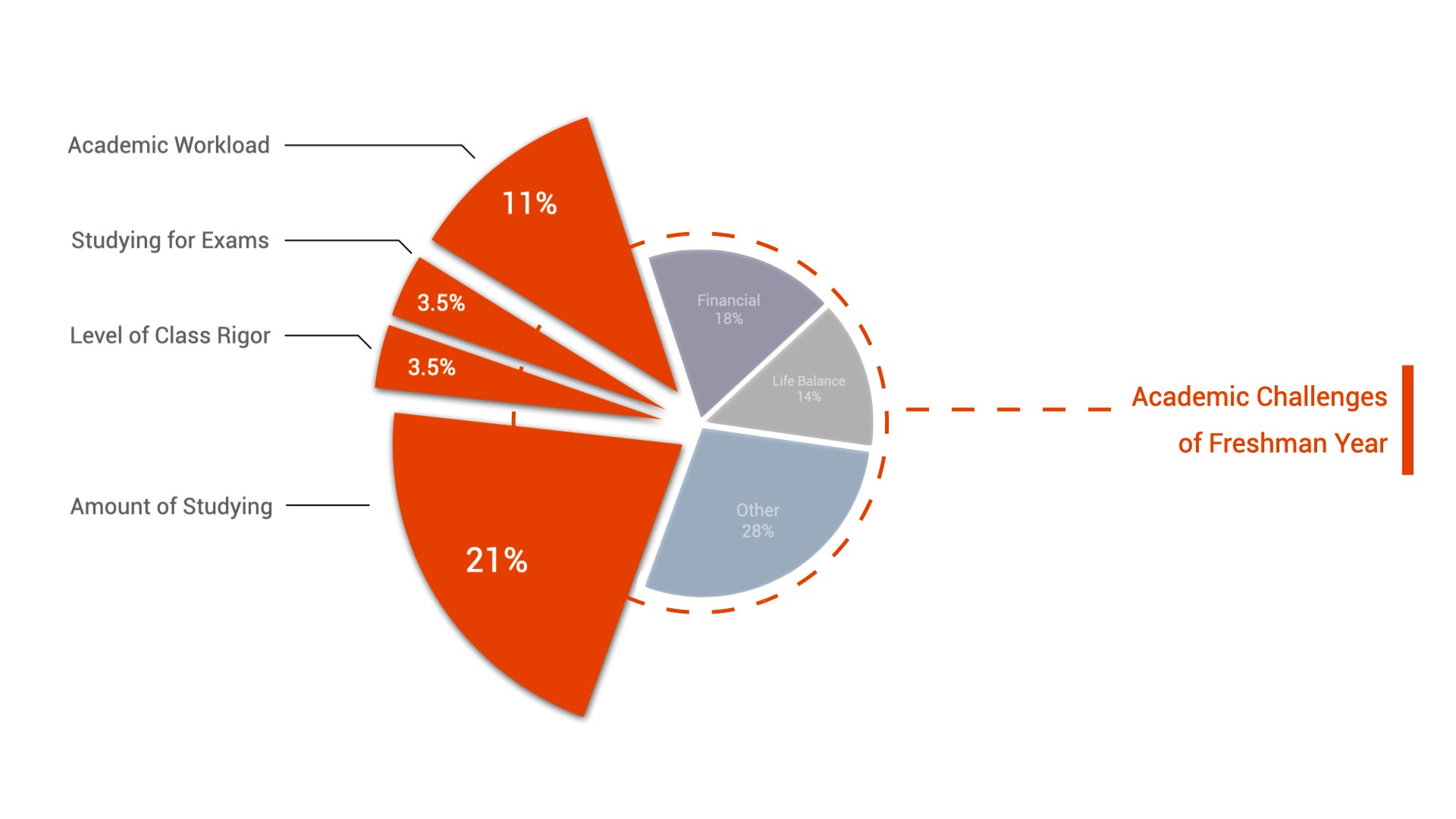 Studies have shown that many students have trouble acclimating to the pace and rigor of college-level work. In a 2019 survey of college freshmen conducted by the Higher Education Research Institute at UCLA, 37.9 percent of the students polled said they had difficulty adjusting to the academic demands of college.
Another survey, from 2021, of 2,000 college students from 108 institutions, revealed similar results. In this survey, which polled students about disruptions to their education during COVID-19, 23 percent of freshmen reported feeling very unprepared for college and another 35 percent reported feeling somewhat unprepared.
College Costs and Managing Money Were Another Challenge
Eighteen percent of the students we surveyed said they were least prepared for the financial aspects of college and of this group, seven percent felt they were least prepared for managing their own money. This finding isn't surprising since, for many students, college is usually the first time they are faced with creating and sticking to a budget.
Eleven percent said they were unprepared for college expenses. "I expected college to be expensive" said one student. "I just was not aware of how expensive it would be."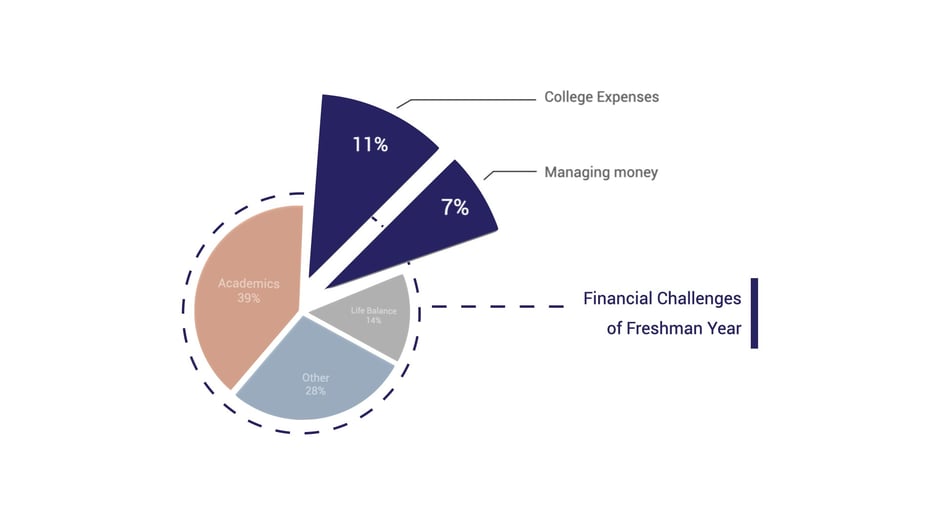 While students are usually prepared for and understand the costs of tuition and room and board, they can be thrown by the indirect costs of college, which include transportation, school supplies, entertainment and other non-tuition costs that students don't pay directly to their college.
A recent study that included interviews with 150 college students found that 80 percent had encountered an unexpected indirect expense at least once. Colleges usually include some indirect expenses in their Cost of Attendance estimates, but indirect costs can vary depending on the school, your major and your situation.
It's Tough to Balance Academics and Social Life
While college can present many exciting social and academic opportunities, all of this can be hard to juggle especially for incoming freshmen. It's therefore not surprising that a portion of our survey-takers (14 percent) found it difficult to find life balance during their freshman year.
"It was difficult to find the balance between social life and academics, because there were so many social events and people to meet," explained one student. Add a part-time job, family responsibilities, participation in clubs and/or sports, and you have a lot of balls in the air. One student put it simply: "Managing work and school was tough."
Students Felt Unprepared in Many Areas
Of the remaining college freshmen and sophomores we surveyed, 28 percent of them reported feeling unready for other aspects of college life, including adjusting to large class sizes, living away from home, and meeting new people.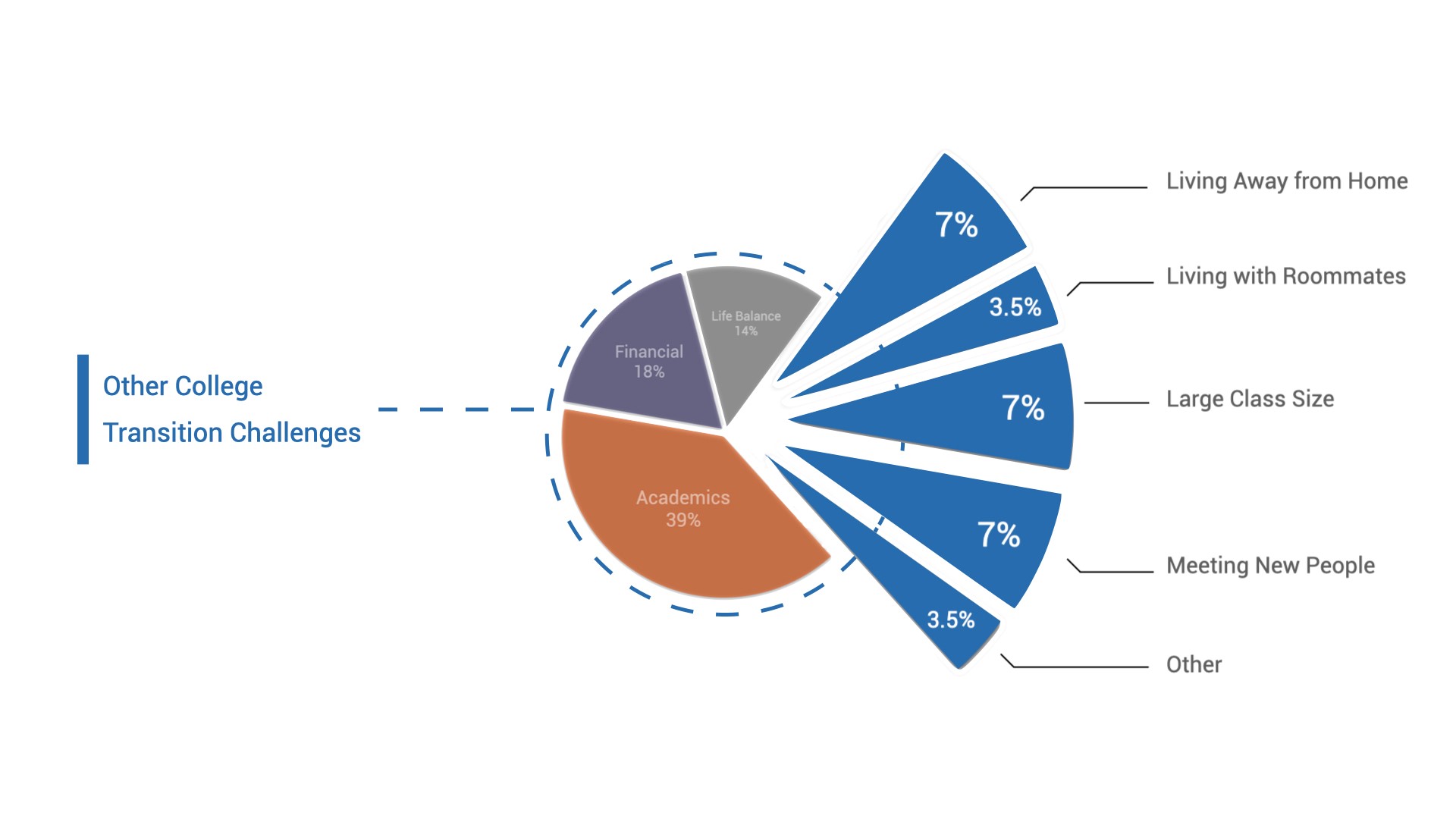 What helped students prepare for the transition from high school to college?
We also asked our survey-takers to look back at the summer between high school and college and tell us the one thing they did during this period that helped prepare them for college life. Two answers stood out.
Working Over the Summer
Thirty-six percent of students surveyed said working over the summer – either at a full- or part-time job or an internship related to a major – helped them prepare for the demands of being a college student, improved their time management and organizational skills, and gave them insight into a prospective career. "I learned more about the real world and what it means to collaborate with others," one student replied.
Attending Freshman Orientation
Twenty-five percent of respondents found freshman orientation to be the most helpful in preparing them for college because it provided them the opportunity to meet fellow students and get an idea of academic expectations. "Navigating graduation credits and university policies feels daunting at first, but orientation makes things a lot easier," reported one student.
Survey respondents indicated a wide range of additional things that helped them prepare for college, including getting a head start with class assignments over the summer and meeting with other incoming students.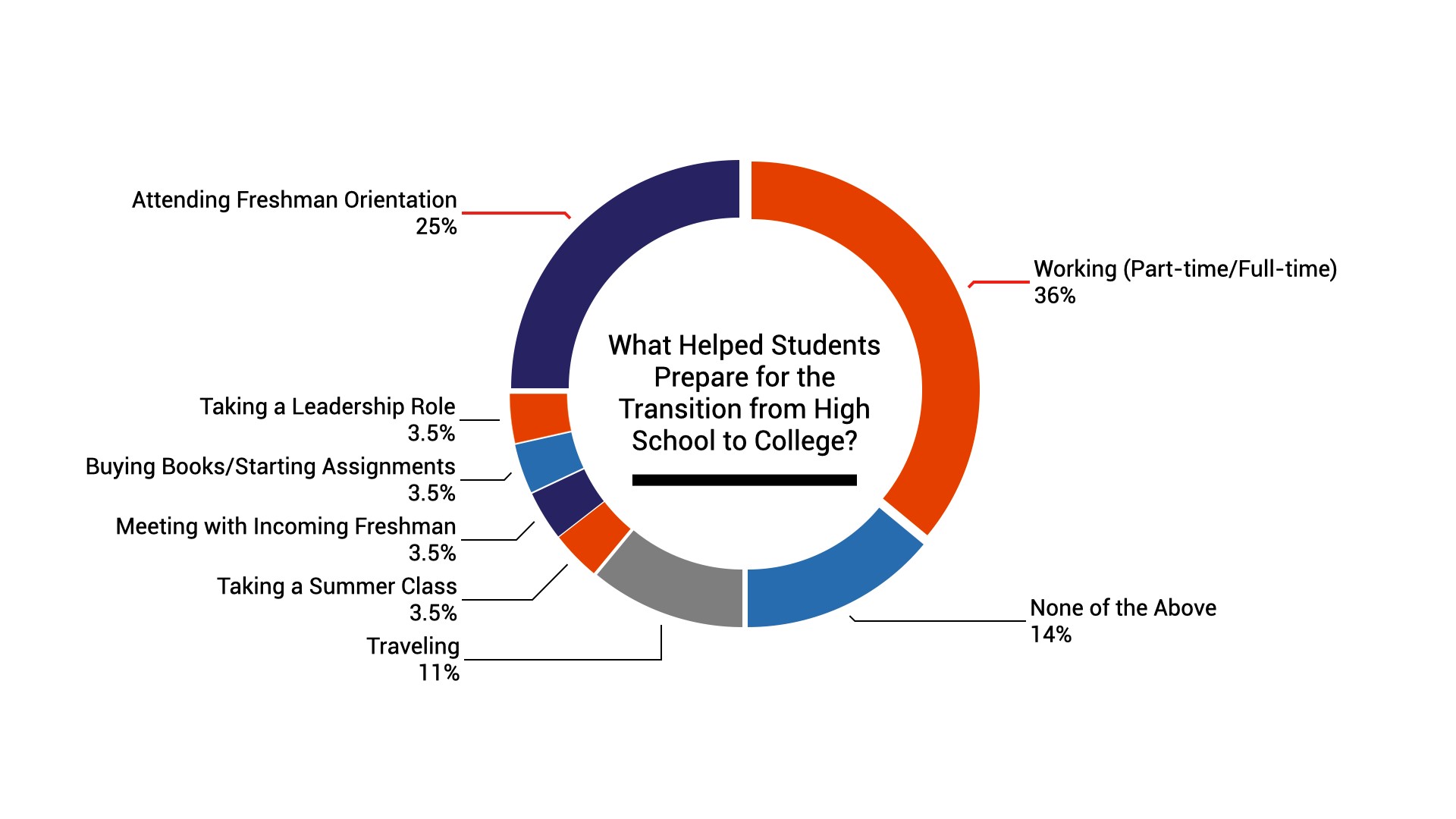 More Advice for College Students
Survey respondents shared additional suggestions for ways in which high school students can prepare for college. Here are some of their responses:
"Handling your own money, handling your own time, realizing how much effort it takes to balance your time… these are all valuable and vital lessons a high school senior should try to learn over the summer before college."
"Contact current students at your university and ask for advice regarding course selection and specific tips to your college."

"Get a good sleep schedule."

"Review material for core classes and visit the campus if you can."
"Learn time management skills and become familiar with some topics that your classes will be covering to ease into your semester before it even starts ."
"I touched up on my math and science skills before the semester started and I was able to succeed in Calculus!"
Be Patient: It Can Take Time to Adjust to College
It can take students an entire year (or more) to feel comfortable living away from home, acclimate to college classes, make friends, and adjust to the new independence that college brings. Whether you're feeling anxious about starting college next year, or you're in the process of acclimating to college life now, we hope you'll keep these survey results and student experiences in mind, so you know that, whatever you might be going through, you're probably not alone.
*Methodology: Survey results presented in this article were generated from an email survey of CollegeData registered users sent to college freshman and sophomores attending college in 2020-2021. A total of 28 CollegeData registrants completed the survey. Responses were provided anonymously.