John

- Georgia Tech - Class of 2024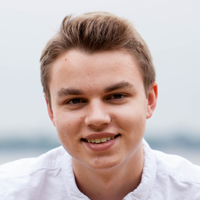 "A well-designed college list will result in a good outcome almost no matter what happens. Even though I had been told this, it took rejections, deferrals, and waitlists to make me realize it."
Hometown:

Burlington, WI
High School:

Private
GPA:

4.1 (w) / 3.99 (uw)
ACT:

35
Major:

Computer Science
Goals:

Intern with software companies, study abroad, meet new people
Extracurriculars:

National Merit finalist, chief programmer for the robotics team, National Honor Society vice president, founder of school tutoring program, multiple music groups including school concert band, jazz band and marching band plus Milwaukee Youth Symphony Orchestra, and a state honors band
Throughout my junior year, I looked at a lot of college campuses and fell in love with several, but Northwestern University stood out the most.
Floored by Northwestern
It seemed to check all my boxes: it was reasonably close to home, offered computer science and engineering, and had a great music program. Beyond that, I love the city of Chicago and Northwestern's campus absolutely floored me with its beauty and resources.
I decided to apply early decision to Northwestern, knowing that the early decision admission rates are substantially higher than the regular decision rates. I focused on Northwestern's early decision application deadline so much that I abandoned plans to apply to some other colleges early action just to have more time to work on Northwestern's application. To try to gain an edge in admissions, I visited Northwestern several times and interviewed with an alum.
The roller coaster begins
When I was deferred from Northwestern, I was disappointed yet still vaguely hopeful. The deferral wouldn't have surprised me so much if the admissions team hadn't said several times that deferrals were incredibly rare.
The next few weeks were some of the most stressful weeks of my life, as I procrastinated (typical) on almost all of the 18 essays I needed to finish by the January and February deadlines. Not getting a concrete decision from my top choice made it difficult to focus on my other applications and made me worry that they were not good enough. But I reminded myself that I had just had my best semester for grades and rigor. I poured my heart into several of my essays, and I wrote a letter of continued interest to Northwestern that was, in my opinion, pretty compelling. After I turned in my applications, I felt fairly confident about several of my top choices, Northwestern included.
I got into all my safety and low-reach schools with solid financial aid offers from all. That didn't make it hurt any less, though, when I got rejection letters from Johns Hopkins first, then Harvey Mudd, then Northwestern (ouch), and then Stanford. Even Georgia Tech, which I had felt pretty good about, put me on a waitlist with 4,200 other students, which I interpreted as a flat-out rejection.
How I made my college choice, part 1
Over the next few weeks, I had to choose a college from the schools that accepted me, but I had not visited these schools in person. By this time, I couldn't visit due to coronavirus lockdown orders, so I had to rely on the schools' online resources. Based on financial aid offers and academic programs, I narrowed my decision to Grinnell, Macalester, and University of Minnesota. From there, I pored over their online content and weighed the pros and cons of each school.
I eliminated Macalester as it focused on international and multicultural experiences, which were less important to me. Next, I eliminated University of Minnesota as I preferred smaller, more intimate class sizes. That left Grinnell, which stood out for the freedom it gave students to choose classes and small size.
I scheduled video chat sessions with students and admissions staff at Grinnell to get a better understanding of the school. These were some of the most helpful and informative sources for making a decision. I could tell that Grinnell picked students with diverse backgrounds but very similar goals and thought processes. As I chatted with other incoming students, I was struck by our similarities almost immediately. It felt like the right place to be.
How I made my college choice, part 2
The day after I made my decision to attend Grinnell, I got an email from Georgia Tech offering me a spot in their class of 2024. Tech had been one of my top three schools for its urban setting in downtown Atlanta, its top-tier computer science program, and its research opportunities. But after falling in love with Grinnell and knowing that my financial aid offer from Tech was limited, it was a difficult decision.
It took a lot of spreadsheets and some strategizing, but I found that if I took out a federal loan, took an on-campus job, and found internships early, I could navigate through Georgia Tech at a similar cost as Grinnell. Also, for out-of-state undergraduates, most of Georgia Tech's study abroad programs are less expensive than out-of-state tuition, so my plan to study abroad will save money. Most of all, Tech has strong return on investment numbers and the school does a fantastic job of helping students – especially STEM majors – find jobs, which hopefully will help me get out of debt quickly.
Ironically, it was some advice I received from Grinnell students that helped me make my decision to attend Georgia Tech. They told me that if I wanted to go beyond my comfort zone and learn, I should go with the choice that scares me more as long as it's just as good of a choice. So, I went with the option that excited me the most – and that I think will force me to grow and learn far more than I would anywhere else. I am beyond excited to write the rest of my story in Atlanta as a "Ramblin' Wreck and a helluva engineer."
What I learned
A balanced list reduces stress.

A well-designed college list will result in a good outcome almost no matter what happens. Even though I had been told this, it took rejections, deferrals, and waitlists to make me realize it. I was relieved that I would have been genuinely happy going to any of my safety schools.
My advice
Video chats can be helpful, but ask the right questions. Going into my virtual chats, I wrote out 20 questions I wanted to have answered. But I realized focusing too much on the questions turns the experience into a Q & A –and I sometimes got responses you'd expect from a tour guide. Inquiring about what the student seems interested in and asking them about their own experiences will more likely yield better results.
If you can visit college campuses, pay attention to students at work.

When I was able to visit campuses, it helped to see students working. Is the atmosphere full of stress and high pressure? Or do the students genuinely love the work they were doing?
Read More Student Stories:
| | | |
| --- | --- | --- |
| | Reveena - University of Pennsylvania "I was afraid when I was waitlisted at my match schools. It felt like a sign that I had no chance at my reach schools." | |
| | Rayael - UNC Charlotte "I applied to schools left and right in fear of not getting accepted anywhere. When I got all my acceptance letters back, my brain froze, and I realized I had no clue where I really wanted to go." | |