Sophie

- UCLA - Class of 2023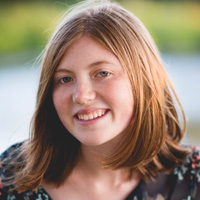 "When I was waitlisted at UCLA, I didn't have much hope. From what I'd heard, hardly anyone gets off the UCLA waitlist."
Hometown:

Santa Rosa, CA
GPA:

3.9/4.2 (weighted)
SAT:

1520
ACT:

33
Major:

Astrophysics
Goals:

Learn about the stars; be independent and grow up
My mom insisted that I apply to UC Santa Barbara (UCSB), but I wasn't much interested because they were missing one of my 'must-haves': a marching band or drumline.
Beach or band?
UCLA had more of what I was looking for in a school. Its marching band is seriously competitive and has fun, their astrophysics department does fascinating research, and I loved the city.
But after visiting UCSB, meeting with their music department and some kids in my intended major, I kind of fell in love. I found myself trading my drumline dreams for a beautiful campus by the beach, a relaxed and happy vibe, and an amazing physics teaching staff.
A last-minute decision
I think my admissions decisions were pretty typical: I applied to just over a dozen colleges, was rejected by half, accepted to three, and waitlisted at four, including UCLA. When I was waitlisted at UCLA, I didn't have much hope. From what I'd heard, hardly anyone gets off the UCLA waitlist.
Looking at my acceptances, U-Montana, U-Iowa, and UC Santa Barbara, I decided that studying physics at UCSB would be just the right amount of hard work as opposed to the more demanding schools that had rejected or waitlisted me. The final factor was that UCSB has an undergrad focus and fewer grad students so I thought I might have more access to research. On decision day, literally at the very last minute, I committed to UCSB with a big smile on my face. My dad stuck a UCSB sticker on my car and I was happy.
Bruins come calling
The next day, I got off the waitlist at UCLA. What in the world? I had four days to decide all over again. Huge campus in a city full of life and music? Or smaller, beachy campus with happy students and bicycling everywhere? I really couldn't choose.
I had loved UCLA when I visited before applying. My heart had hurt when I got waitlisted and again when I learned a friend had been accepted. But now that I had fallen in love with UCSB, how could I wrap my head around this larger, more competitive, slightly less relaxed school where I'd be one of so many thousands more students?
Fake it UNtil you decide
For the next few days, my parents and friends would ask me my college choice and I'd say, "I have no idea". The day before my decision was due, I was leaning towards UCLA but was not quite okay with that choice. My mom suggested that I tell people one school or the other all day and see how it felt. If I said "UCLA" and I winced every time, I'd know that I didn't feel good about my decision. If I said UCSB and smiled, I'd know that was where I'd be happy and successful. So, I said, "UCLA" when the first person asked me and I didn't wince or feel regret. I answered UCLA for the rest of the day and I never once felt like it was wrong.
That night, again at the very last minute, I committed to UCLA.
And the next day? I was accepted off the waitlist at UC Berkeley! Seriously, universe? That decision was a lot less difficult. I'm off to UCLA and I couldn't be happier.
My ups and downs
My English teacher put a piece of paper on his wall where everyone wrote the name of the college they were going to attend. I hadn't written anything, because I was agonizing over UCLA or UCSB. When I finally committed to UCLA, the first thing I did was walk over to the wall and write "UCLA" in big letters. My whole class was so happy for me, for finally deciding!
My worst moment was receiving the waitlist letter from UCLA. It sounded a lot like a rejection letter at the beginning. My sister convinced me to read the rest of the letter, and I realized I had been waitlisted. I was really disappointed.
What I did to stand out
I think my test scores were my key to standing out to colleges. I also think my extracurriculars, especially my devotion to my school drumline, made a difference. I'm also very proud of my admissions essays; I put a lot of time and thought into them to truly showcase my values.
What I learned
Don't procrastinate. I learned this the hard way and waited until the last minute to start my essays. I ended up spending my whole winter break writing them.
My advice
Don't worry. While the whole process can be very stressful, just remember you'll get where you need to go in the end.
Read More Student Stories:
| | | |
| --- | --- | --- |
| | Hannah - University of Richmond "I had convinced myself for so long that Duke was 'my' school, I felt that I couldn't change my mind -- even if it wasn't the best academic or social fit." | |
| | Sam - Sciences Po "Do not overlook or discount international schools. By and large, they are a bargain compared to US schools" | |