Sam

- Sciences Po - Class of 2023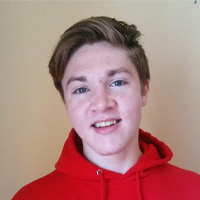 "Do not overlook or discount international schools. By and large, they are a bargain compared to US schools"
Hometown:

Mamaroneck, NY
High School:

Public
GPA:

94.26 (w) / 4.0 (uw)
SAT:

1480
Intended Major:

International Relations and Political Science
Goals:

Minor in Arabic, make career connections
After spending four years competing at the National level in competitive ice dancing, I knew first-hand that there is no sure thing when it comes to results, even if you work hard, have a 93+ GPA, got all 5s on your AP tests, and achieved a top score on the SAT. So I applied to a huge variety of schools, including several schools abroad.
A Georgetown legacy
I want to major in International Relations and minor in Arabic, and a top choice was Georgetown University. I had visited Georgetown for years since my mother is an alumna. The school is one reason I became interested in international relations.
To show my interest I attended a tour, an on-campus info session, and a classroom sit-in. I also went to two off-campus info sessions and had an alumni interview. I thought my chances of acceptance to Georgetown were good. My grades and test scores were a good match and I was a double legacy through my mother and grandfather.
Looking at colleges abroad
I also looked into colleges with dual degree programs with universities abroad. William and Mary offered a program with St. Andrews College in Scotland, where students spent two years at each college. I also looked at a similar program at Columbia with Sciences Po University in France.
However, when I looked into Sciences Po separately, I found that it offered everything I was looking for--including a program focusing on the Middle East and the Mediterranean and geopolitical challenges of the area. The high costs of Columbia (and U.S universities in general) pushed me towards applying to Sciences Po directly--and to looking into more schools abroad.
Applying to non-U.S colleges was a more difficult process. Especially for Sciences Po, the additional documents required, which included a visa, proof of health insurance, original birth certificate, were time-consuming--and all documents had to be translated into French by a certified translator. An interview was also required. However there were fewer essays and questions on the application, and a language proficiency exam wasn't required until after acceptance.
Surprising and not-so-surprising decisions
(Not) surprisingly, I did not get into Princeton--but surprisingly to my family, I did not get into Georgetown either. However, I was lucky enough to be accepted to all the other schools I applied to. I narrowed my choices down to William and Mary's /St. Andrews, Trinity College Dublin, Seton Hall, and Sciences Po. I eventually chose Sciences Po because it offers a three-year degree, the chance to use the six years of French I have under my belt, and a year of study in Egypt--and it was significantly less expensive than my other choices.
The money factor
Financial aid was a huge factor in my decision. The FAFSA only offered my family a very small loan, which was not going to be enough to pay for the schools on my list. Fortunately, at Sciences Po, my tuition clocks in at about $12,000 US per year. Including costs for housing, food, and flights to and from home, it is still a significant savings over most of the U.S. schools I applied to--even those from which I received financial aid. I'll hopefully graduate debt-free.
What I learned
Make the effort to learn the unique features of any college. A school that is unknown to you can be a great fit. Seton Hall hadn't been high on my list at first--it was overshadowed by the big-name colleges on my list. But I changed my mind about the school after visiting. Seton Hall went out of its way to make me feel welcome by planning an entire day for me on campus, including an info session with the head of its diplomacy program. It was clear the school had a small but high-quality focus on international studies with internship and networking opportunities built-in, and good Arabic and French programs. Meeting some of the teachers and learning its interesting quirks also endeared me to the place, and it became a top choice.
My advice
Don't overlook or discount international schools. By and large, they are a bargain compared to U.S. schools and if you are interested in international relations, you really can't ask for a better introduction to that experience. Start researching your options early, and talk to others who have applied abroad. The process is different but not necessarily harder if you have people to help you through it.
Read More Student Stories: