Olivia

- Yale University - Class of 2022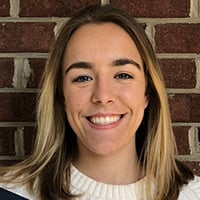 "I was used to writing an essay based on facts or figures, not one that is spontaneous, fun, or intriguing."
Hometown: Charlotte, NC
High School: Public
GPA: 3.96/5.41 (weighted)
ACT: 35
Major: Engineering
At first, I thought Duke was the only place for me. I was drawn to the school's intimate atmosphere and small engineering department. I loved that sports were integral to the school's identity and I had some friends there already.
Early Decision Thwarted
I wanted to apply for a binding early decision to Duke, but my parents were not fond of that idea. They wanted to see all of my financial aid offers before we committed to one college. Not being able to apply to Duke Early Decision was heartbreaking because I was convinced that applying early would be the only way for me to get in.
Another Early Option
At the last minute, I decided to apply early to Yale. Its early admissions option--single choice early action--allowed me to receive my decision in mid-December, but I did not have to respond to the admissions offer until May 1, which would allow me to compare financial aid offers. However, I couldn't apply early action or early decision to any other college except for my in-state schools.
I did not have much time to prepare the Yale application or write the essays. While this was stressful, I also did not put that much pressure on myself because I didn't expect to get in to Yale. I honestly think that taking this pressure off myself might have helped my essays to be more genuine and intriguing.
Essay Insecurity
I felt very unconfident in my essay writing abilities and this really slowed me down when completing my applications. I was used to writing an essay based on facts or figures, not one that is spontaneous, fun, or intriguing. At school, my teachers had often provided a template or guidelines, but my college essays were completely up to me.
When trying to decide what topics to write about, I created a Google document and made a bulleted list for each prompt. If the essays were short I often wrote on a few different topics, to see which one I liked better. My topics ranged from my experience participating in a national leadership conference, fantasy football, my premature birth, and being an identical twin.
My Common Application essay was about a summer research experience I had after my junior year of high school. I wrote about how it changed my mind from becoming a doctor to becoming an engineer. Although my dream of becoming an engineer has changed since coming to college, it showed my passion for STEM.
Deciding Between Two Dream Schools
When I was accepted to both Yale and Duke, I was on Cloud 9. I deliberated for a couple of weeks before I made my decision. I talked to my admissions counselors and alumni and I visited both colleges. Then I made a laundry list of things I liked and disliked about both universities. My factors were location, size, sports culture, Greek life presence, major options, and price. I realized that I would be happy at either school, which honestly made my decision harder.
I continued to deliberate until my dad said, "Was there really ever a decision to be made?" And it dawned on me: When I was accepted at Yale, I was elated. For the past few weeks, Yale was all I could talk or think about. That was when I made my decision.
What I did to stand out
I knew that having a strong academic background was the most important thing that I could do to stand out as an applicant, but I also wanted to show colleges I was a well-rounded person who could manage a busy schedule.
I took most of the AP classes that I was interested in and that my school offered, pursued my passion for Chinese by taking an online class, and graduated as valedictorian. I was also a member of my school's field hockey team for all 4 years of high school and had a summer job.
I think that being a female interested in engineering also made my application strong. I demonstrated my interest in STEM by participating in research, being a leader in my school's chapter of Girls Engineering Change, and volunteering at a local clinic and hospital.
My advice
Start your essays early and take your time. I didn't start writing my essays until September. I would have been less stressed if I had finished some of my essays during the summer, as I still had to keep up with homework and tests during the school year.
Try not to compare yourself to others. I noticed that many people had finished their applications before I had. Just remember that they might be applying to colleges that require only one short essay or no essays, and everyone goes at their own pace.
Be careful about applying for a binding early decision. For me, in the end, not applying early decision to Duke was for the best.
Read More Student Stories: