Stanley

- Vanderbilt University - Class of 2024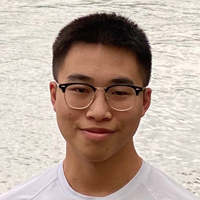 "Since I was mostly navigating the college admissions process on my own, I learned to trust my intuition to lead me to universities that were the right fit."
Hometown:

Nashville, TN
High School:

Public
GPA:

4.0
SAT:

1530
ACT:

34
Extracurriculars:

Speech and debate team, Quiz Bowl team, DECA, National Honor Society, Beta Club
Major:

English and biochemistry
Goals:

Discover my passions, make connections and good friends, challenge my preconceptions and expand my horizons.
As a first-generation college student, I felt pressure to be accepted into a renowned institution. Financial limitations hindered me from visiting campuses, and many college representatives did not come to my region, so I mostly did online research and I made sure to use the virtual tour functionality.
The Search Commences
During my research, I chose schools with an intensive focus on the humanities. I was also looking for an urban location and a breadth of student organizations, particularly those pertaining to spoken word, journalism, writing, and government. I also looked into Greek life, the depth and breadth of the English department, and the accommodations of the dorm rooms. I ruled out smaller schools because I personally like the hustle of a larger university and the immense number of opportunities they provide.
Through exploring colleges online, I learned about the existence of early decision and early action admission plans on top of the traditional regular decision. I also found out about QuestBridge, a nonprofit organization that connects high-performing, low-income students with colleges. QuestBridge students apply to colleges in a separate early decision round. Students who are accepted by a college during this round are considered "matched" and receive almost a full ride scholarship. The QuestBridge application is basically the same thing as the Common App with a few additional questions, but the application is due much earlier: at the end of September.
Early Decision (More Like Early Defeat)
Through Questbridge, I applied to Stanford, Yale, UPenn, Vanderbilt, Columbia, and Princeton, but I did not match. I was definitely disappointed, but I knew that this wasn't really the end of the world, since the match process is extremely selective, and I could reapply to these colleges through the Common App.
Next, my guidance counselor recommended that I apply early decision to Columbia University. Columbia was clearly my first choice. I thought the school was absolutely spectacular. I loved its urban location in the heart of the Big Apple and its Greco-Roman architecture.
But, it wasn't meant to be. I was deferred to Regular Decision.
A Fast Rebound and ED II
Admittedly, the deferral from Columbia University really let me down. It essentially felt like a rejection. However, I did not waste time grieving and licking my wounds. I quickly applied to Early Decision 2nd Round at Vanderbilt University, my next top choice. I liked its humanities oriented AXLE curriculum and that I would have the freedom to attend classes between all four undergraduate colleges). The campus is chilled and laid-back and situated beautifully in the heart of downtown Nashville.
Anxiety at the Airport
The day finally came: my Vanderbilt ED decision was due. I've watched so many YouTube videos with students opening their college decision letters in the presence of friends and family. But I did not have the guts to do such a thing, especially when I had been deferred by Columbia and rejected from the colleges I applied to through Questbridge.
However, I may be one of the rare few who opened their decision letter before an airplane takeoff. I was at the airport with nine other members of my school's speech and debate team to head for a tournament at Harvard University. Before the plane started moving to the runway, my cell phone beeped with a status update from Vanderbilt. I thought to myself, "What horrible timing!" If I didn't check my phone immediately, I would have to sit with my anxiety and anticipation for three hours! With the little cellular data I had, and as the plane continued to taxi, my phone slowly, but surely, loaded my portal. To my relief, the website finally came into view. To my elation, I was accepted!
The Money Factor
I am blessed that Vanderbilt has a very generous financial aid program. My tuition, room & board, dining, and various other miscellaneous expenses are fully paid for except for a $2,000 work study award. My financial aid should remain consistent throughout all four years of undergraduate studies. Additional outside scholarships will also help me with any costs I may incur in the future.
What I Learned
Since I was mostly navigating the college admissions process on my own, I learned to trust my intuition. I think my own intuition led me to universities that were the right fit and that I was comfortable with.
It is not up to me to decide which colleges will accept me and which ones will not, but it is up to me to create opportunities and make the best of them by working hard with a positive attitude.
My Advice
Your essays and personal statements are probably the most important channels

for you to present yourself as a desirable candidate. Pour your heart out. Express your passions, your interests, your desires for your future.
Ask yourself if you can see yourself on campus.

Tour the campuses physically if possible or virtually. Then close your eyes and imagine. Do you see yourself walking to your political science class up on the hilltop, hanging out with friends on the manicured lawns, or biking to a club meeting?
Believe in yourself.

Trust your intuition. And remember that the college you attend does not define who you are.
Read More Student Stories:
| | | |
| --- | --- | --- |
| | Kelly - Vanderbilt "When I compared myself to the kids online who were applying to Vanderbilt, I didn't have any of their accolades. I thought I wasn't qualified." | |
| | Will - University of Minnesota "Waiting a year to start college wasn't what I originally wanted, but it's a sacrifice I am willing to make to not go into debt." | |