John

- Kenyon College - Class of 2020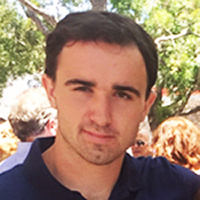 "Don't be afraid to ask for what you want, particularly with respect to financial aid. You might get a 'no' but you can't get a 'yes' unless you ask."
Hometown: San Juan Capistrano, CA
High School: Private
GPA: 3.50/3.81 (uw/w)
ACT: 32
Major: Neuroscience and English
Goals: Get involved in a variety of activities, including research, and prepare for graduate school
My test scores were a fine fit for most of my colleges, but my grades, which slipped junior year, were lower than their published stats. I attended a very academic high school, so I hoped that would help.
Taking a chance on Colorado
I didn't have my heart set on one "dream" school, but I did have fairly specific parameters for the college I wanted to attend. It had to be a small liberal arts college, not in a big city, with plenty of access to outdoor activities. While my parents didn't qualify for much need-based financial aid, cost was also an issue for me. My parents told me not to worry about finances, but I did. I had other siblings with college in their future. I was hoping to receive some financial aid to lessen the burden on my family.
My first choice was Colorado College. I had gone to an admissions weekend there and loved the campus, the students, and the access to hiking, biking, and skiing. I also liked its "one-class-at a time" concept, where students study just one subject every few weeks instead of several throughout a semester. Kenyon and Bates also seemed like they'd be great fits. I knew kids from my high school that went to both colleges and really enjoyed them, but I hadn't visited either campus.
I wanted to show my interest to Colorado College (and possibly increase my chances), so I applied for a binding early decision. I also applied to a few colleges with early action plans.
Focusing on the positive
Willamette University was the first school I heard back from. I was accepted with a generous scholarship! Then I heard from Colorado College. I was denied -- not even deferred. It was the most selective school on my list, so I wasn't devastated, just disappointed.
I felt better when my regular decisions came in. I was thrilled with my acceptance to Kenyon! But it came without grants or scholarships, just loans and work-study. Whitman also accepted me with a small scholarship.
Now the decision process began. Would I attend Willamette with the largest scholarship, or consider the pricier (and more desirable) Kenyon or Whitman? My parents told me to set aside the financial issues and go visit the schools.
Kenyon vs. Whitman, heart vs. head
First I visited Kenyon, and I loved it, even though it rained most of the time I was there. It also snowed, which I thought was fun. The campus and surrounding area were very pretty with a river and great hiking trails. I liked the people and the highly academic environment. My only concern was how remote and artsy the school felt (I am not really into theater, singing, etc., which is a big thing there). It was also farthest from home which added to the cost.
I visited Whitman the following week. It had great people and a robust outdoor program. While it was highly academic, it also had a laid-back feeling, which was very appealing. But I wondered if I would work as hard as I should in that atmosphere.
Sound advice from Mom
After the visits, I removed Willamette from consideration. My heart was with Kenyon, but my head was with Whitman because of its lower cost. With the decision deadline quickly approaching, and knowing I was still conflicted, my mom suggested that I contact my admission rep at Kenyon and explain my dilemma. I am so glad I followed her advice! When I expressed that I wanted to attend Kenyon, but finances were an issue, the financial aid committee revised its offer. They added a generous scholarship (guaranteed for four years as long as I maintain my grades), and a need-based grant, lowering the cost below Whitman's. I was ecstatic! I can't wait for my college experience to begin.
My ups and downs
Getting denied at Colorado College was a low point. I immediately regretted applying for an early decision. If I had waited, I could have sent Colorado my senior grades (which were straight As with three AP classes), showing an upward swing. Waiting might not have made any difference, but I'll always wonder if it could have given me a better shot.
My best moment was when Kenyon revised its financial aid package. Not only was I getting to attend the school I wanted, but now I felt confident that Kenyon wanted me too!
What I learned
Don't be afraid to put yourself out there and apply to some reach schools. Whitman and Kenyon were reaches and I was accepted at both. Forming good relationships is also important. I had a great relationship with Kenyon's admissions counselor, which made it much easier for me to ask for more financial aid.
The Money Factor
Kenyon provided a $9,880 need-based grant and a $15,000 merit scholarship, in addition to work-study and loans. I will be responsible for the loans and the work-study, and my parents will cover the rest.
My Advice
Be careful when applying early decision, especially if your grades or test scores are below the school's average and you think you can improve them.
Most of all, don't be afraid to ask for what you want, particularly with respect to financial aid. You might get a "no" but you can't get a "yes" unless you ask.
Read More Student Stories:
| | | |
| --- | --- | --- |
| | Lila - Oberlin College "I didn't have an 'aha' moment where I thought 'Oh! This is where I'm supposed to be!' I had no idea how I would make a decision." | |
| | Jessica - Point Loma Nazarene University "All my friends had described feeling this tremendous happiness when they were accepted by one of their top choices. But I didn't feel that way." | |