Jessica

- Point Loma Nazarene University - Class of 2020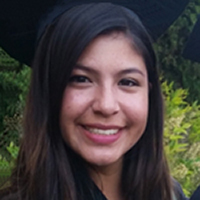 "All my friends had described feeling this tremendous happiness when they were accepted by one of their top choices. But I didn't feel that way."
Hometown: Santa Rosa, CA
High School GPA: 3.1/3.7 (weighted)
SAT: 1500
ACT: 28
Major: Marketing
Goals: Learn as much as I can, make the dean's list, participate in choir, dance club and the Latin American club
I ignored how good of a fit PLNU was for me. Instead, I tried to fall in love with another college. But I was kidding myself.
Not my brother's school
When I first visited Point Loma Nazarene University (PLNU) in San Diego, I had to admit that in many ways it was a good fit for me. The campus was beautiful and the business and communications programs were good. The only problem was that my brother was going there, and I was adamant that I wasn't going to follow in his footsteps. We are very different, but most people don't see that. I thought people would think I picked PLNU just because I wanted to be like him. I didn't want to be known as "Joshua's little sister" anymore.
My dream school was Boston University, which I had visited my junior year. I loved the campus, its communications program, and, most of all, the city. I knew it was a reach school, not just academically but also financially since it was located across the country. But I wanted to apply anyway.
The rest of my colleges were safeties or matches and were small, private Christian or Catholic schools with good programs in my major areas of interest (business, marketing, and English). PLNU was on the list because it met my criteria, but I ignored it, and spent more time researching the other schools on my list. My second choice after Boston University was Seattle Pacific University. The idea of going to school in Seattle was exciting to me. It also had a great theater program, and I really loved being involved in theatre in high school--especially participating in the marketing and promotion of the shows. Plus, Seattle was on the opposite end of the coast and a very different type of school than my brother had chosen.
Accepted and so…disappointed?
I got into Saint Mary's College of California first. It was a safety school, and I was pretty happy, mostly because it was my first acceptance. Then I got into Seattle Pacific ... and I wasn't that thrilled. I pretended I was, running to class to tell my teachers that I got in, but I was kidding myself. I told myself that the way you feel isn't important, but all my friends had described feeling this tremendous happiness when they were accepted to their number-one school.
A week later, I received a huge acceptance packet from Point Loma. I actually jumped up and squealed, "I could totally be a Sea Lion!" My dad took a picture of me with the singing card that Point Loma sent. Funnily enough, I was wearing a Point Loma sweatshirt. But after all that, I disregarded my happiness because I was still waiting to hear from Boston University. Then, at Disneyland of all places, I found out I was denied at BU.
TakinG a Second Look At The final two
A few days later, I re-evaluated my acceptances. After considering the academic programs, financial aid offers, clubs and organizations, and the way the community interacted on social media, my choice was between Seattle Pacific and PLNU.
Now I got serious about PLNU. I talked to my brother's friends, other current students, and an admissions counselor. One student I talked to was studying marketing and was also in choir and several other clubs I was interested in, and her experience was entirely positive. I didn't like that I'd have to retake a math class, but everything else at PLNU beat Seattle Pacific -- the study abroad options, the business school ranking, the smaller class sizes, even the weather. It was obvious that PLNU was a good fit and I was resisting it just because I was being stubborn.
So, I chose PLNU. I realized I wasn't choosing it just to be like my brother. I had done my research, applied to different schools, evaluated my options, and chose the school that had the most to offer me.
My ups and downs
It was a little surreal getting denied from Boston University at Disneyland. I had been waiting to hear from BU all day, but I put off checking my email because I didn't want to distract from all the fun. I checked my phone at dinner and saw, "We've reviewed your application but unfortunately we cannot accept you at this time." I turned to my mom and she just hugged me and said it was okay, and that afterwards we could get Mickey Beignets because they make everything better!
But the truth was, I was okay. I was definitely disappointed, but I just took it more as, "Well, I'm obviously not meant to go here." It would've been awesome to get in, but it wouldn't have been financially feasible for my family to send me to college across the country.
The best moment was finally committing to Point Loma and realizing that it was a good fit for me.
What I learned
I was surprised how much I enjoyed applying to colleges. Managing school and my extracurriculars with my applications was much easier than I thought it was going to be.
As much as I hate to admit it, it was helpful that my brother attends PLNU. Through him, I was able to experience the school, meet current students, and talk to students in my major. We're actually both excited about going to school together again and having the chance to be close.
The money factor
My tuition (including room and board) is about $42,000 a year. My financial aid package includes grants, scholarships, and two loans, covering a little more than half of the total cost.
My advice
Put a lot of time into your application, and ask for help if you need it.
Don't put SAT vocabulary words in your personal statement unless they're words you actually use comfortably.
Don't be afraid to email or call your admissions counselor! They can help you find out more about colleges.
Read More Student Stories:
| | | |
| --- | --- | --- |
| | Gabby - Xavier University "Not taking care of yourself during the college application process only leads to stress and tears." | |
| | Amira - University of Tennessee "With the scholarships and grants I received from the university and the state, plus the federal Pell Grant, my college costs were almost completely covered." | |