Resources / Transition to College
7 Secrets to Surviving and Thriving During Your Freshman Year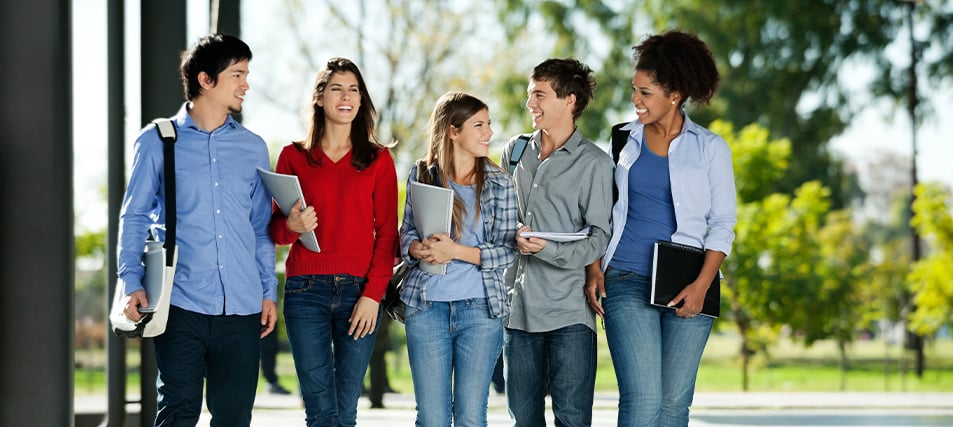 The transition from high school to college is a big one. Not only will you be juggling new classes and activities, you may also be living away from home for the first time. While starting college may be stressful at times, there are many things you can do during your freshman year that can help you not only adjust, but succeed. Here is a list of seven secrets to help you survive – and thrive – during your freshman year of college.
1. Don't buy your textbooks right away or from your school's bookstore
You should not buy textbooks before your classes meet because some professors do not require every textbook listed on the syllabus, while other professors may use only portions of a textbook and may even post those portions online. If you do need to buy textbooks, it's a good idea to shop around for the best prices and not necessarily buy them from your school's bookstore. On-campus bookstores often mark up the cost of textbooks significantly.
In some cases, you may be able to find textbooks at your school's library. Be sure to get to the library as soon as you can because the number of textbooks may be limited and they are likely to be checked out. If you are unable to get your textbooks from the library, you may want to buy used books, which are often less expensive than new ones. There are also websites, such as LibGen, that offer free PDFs of many popular textbooks.
Some professors may assign online homework or additional readings or videos that students can only view with a paid access code. Sometimes you can purchase the access code and textbooks together, but these bundles can be very expensive. If you only need access to the homework or online content, you can often buy the access code individually from a textbook website, such as Chegg or Amazon, for much less than the cost of the bundle.
2.
manage your time effectively
You may have heard this before, but college is not like high school for many reasons. You will soon find out that you cannot wait until the day before an exam to start studying or put off writing a paper until the day before it is due. Because many college classes are harder and more demanding than high school classes, it is important to effectively manage your time. It can be helpful to use a planner to make and keep track of your daily schedules. Creating a schedule can also help you manage your time efficiently, recognize your daily accomplishments, and help you stay focused. Don't forget to schedule time for breaks so you can rest, exercise, and clear your mind.
3. Do not take all "hard" classes in one semester
While you may be excited about the challenge and rigor of college academics, do not fill up your schedule with only the most demanding classes during your first semester or quarter. Instead, try to balance one or two hard classes with a few easier or fun classes. This can help reduce anxiety and stress and allow you to really focus and do better in those harder classes, as well provide space to balance part-time work and/or extracurricular activities.
Before signing up for a class, try to find out how demanding it might be by talking to other students. You can also look up professors on Rate My Professors to see what other students have said about them and/or the classes they teach. You might also want to speak with your academic advisor about whether a specific combination of classes may be too hard or demanding for a single semester or quarter.
4. Go to office hours
Take advantage of your professors' office hours. When you visit a professor for the first time, make sure to introduce yourself and indicate your year of study (e.g., freshman, sophomore, junior or senior) and the class you are taking because the professor may have hundreds of students in any given semester and may teach more than one class. It is important to develop relationships with your professors because they cannot only help you succeed in their class but also provide valuable guidance and direction during your college career that might lead to an internship, research, or job opportunities. See this guide from the University of North Carolina Chapel Hill about how to make the most of your professor's office hours.
5. Join clubs
Joining clubs that you are interested in is a great way to get involved on campus. Most colleges have hundreds of different clubs to join — whatever you are interested in, your college most likely has a club for it. A great way to see what clubs your school offers and what exactly each club is about is to attend your college's club fair, which is usually held at the beginning of the school year.
Joining a club is a good way to branch out, explore different interests, and meet new people. Also, joining a club that focuses on a particular academic or career path is a good way to build connections, stay up to date about information related to your academic or career path, and find research, internship, and volunteer opportunities.
6. use campus resources
Take advantage of the resources that your school offers. For example, many colleges have a career center that offers specific career advice, resume building tips, cover letter help, and more. Many schools also offer free tutoring and academic help, including help with writing papers and studying effectively.
7. Make time for yourself
College can be very overwhelming at times, especially if you are trying to balance school work, club involvement, and part-time employment, with the social pressures and new responsibilities of college. That is why it is very important to make time for yourself to do things you enjoy, whether that is going for a walk, working out or taking an exercise class, reading a book, cooking a healthy meal, or even watching a television show or movie. Taking time to yourself can help you clear your head, bring you some peace of mind, and alleviate some of the stress that comes with being a freshman in college.
It is also important to get enough sleep every night — about seven to nine hours. Sleeping well is not only good for your physical health but can help you to be more productive and alert throughout the day.
Taking advantage of these seven tips is a great starting point to a successful and productive freshman year of college. We wish you great success!