Resources / Transition to College
5 Challenges You May Face Freshman Year — and How to Deal with Them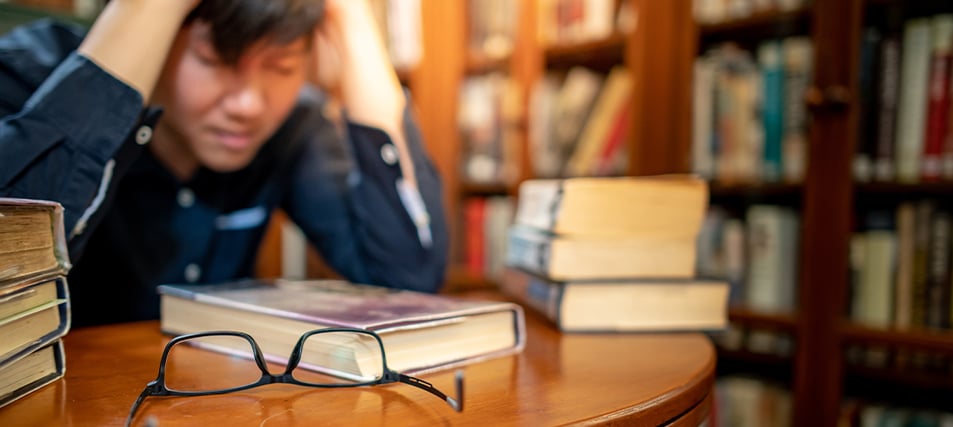 College life will be full of new experiences — and some of the hassles and hurdles of living on your own. Here are a few situations to prepare for, just in case.
1. Late or suspended financial aid
There is a possibility that your financial aid may be late or suspended – whether it be because of mistakes in your application, a large applicant pool, or no longer meeting one of the basic eligibility criteria. To avoid this, you should complete and submit your FAFSA form as early as you can after October 1 each year. Take the time to complete the form accurately and completely to minimize mistakes that can delay the processing of your application. Another way to stay on top of your financial aid is to visit or get in touch with your school's financial aid office.
If your financial aid check is late, first try to determine if the issue was a clerical error on your part. Then contact your college's financial aid representative immediately. Your college's financial aid representatives are there to help you navigate the world of financial aid and provide payment and financial aid support.
2. Getting Sick
It is inevitable that you will get sick or need to see a doctor or dentist at some point during your time in college. For many students, it will be the first time they have to deal with being sick alone, without the help and guidance of their parents/guardian. To reduce the frequency and severity of illnesses while you are away at school, it is important to prioritize your health and take care of yourself physically, mentally and emotionally. To do this, you can start by establishing healthy habits, such as by eating well-balanced meals, staying hydrated, getting regular exercise and enough sleep, and talking with an appropriate professional if you feel stressed or overwhelmed.
If you do get sick or feel overwhelmed, you may want to seek help from your school's health center or counseling center, or the closest urgent care facility. Make sure that you have your insurance card on hand and have located the closest pharmacy in case you need a prescription. Keep your professors updated when you are sick by sending them a quick email to let them know what is going on. Also, follow your school's COVID-19 protocols and testing procedures – especially if you are exposed to COVID-19, begin to show COVID related symptoms, or end up testing positive for the virus.
3. Failing (or doing poorly) on an exam/falling behind in classes
Some college classes may be a lot more difficult and require more time, effort and commitment than your high school classes — and you might do poorly on an exam or fall behind in a class, especially during your freshman year. However, don't get discouraged. It takes time to develop a routine, get comfortable with the format of your new classes, and grasp what your professors expect from you.

If you fail an exam or fall behind in your studies, first, don't panic and don't be too hard on yourself. Remember, one or even a couple of bad grades in a class are not the end of the world. Next, take action and visit your professors during office hours to figure out where/how you fell short. You might also find it useful to find fellow classmates to study with or even utilize on campus resources, such as writing centers and tutors. Third, review your study habits. Make sure you're devoting enough time to your studies. Try using an agenda or planner to establish a daily schedule for yourself and set realistic goals.
4. Not getting into a popular/significant club or activity
Some college clubs and extracurricular activities, including fraternities and sororities, are selective and may require some type of application, interview or combination of both. At some colleges, you may face intense competition and you may not be accepted or asked to join every club or activity that you have set your eye on. While it may be upsetting at first, try not to let it get you down. Instead, focus on the other opportunities, extracurricular activities, and clubs that your school has to offer. By remaining positive, you are bound to find activities that are right for you and that offer an opportunity to meet new people, expand your social circle, and develop friendships.
If you have your heart set on a particular club or extracurricular activity that you were denied from joining as a freshman, you may be able to apply or go through the recruitment process as a sophomore. Keep in mind that being rejected from a "top" or "popular" club is not the end of the world. College is about exploring and getting involved in (and, yes, being rejected from) all sorts of clubs and activities.
5. Homesickness
The transition from living at home to living at college can be tough for some students especially if they have never been away from home. It is common – and normal -- to miss your family, friends and home life while you're at college. To cope with any homesickness you may be feeling, it is important to keep in touch with your family and high school friends. Try calling or video chatting when you are walking from one class to another, when you have some down time, or are taking a break from studying, but don't call every day or every time you miss them. Instead, get out of your room and get involved in your campus community and make new friends – whether through clubs and activities, your dorm, or even classes. As time passes and you get more involved and acclimated to college life, you are likely to feel more comfortable in your new environment and less homesick.
You may face some of these challenges during your freshman year — or perhaps later in college. If you do encounter any of these situations, we hope these tips will help you cope and recover quickly, so you can continue to make the most of your college experience.