Senior-year Stress: Here's What Students Say and Do About It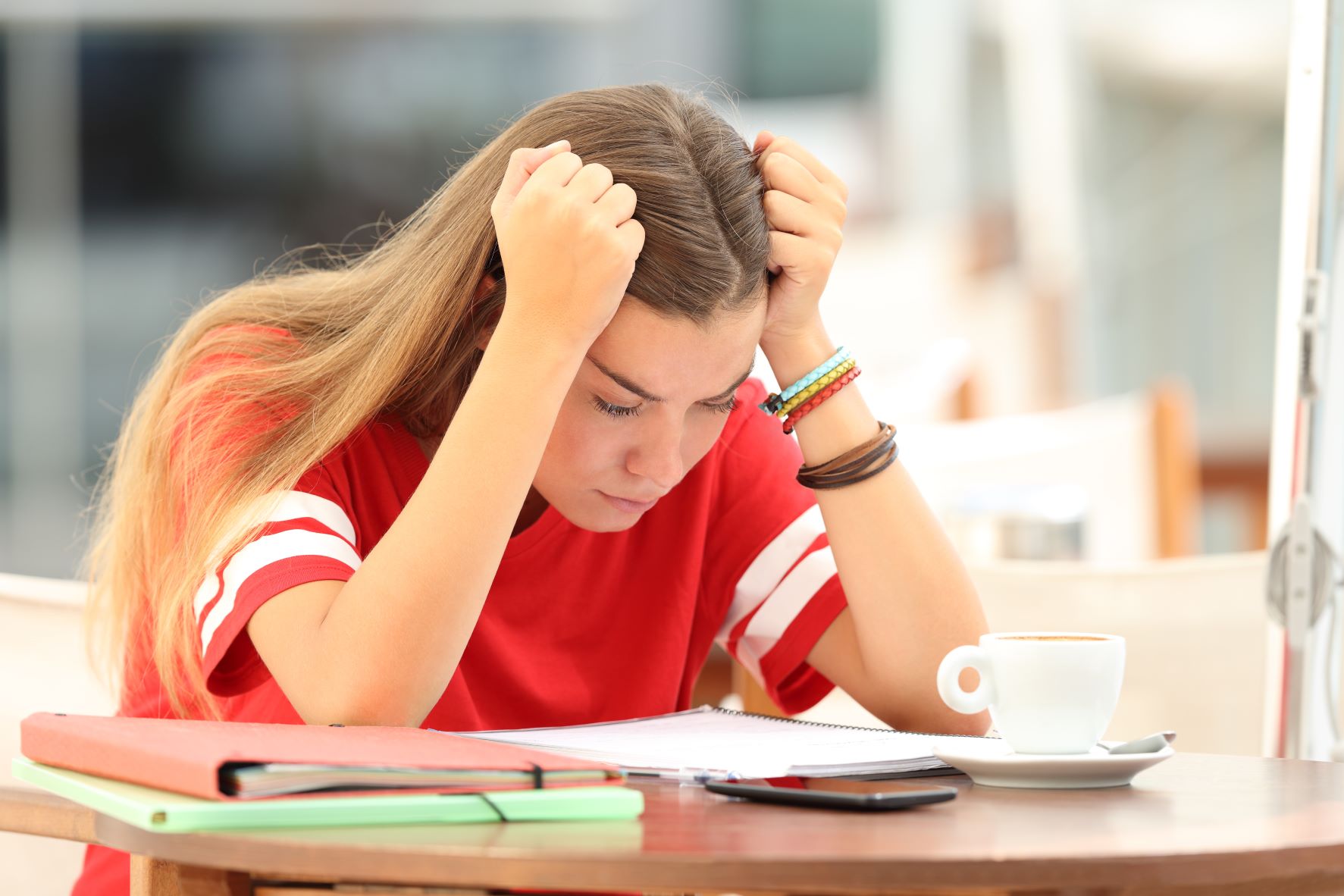 What did CollegeData students find most stressful about their senior year of high school and what advice do they have for the high school grads of 2023? Here are the results of CollegeData's Senior Stress Survey.
Stress is a feeling many high school students are well acquainted with. In fact, 80% of K-12 students in the U.S. report feeling stressed "sometimes" or "often," according to the Anxiety and Depression Association of America.
In fact, senior year can be one of the most stressful times in a student's life, especially for those applying to college. In addition to juggling school work, family responsibilities, social relationships, jobs, and extracurricular activities, many high school seniors are also navigating an unfamiliar and highly competitive college admissions landscape, figuring out how to finance their education, and making big decisions about their future.
In September, we surveyed* registered users of CollegeData who graduated from high school in 2022 to find out what was most stressful about their senior year, how stress affected them, and what resources helped them deal with that stress.
Why is senior year of high school so stressful?
When we asked students what stressed them out the most during their senior year of high school, their responses fell into the following areas:
Applying to college

Getting accepted to college

Managing senior year workload

Paying for college

Standardized tests
Below is more detail on how students responded within each category.
Stressor #1: Applying to College
The highest percentage of high school seniors we surveyed (37%) said that applying to college was the most stressful thing about senior year and that the most stressful parts of the application process included figuring out where to apply, writing essays, and meeting deadlines.
The high school seniors who said that applying to college was the most stressful thing about senior year also said that feeling unsure about how to handle different aspects of the process was also a source of stress. "When preparing for college applications, there were things I was unsure about, especially regarding including activities on my college applications," remarked one student. "Uncertainty can be stressful at times."
Another student said: "I felt like everyone was way ahead of me during the college application process. As a first-generation immigrant, my parents did not attend university in the United States [and] therefore, I had little knowledge about the process."
Other students expressed concern about writing the college essay. One student said, "I was stressed out because I didn't know if I would be able to write well-written essays by all the deadlines I had." Another said, "I didn't know where to start and I felt lost trying to compose my application, write an essay, and manage my senior year of high school."
Stressor #2: Getting In

Applying to college has always been competitive, especially at highly selective and popular colleges. But in recent years, competition has increased as both the number of students applying to college and the average number of schools to which students are applying has gone up.

According to a report by the Common Application, the number of students submitting applications through its platform increased 21% from 2019-20 to 2021-22, and the number of schools to which students applied increased by 6% during this time frame. The greatest increase in application volume was seen at the most selective colleges.

The high level of competition to get admitted to college was a major source of stress for 13% of the high school seniors we surveyed. Others worried most about not getting admitted to their top choice (3%), but even more (4.5%) feared not getting admitted anywhere.
"It was hard to convince myself that if I didn't get in, it would be okay," wrote one respondent. "My mental health had never been worse because my entire future was dependent on my college decision results," added another.
Some students said that due to the unpredictability of college admissions, they felt the need to apply to a large number of colleges, which magnified the stress of completing their applications. As one respondent said, "I really cared about getting into a prestigious school and so in order to ensure that would happen, I applied to A LOT of colleges. This ended up being really stressful because of how many supplemental essays I had to write and how time consuming that was."
Students also said that they worried about how to stand out to colleges and how their applications would compare to other applicants. One student told us that "The process is so competitive. I stressed out a lot [...] because I felt like my extracurricular activities weren't good enough and I was also applying test optional to save money so I knew that would make my chances lower."
Another said, "Many other students had a similar number of extracurriculars and accomplishments or significantly more." And another said, "There is so much competition where other students are spending thousands of dollars to get their essays and applications reviewed. Not every student has that ability."
Stressor #3: Managing Senior-Year Workload
While junior year of high school can be the most rigorous academic year for college-bound students, the pressure doesn't ease up senior year for many students. Many seniors continue to take demanding Advanced Placement, International Baccalaureate, and honors courses to impress colleges. Also, by senior year, some students have reached top leadership positions in clubs, sports teams, jobs, youth groups, or other activities, which may require a larger time commitment than previous years.
According to Research.com, three quarters (75%) of American high school students and half of middle school students described themselves as "often or always feeling stressed" by schoolwork.
In our survey, about 20% of students reported that issues surrounding school work and managing their workload brought on the most stress. About 4.5% of respondents said their challenging courses were their biggest stressor. About 12% of respondents said that managing all the demands of senior year – classes, extracurriculars, and college applications – was the most stressful. Another 4.5% said that balancing academics with a social life and outside interests was their biggest source of stress.
As one student said, "I was taking many AP and dual enrollment classes and had a tough course load. It was tough managing hockey and school." Another student told us, "After applying to college, second semester was still stressful because I was busy preparing for IB exams." And another student said, "I thought senior-year workload was going to be easier to balance out the application work. It wasn't."
Stressor #4: Paying for College
While applying to college brings on plenty of stress, paying for it can be an additional and constant worry for some students, even long before they've made their college list. As reported by College Board in their annual survey of colleges for the 2021-22 academic year, the high total price tag of college today -- averaging $27,330 at in-state public universities and $54,800 at private colleges – can spark anxiety for many families.
Students we surveyed said that they are stressed about taking on student loan debt, burdening their parents with college costs, and understanding the financial aid process. One student said that "My family doesn't have a lot of financial resources. [...] I was stressing out a lot wondering how my family would pay for it [college]. I also didn't receive much help from FAFSA even though I am from a low-income family so I had to rely on a private loan with a large interest rate."
Another said, "Figuring out how to pay thousands of dollars for education as a first-generation college student was hard because I had very little guidance." And as another student told us, "When applying to schools [...], I worried about the amount of scholarship money I would receive, and in turn how much money I would have to pay when I finished college."
Stressor #5: Standardized Tests
College entrance exams and other standardized tests, including Advanced Placement tests, the ACT and the SAT, were the biggest stressors for 4.5% of respondents.
"Senior year is stressful enough with AP tests, the SAT, finals, and government tests. Plus we gave regular classroom assignments," one student explained. "It's hard to keep up with it when I have work, chores, and watch for my siblings."
A few students remarked that their test stress was low senior year because they took college entrance exams as a junior. The increase in test-optional colleges may be another reason why fewer students listed standardized tests as their biggest stress point.
How did stress affect high school seniors?
Stress can impact students in myriad ways, affecting their academic performance, physical, mental and emotional health and well-being, and their social relationships. A large percentage of students we surveyed (80%) said their mental/emotional state was impacted by the stress of senior year. Far fewer students reported that the stress affected them physically, academically or socially. Here is what some students told us:
"I had severe imposter syndrome before and after getting into college [thinking] 'I'll never be good enough to get in' or 'Did I deserve to get in?' "
"I was tough on myself, stressed out, and tired, it all drained me. I started beating myself up about it and doubting myself as a person and a student."
"Whenever I got rejections from a college, I definitely felt bad. Heck, almost ashamed especially after seeing YouTube videos of people getting into their top choices like MIT, etc."
"I started having mental breakdowns or anxiety attacks. I would get very stressed out trying to manage everything to the point where I couldn't hold my composure and would reach a breaking point where I would cry for what felt like no reason."



How Much Stress Are High School Seniors Feeling?
We asked students to rate the following senior-year stress factors on a scale from 1 to 10, with 10 being "extremely stressful." The highest percentage of students (25%) rated "competition to get into college" at level 10. The thought of not getting into their first-choice college was a close second, with 24% of students rating this a level 10.
Where did high school seniors go for help?
Most of our survey respondents reported that they reached out to other people in their lives to help them cope with senior-year stress. Almost 46% reach out to their friends; 43% to their parents or guardians, and 16% to a guidance counselor. However, 12% of survey respondents said they did not reach out to anyone about the stress they experienced senior year.
CollegeData students share their advice for coping with senior-year stress
Here is some of the advice our respondents wanted to share with high school students on dealing with stress.
"Relax[,] breathe, and don't be afraid to ask for help."
"Talk to someone about the stress you are feeling and the mental battle you are going through. I found that in every case where I was struggling mentally, the second I told someone and they comforted me I knew I'd be ok [...]. I also recommend starting the most stressful part of the application process first, the personal essay."
"Take something off your plate if you feel stretched too thin."
"Don't be afraid to reach out for help; I think one of my errors was not reaching out to my guidance counselor and relying instead on my friends who were sharing the same experiences as I was [...]. While realizing that everyone else was in the same boat (struggling) gave me a little confidence and relieved stress, I think talking to an experienced adult (counselor) would have helped more [...]."
"[B]e sure to spread out the college application process and not cram it into a small amount of time."
"Even if you don't get into your first-choice college, it will work out. I'm at a college that I didn't consider much when I applied to it, but I love it here. It should have been my first choice since the start. Don't worry about prestige or expectations from others."
"Please, please don't lose touch with your friends. And remember that self-care is okay. You can take breaks and go laugh at the coffee shop with your pals. That's okay. And work with your teachers. They will help you, but you need to step up and ask for it."
We hope you'll keep these survey results, student experiences, and advice in mind as you progress through your senior year of high school. If you are feeling stressed, consider reaching out to friends, family or other adults you know. Remember that stress is a normal human reaction. As these survey results show, if you are feeling stressed out senior year, you are not alone.
*Methodology: Survey results presented in this article were generated from an email survey of CollegeData registered users. The survey was sent to students who were high school seniors in 2021-22. A total of 67 CollegeData registrants completed the survey. Responses were provided anonymously.