Toran

- Pomona College - Class of 2021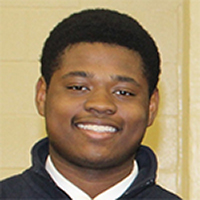 "Colleges won't look for you: You need to do the work and the research."
Hometown: New Orleans, LA
High School: Private
GPA: 3.92/4.88 (weighted)
ACT: 26
Major: Economics and mathematics
Goal: Prepare for law school, learn about finance, study abroad
*Applied early decision through Questbridge Match
Neither of my parents helped me with any aspect of planning for or applying to college. Their lives are chaotic and unstable, and I live with my grandmother most of the time. But their struggles inspired me to make myself better.
How will I get to Harvard?
I've always felt Ivy League schools were an instant path to success. Since fifth grade, my goal was to attend Harvard College. After attending Harvard's summer pre-college program, I just fell more in love with it. I loved being on an equal playing field intellectually with the interesting and multicultural students I met and all the resources Harvard students had at their disposal.
I maintained a strong GPA, participated in football, wrestling, baseball and basketball, and in national speech and debate tournaments, but my ACT score was low for the Ivies. My high school wasn't focused on college prep. There were no prep classes given for the ACT and the counselors — as well as the students around me -- focused on mostly in-state public schools that students could attend using a state-funded grant (which wasn't much money). My biggest fear was that I wouldn't get into any of the colleges that met my criteria. Or worse, I wouldn't be able to afford a great institution if it did accept me.
New counselor, new horizons
Then, a new counselor came to my school and told me about QuestBridge, a program that connects high-achieving, low-income students with four-year scholarships to selective colleges. QuestBridge students can apply for a binding early decision to several colleges at once. When I qualified for the program, I was excited! Harvard didn't participate, but many other top colleges did -- like Princeton, which became my first choice.
Exploring Williams and Pomona
Through QuestBridge I visited two small liberal arts colleges: Williams and Pomona. I wasn't sure I'd be happy at a small college -- or that either one would have the resources of an Ivy League school. But I discovered that both colleges had huge alumni networks and many internship opportunities. I loved the small, family oriented environment at Williams (my host left the door to his dorm open all the time!) Pomona also had a family-like student community, plus a student-run investment firm and an annual Shark Tank competition hosted by alumni who've started successful businesses. Williams and Pomona became my top choices after Princeton.
Ten colleges, one match
I ended up listing ten different colleges on my QuestBridge application -- and because the match decision is binding, I had to be willing to attend any college on the list. When decisions arrived, I was in my counselor's office. I opened my update and saw the word "Congratulations!" Without looking to see which college I'd been matched to, I jumped out of my seat, ran into the hallway, yelled out "I got matched!" and almost fainted. My counselor said, "You don't even know where!" But it didn't matter because I knew that every college on my list was where I wanted to go. When I saw I'd been matched to Pomona College, it was the best feeling in the world!
My ups and downs
It was difficult not having my parents' support during the process. The hardest part for me was facing the financial instability of my family. I had to submit the FAFSA without my dad's financial information because he wasn't willing to share it with me. He works mostly low-paying, odd jobs so I had to estimate his income.
But I did get a lot of encouragement from my friends and cousins, and that felt great. Former QuestBridge students at Williams and Pomona also motivated me and helped me with my essay. I liked telling my life story and getting positive feedback from people. This gave me the confidence to help other students at my school with their essays.
What I learned
Colleges are all really different, and it's important to find the right match for you. At first, I believed only Ivy League schools were the best, but I discovered many outstanding colleges beyond the Ivies, and that schools with smaller environments can also have lots of resources. I also learned how important it is to get feedback on your essays, and to listen to it. When two people say the same thing about your writing, you need to take their advice.
The money factor
Pomona is paying tuition and room and board for four years. I also won the Burger King Scholarship, which will cover the cost of my books. I only need to take care of my personal expenses and supplies, which I'll do by working over the summer and getting a work-study job at school.
My advice
You can have faith that you'll go to a good college, but as the Bible says, faith without work is pointless. Colleges won't look for you: You need to do the work and the research. For low income students, there are resources like QuestBridge out there. You might not have someone there to tell you about them, so you have to look for them yourself.
Read More Student Stories:
| | | |
| --- | --- | --- |
| | Alexis - UC Merced "After some sleepless nights, numerous arguments, and tears, I realized I had to be true to myself and my goals." | |
| | Ryan - Ohio University "Applying early doesn't always mean you'll get a clear decision of accepted or denied." | |