Alexis

- UC Merced - Class of 2020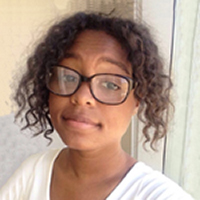 "After some sleepless nights, numerous arguments, and tears, I realized I had to be true to myself and my goals."
Hometown: Gardena, CA
High School: Public
GPA: 3.23/3.33 (weighted)
ACT: 23
Major: Biology and Immunology
Goals: Get a Ph.D. and go into stem cell research
I had to battle the opinions of my mom, my boyfriend, and my best friend before making my college choice. It was hard, but I stayed true to myself and my goals and committed to the best school for me.
Looking for STEM and community
I am one of a set of quadruplets (three girls and one boy). Growing up, people rarely referred to me by my first name. Instead, I was "one of the Kelleys." I looked at college as a time when I could finally be an individual away from my siblings.
I've always been passionate about science and plan to go into scientific research. I wanted a school strong in biology, but I'm also passionate about women of color getting opportunities in STEM fields.
Growing up, I was fortunate to have participated in great science programs that introduced me to STEM careers. So I wanted a college where it would be possible for me to give something back.
Anywhere but USC
Even though USC was a reach for my grades and test scores, I had to apply. My mother has worked at USC for 35 years, and if I got in, I'd be eligible for a full scholarship as the child of a staff member. My mom really wanted me to go to USC, but I had no interest. My siblings and I practically grew up on the USC campus. It is an excellent school, but I wanted to go somewhere new.
My first choice was Whittier College, which I discovered when auditioning for a music scholarship (I play classical and jazz trumpet). I loved the small campus and the "family" feeling of the community. After Whittier, I liked UC Merced, about seven hours north of home. I had only checked it out online, but I liked its rural campus, its specialized major combining microbiology and immunology, and its cutting edge stem cell research facility.
When I received my decisions, I was torn between UC Merced and Whittier. (Much to my mom's disappointment -- and to my great joy -- I was denied by USC.) I did more research, and the more I learned about UC Merced, the more I felt it had better opportunities for my grad school resume. I also learned that the college was heavily tied into the surrounding San Joaquin Valley community, which had lower than average college-going rates. I might be able to make a real difference there, reaching out to girls about STEM. I was so excited! I had found a school that I really liked with great programs in my major!
The battles begin
When I shared this news with my boyfriend in Texas, he wasn't excited. He was planning to move to California to be near me, but he couldn't see himself moving to Merced. He liked Whittier's location in Southern California better. My best friend also thought Whittier was a better choice. But that was only because at Whittier, I would be going to college closer to her. My mom now felt UC Riverside was the best choice. But I didn't like Riverside and my sister was going there.
After some sleepless nights, numerous arguments, and tears, I realized I had to be true to myself and my goals. I wanted to go to UC Merced.
It wasn't until my mom and I sat down with my college counselor and she went over everything UC Merced had to offer, that she began to see that Merced was a great fit for me. When we got home, she gave in and agreed to support my decision. I immediately ran to the computer, logged into my UC account, and clicked on the Accept button! I was so happy!
My ups and downs
Just deciding to attend UC Merced was stressful and emotional. The worst part was the time I stayed up all night just thinking about my decision, and feeling so alone because no one was supporting me. But this also was a turning point, because I realized I had to do what was best for my future.
It might sound strange, but one of my best moments was getting denied at USC. My mom was disappointed, but I was relieved and did nothing to hide my joy. Little did I know that my mom was writing an appeal letter to USC on my behalf (without my permission). The appeal failed, but her attachment to USC and her need for control was very difficult for me.
What I learned
Sometimes your friends don't have your best interests at heart. After our discussion about UC Merced, I realized my boyfriend wasn't thinking about my future. I wanted him to be happy for me, but he was only thinking of himself. Our relationship went downhill fast after this and we eventually broke up.
Once I was away from him, I felt completely free to love and accept myself--and to enjoy my college choice. This was so obvious at UC Merced's orientation. Within the first few hours, I had made 10 new friends, all in my major. I loved the scenery and the lake on campus. I knew this was a place where I would continue to find myself, and hopefully, make my dreams a reality.
The money factor
Most of my costs are being paid for with state and federal grants. I also received a private scholarship, a UC Merced grant, and work-study. To cover the balance, I am taking out subsidized and unsubsidized loans, which I will pay back after I graduate.
My advice
Knowing who you are and what you want will not only help you choose your college, it will help you stay true to yourself and your goals, even when you are faced with the opinions of other people.
Take some risks and explore colleges out of your comfort zone. You never know what opportunities you'll find.
Read More Student Stories:
| | | |
| --- | --- | --- |
| | Lauren - Auburn University "As soon as I began to process a rejection from one college, I was faced with a new rejection from another." | |
| | Aanand - Columbia University "Don't be intimidated if you go to a smaller high school or have fewer extracurricular opportunities. Colleges consider what you do with what you have." | |