Sydney

- UC Berkeley - Class of 2020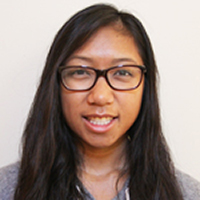 "I was prepared to be rejected from all my reach schools and I tried not to have a clear favorite. I didn't want to get my hopes up."
Hometown: Robbinsville, New Jersey
High School: Public
GPA: 4.2/3.8 (w/uw)
SAT: 2010
ACT: 32
Major: Environmental Science and minor in Spanish
Goals: I'm really interested in meeting new people and making good connections that will help me later in life.
Twenty-six college visits, 18 applications, GPAs, test scores, acceptance rates -- it felt like getting into college was all about the numbers. And, in the end, most of my admissions decisions were statistically predicable--except for one.
Top factors: Science and crew
My parents raised me with the notion that education is one of the most important things in life, and that a good college means success. So I wanted to aim for the best education possible. I applied to colleges based on their high academic standing, especially in the sciences. And, because I'm a rower, I looked for schools with Division 1 crew teams.
The Ivy League schools were very high on my list, as were other top-ranked schools like Georgetown and Duke. I didn't feel that I had the most stellar achievements and grades, but I felt good about my test scores. I had also challenged myself throughout high school to take the highest level courses possible, while also balancing extracurriculars such as Girl Scouts, competitive piano, and most of all, crew. I hoped at least one of my favorite colleges would see that I worked extremely hard.
Keeping expectations in check
I was prepared to be rejected from all my reach schools, so I didn't want to get my hopes up about any of them, and I tried not to have a clear favorite. But Yale was probably my top choice. I just felt the most at home there. I also really liked UC Berkeley from the second I set foot on campus. I loved not only the aesthetic beauty but the rich history and prestige of the university, as well as the school spirit.
When my admissions decisions started to arrive, I wasn't surprised. It was a 50/50 split. I was accepted into the colleges for which I had above average test scores, and rejected from those I did not. I was denied from all the Ivies. On the bright side, I was accepted to many other school I liked. I was seriously considering Rutgers. It was only 30 minutes from home, was a large public school with good programs in my major, and was relatively inexpensive compared the other schools I got into. Plus it had a great women's crew team.
Confetti from Cal
On the morning of my 18th birthday, I woke up, looked at my phone, and saw an email from UC Berkeley telling me to check my student portal for my admissions decision. I was fairly certain it was a denial because my numbers didn't really align with Berkeley's standards. I logged in and digital confetti rained down my phone screen -- revealing an acceptance letter! I was so surprised! I immediately texted my parents, who were away at the time, as well as all my closest friends. Everyone shared in my excitement.
I considered both Rutgers and Cal for a while, but in the end, the specific academic programs and resources at Cal won me over. Plus, its women's crew team is number-one in the nation. Cal brings together all of my interests beautifully. Go Bears!
My ups and downs
Since I completed 18 applications, I experienced a lot of stress and emotional breakdowns sometimes occurred. Physically, I lost a lot of weight and felt very tired. The most stress came when I had several application deadlines approaching at once and knew that if I wanted to apply, there was no going back. I had to finish them.
Surrounding myself with good people and good friends was a huge help. My best friends and my boyfriend were great in terms of comforting me and keeping me sane. They all shared in my excitement when I was accepted to Cal. That felt great, as did knowing that at least some of my stress paid off.
What I learned
You never know what you can do until you try. And, it's okay to take risks sometimes and explore your failures. For example, for my essay, I chose to write about the mistakes I made during a race that caused me to crash my boat and almost become disqualified. Because I was applying to schools with top crew teams, I felt I was taking a risk with this topic. But through the essay I was able to discover (and explain) how the event shaped me as a person.
The money factor
I did not receive any financial aid from Berkeley. I will be paying for college with loans.
My advice
Stay realistic about your chances of acceptance when applying to highly selective schools. Don't doubt yourself, but don't get your hopes up. Being pleasantly surprised is definitely better than being let down.
Read More Student Stories:
| | | |
| --- | --- | --- |
| | Sam - Sciences Po "Do not overlook or discount international schools. By and large, they are a bargain compared to US schools" | |
| | Riley - Vanderbilt University "When I got home after touring Vanderbilt all I could think about was the fact that I had to wait 12 months to go to school there. Oh yeah, and I had to get in!" | |