Riley

- Vanderbilt University - Class of 2020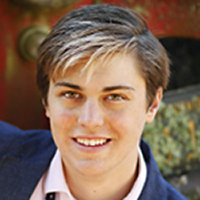 "When I got home after touring Vanderbilt all I could think about was the fact that I had to wait 12 months to go to school there. Oh yeah, and I had to get in!"
Hometown: Santa Rosa, CA
High School: Public
GPA: 3.75/4.52 (uw/w)
SAT: 2280
ACT: 35
Major: Mechanical Engineering
Goals: Participate in theatre and improve, and graduate in four years
I scored high on the ACT and SAT as a sophomore, and had always been competitive academically, so I felt I could include most top-tier schools in my college search. But I wondered, how high do I reach? Realistically, what are my odds of getting in to these dream schools? And would I be able to succeed if I got in?

Yes, and …
I want to study engineering and do theatre in college, and two of my passions are improv and Design Thinking. Both subscribe to the manta "Yes, and …" The idea is to eliminate "no" or "yes, but" responses to any idea or situation you're presented with. I applied this concept when looking at colleges, and I ended up with 42 schools on my list!
My list eventually narrowed. I kept any colleges on the list that personally reached out and demonstrated interest in me. Also, my family is in the weird place where affording college outright is not a reality, but getting need- based aid (especially at in-state public schools) is unlikely. So I focused on private schools that were likely to be generous with need-based aid.
Customizing My College Tours
I spent my spring break and some of my summer vacation touring schools. I sent "cold call" emails to department heads who connected me with people who could help me set up a private tour. What I got with these visits, as opposed to an official tour, was a conversation with real students and access to areas of campus that you need a student card to visit.
For example, at Harvard I stayed in Mather House with a senior, ate in the dining hall with his friends, played video games with some engineers, and got private tours of the libraries, labs, and theatres where I would be spending much of my academic life.
The Sorting Hat Speaks
The best tour experience, though, wasn't a private tour. It was Vandy Day at Vanderbilt. I kept thinking, "These are my people. This is where I belong." During a QA panel with current students, I felt like I could be friends with every single person. I sensed that I wouldn't be looked at as the smartest kid on campus, but I also wouldn't question if I could make it academically. It was as if the sorting hat had been placed on my head and "Vanderbilt" was announced on a loudspeaker.
When I got home, all I could think about was that I had to wait 12 months to go to school at Vanderbilt. Oh yeah, and I had to get in!
Betting on Vandy
I applied to U-Minnesota, U-Alabama, and Iowa State in the early fall. Each one had committed significant time with me, and they were amazing schools. I received their acceptances by November. All had given me healthy aid packages, including grants covering more than tuition and acceptances into their honors colleges.
I knew I was "on the bubble" for most of the prestigious colleges on my list and I felt I needed any advantage, so I applied for a binding Early Decision at Vanderbilt. Once I sent in the application, I looked at the other applications I had started for Harvard, Dartmouth, Rice, and other top schools. I knew if Vandy rejected me, it would be the first of many.
It seemed like forever until December, when I got a nondescript email from Vanderbilt. I thought it was a form letter preparing me for the inevitable. One click and… a congratulations graphic popped up! I jumped out of my chair and hugged my dad. There was this feeling of disbelief. Was this really happening? A strange combination of relief and elation consumed me. The process was over.
My Ups and Downs
Since I committed to Vanderbilt early, I will probably always wonder if I could have gotten into Harvard or other Ivies. This bothered me a little, until I attended a gathering of accepted Vanderbilt students in California and found myself hanging out with 15 other like-minded people. The level of conversation felt so different than a typical conversation in high school. The experience confirmed that I had made the right choice.
What I learned
Applying the concept "Yes, and…" kept me open to more colleges and gave me options. If I had only looked at prestige or ranking, I wouldn't have been presented with such great opportunities and financial incentives.

Doing research pays off. I don't think most families get into college admissions as deeply as my parents and I did. But we couldn't afford a private college counselor. Yet, while I made a lot of informed and rational decisions, the emotional aspect (my gut feeling about a school) ended up being the most compelling factor.
The Money Factor
The aid package from Vanderbilt will cover about 80 percent of the yearly costs. In addition, I was one of six students selected as a Curb Scholar, giving me access to additional resources and financial incentives throughout my undergraduate years.
My Advice
Make the effort to set up private, custom tours. Colleges provide amazing opportunities to students who take initiative to learn more about the college.
Try every avenue possible to talk to someone. Don't be intimidated by the prestige or power associated with a large institution. Almost everyone wants to share a personal story about what they love about their college.

Most of all, trust your parents, but also trust your instincts. By now you know who you really are. Stay true to that.
Read More Student Stories:
| | | |
| --- | --- | --- |
| | Miriam - Binghamton University "It didn't take me long to realize how great Binghamton is!" | |
| | John - Kenyon College "Don't be afraid to ask for what you want, particularly with respect to financial aid. You might get a 'no' but you can't get a 'yes' unless you ask." | |