Ka'alliyah

- Virginia Commonwealth University - Class of 2026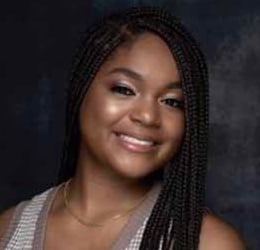 "I wanted to feel confident and satisfied with my college list. But time was running out!"

Hometown: Newport News, VA
High School: Public
High School GPA: 3.50
Major: Pre-lab Medical Sciences
Extracurriculars:

Orchestra

Goals for college: Find new people and explore the world around me; pass with all A's; prepare for medical school or a medical career.
My interest in pursuing a degree and career in the medical field was born at home. My grandmother had multiple health problems, and while I tried to help where I could, there was little I could do other than sitting and watching the hurt, going to doctors' appointments with her, and giving her the medicine she needed. Although I was healthy, I realized that I may have to go through something similar one day. I decided that I would like to help people ease their pain while I can.
When I started applying to college, it felt like a dream come true. Even though it felt unreal, and I was happy that I would be able to go to college soon enough, the process was not without its stresses. These were primarily brought on by the fact that I was late in starting my application process. I didn't really begin looking at colleges until October of my senior year. I was busy dealing with senior-year activities when I suddenly realized I only had about two months to research and then apply to colleges.
I briefly looked at out-of-state schools, but the tuition and fees were a major deterrent. Within a few hours of research, I realized how much I would have to pay compared to in-state schools and quickly concentrated my research on colleges within Virginia. Fortunately, Virginia has a lot of great colleges!
What's important to me?
My top factors were the cost of attendance and the school's academic majors and minors. Other than that, the culture and environment of the college were most important to me. I value diversity within a school because I want to better prepare myself for the real world. I also wanted to feel safe on campus.
Clubs and extracurricular activities were also important because they would help me take a break from school work and perhaps find some encouragement or inspiration. Of course, I want to excel in school but that doesn't mean I can't have fun! I knew I wanted to participate in music and so I was looking for a school with a marching band.
A last-minute college list
I wanted to be confident and satisfied with my college list, but time was running out! I primarily used YouTube and Google to see what students thought about their schools and programs, and CollegeData to find the detailed facts and figures.
I looked into Virginia State University because it is a historically black college and University of Virginia because I heard that its medical school was excellent. I had also heard good things about William and Mary and University of Richmond. I learned as much as I could about each school online and did virtual tours, but I felt very rushed and it was hard for me to tell what made one college different from another.
Family and Friends to the Rescue
A big aid in making my college list was the advice I got from family and friends, especially my father's friends' children who are close to my own age. A few of my father's friends' kids went to Virginia Commonwealth University and they told me what the school and its environment were like. They mentioned how diverse it is and all the things that one can do there. They basically said I would have fun at many of the schools in Virginia, but they felt VCU was the best among them in terms of diversity and being open to new people and ideas.
I did my best to cross-check everything they said with my own research. I found out VCU had a great student band as well as a major in Medical Laboratory Sciences, which really appealed to me. One thing I didn't like about VCU was that its campus was open to the public, and that felt less safe to me. But I later confirmed that VCU has campus police, which made me feel more comfortable.
Rushing through applications
The worst part of applying to college for me was coming up with essays and answering all those questions on the applications. I felt so rushed and I didn't do a good job of managing my time. I worked on my essay questions every day up until the deadlines but I really regretted not having more time to do my absolute best. Just submitting all my applications on time felt like a big accomplishment, and I was hopeful that I'd get into at least one of my top three choices: UVA, VCU, and William and Mary.
When I got my first decision letters, it was hard. First, I heard back from William and Mary --- and they denied my application. At that point I was thinking, "I'm not going to get into any schools." Next, I was denied by U-Richmond and UVA. Now I really feared that I wasn't going to get into any schools. When I hadn't heard back from VCU, I went online to find out when they were sending out decisions — and I saw that I'd got in! Thankfully! I was super happy and I immediately told my family and friends. We celebrated that night by going out to dinner.
Despite starting my applications late, I am so relieved with how everything turned out. I think VCU will be a great fit for me!
The Money Factor
Fortunately, I did receive some financial aid. And all I really needed to do was complete the Free Application for Federal Student Aid (FAFSA), which I did with my mom's help.
I did not receive any scholarships from VCU. But I did receive $3,000 in work study. I also received a Gateway Grant of $1,000 per semester and a state grant of $4,700 per year. I'll be paying for the rest of my costs with student loans, and by working during the summer.
My Advice
Factor in time for college research. I would have liked more time to look into each school more. I felt like I didn't have as much information about colleges as I would have liked. Had I started earlier, I may have been able to apply to a larger range of schools.
Be grateful. Not a lot of people are fortunate enough to be able to go to college. It's a big deal. I see it as the perfect opportunity to help me towards my life goal of helping people.
How CollegeData Helped Me on My College Journey
On CollegeData I found detailed facts and figures about each college on my list. I also enjoyed reading stories about other students going through the same process as me.