Brianna

- Tufts University - Class of 2020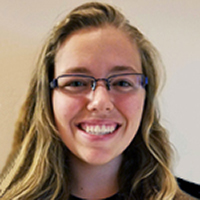 "My college counselor told me to stay true to my voice, which I found to be great advice -- both for my essays and in life!"
Hometown: Ormond Beach, FL
High School: Public
GPA: 3.98/4.71 (weighted)
ACT: 33
Major: International Affairs
Goals: Become fluent in at least three languages; participate in intramural sports and campus clubs and organizations
My final college decision started out as a struggle, but ended up being a very simple choice.
Thirteen schools, one clear favorite
I wanted to attend a prestigious school in the Northeast that had intense academic rigor and top programs in foreign languages and international affairs. I had attended an international baccalaureate program as well as Girls State, and in addition to international relations, I wanted to pursue strategic languages and peace and justice studies. I knew that I would likely be rejected by the Ivies, but I wanted to at least give myself a shot.
I ended up with 13 schools on my list. It felt ridiculous, but I didn't know where I would get in, or what kind of financial aid offers I might receive. When I made a spreadsheet of all the essays required, it was daunting. But every college was on the list for a reason.
Outside the Ivies, Tufts was my favorite. After spending a weekend there during my senior year, I fell in love with the campus, the exciting Boston location, and the people. I also liked Georgetown for its School of Foreign Service, and Middlebury for its renowned foreign language program.
Is it Middlebury or Tufts?
In the end, I was accepted by seven schools. I was denied from two of my Ivies but waitlisted at Harvard, which I thought was exciting! Since I had applied to the Ivies with low expectations, even being considered by one of them was a huge accomplishment for me.
My decision came down to Middlebury and Tufts. I knew Tufts had everything I wanted, and they provided a generous aid package. I thought Middlebury was too small and rural. But it had a better foreign language program and their financial aid offer was incredible! I also worried that I was biased toward Tufts. I had spent a weekend there immersing myself in the school, whereas I had visited Middlebury only in the summer. I felt I should experience Middlebury in the same way before making my decision. So my mom and I booked tickets to Vermont.
Listening to my heart
The night before the trip, I got an email from a friend asking, "So, did you decide which school yet?" No one had actually asked me to make a final decision, and when I was confronted with the question, Tufts was the clear answer in my mind. I sat back and wondered why I was considering Middlebury when Tufts was my clear favorite. The things I disliked about Middlebury (location, smaller size) would not be changed by staying overnight at the school. In fact, nothing would change how much I wanted to go to Tufts!
I went downstairs and told my parents my dilemma: In my heart, I knew I would be happier at Tufts, and I was considering Middlebury mostly for its financial aid offer. When I began listing all the things I loved about Tufts over Middlebury, my parents could tell that I knew what I wanted. My mom and I reevaluated our trip to Middlebury and decided we didn't need to go. She got up to cancel our plane tickets, joking about how much she was going to love visiting me in Boston.
My ups and downs
Getting denied at Georgetown really hurt

.

What made it worse was that one of my best friends did get in. Just before I opened my own letter from Georgetown, I received a text from her telling me she had been accepted. I was thrilled for her, and it gave me hope that I, too, would get happy news. But I didn't. When I saw my peers congratulating her on Twitter, it made me feel like a complete failure.

No other college acceptance thrilled me more than my acceptance to Tufts. It was the last decision I received, and it had been difficult waiting for the news. When I finally saw the "application update" email pop up on my phone, my heart skipped a beat. When I read that I had been accepted, I've never felt more relieved. I'm surprised that I didn't cry, but I think that's only because I was in shock.
What I learned
My college counselor told me to stay true to my voice, which I found to be great advice -- both for my essays and in life! At first, I tried to mold the story in my applications to resemble the journey taken by my peers who had already graduated. I also tried to emulate the incredible essays that I had read online. But I realized that this just detracted from my own uniqueness. Once I focused on the things I really loved and felt passionate about, writing became easier and my applications presented a true picture of me.
Money Factor
Tufts financial aid package included need-based scholarships covering tuition and room and board. The rest will be covered by a $1,000 scholarship from a local foundation, work-study, loans, and my parents' support.
My advice
Start your essays as early as possible, and remember that many colleges have additional essays in their applications that are time consuming.

Keep the big picture in mind when you're finishing your senior year. College applications may be daunting, but, when the summer rolls around and you're wearing your new school's colors, every stressful night will be worthwhile.
Read More Student Stories:
| | | |
| --- | --- | --- |
| | Leah - University of Wisconsin, Madison "Being open-minded throughout the college search process is critical, and I don't think I understood that. I had a pretty unhealthy outlook on the whole college search process." | |
| | Alexis - UC Merced "After some sleepless nights, numerous arguments, and tears, I realized I had to be true to myself and my goals." | |