Leah

- University of Wisconsin - Madison - Class of 2022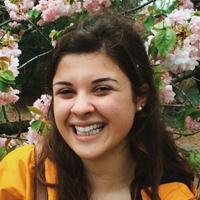 "Being open-minded throughout the college search process is critical, and I don't think I understood that. I had a pretty unhealthy outlook on the whole college search process."
Hometown: Ithaca, NY
High School: Public
GPA: 3.52/4.29 (weighted)
SAT: 1410
Major: Art and pre-dentistry
I was looking for an academic program that was art-based, but would allow me to apply my art skills to the health field--possibly cosmetic dentistry. With these specific criteria, I was able to narrow my college list down to about 15 schools. My mom and I then picked out a few that were close to my home in Massachusetts to visit.
The Obsession Begins
Walking onto the campus of Tufts University, I was speechless. I had never seen anything so beautiful and peaceful. The students being on spring break may have contributed to this peacefulness. The art program seemed like a dream come true with every kind of media I could think of, and it just seemed like a great art community. I felt like I had stepped into an environment where I would be successful.
By the end of the day, I had decided to apply Early Decision to Tufts, and I finally felt like high school was worth it.
Tufts-Colored Glasses
And this is when my infatuation with Tufts took an unhealthy turn. For the next six months, I really didn't want to look at other colleges. I felt like I had found "the one," so why look for others? I remember visiting Syracuse and liking it a lot, but thinking, "Well, this or that is nice, but it's better at Tufts." I was so focused on Tufts that I didn't take a minute to think, "Hey, maybe I'd be happy at a bigger school like this!"
I didn't think about or consider any hardships or struggles I might have at Tufts. I could only fantasize about myself on campus, having the time of my life. And, I certainly couldn't fathom the idea of being denied by Tufts. I didn't even see this as a possibility, when it was.
Of course, it wasn't until I got flat-out rejected Early Decision that this occurred to me.
When One Door Closes… Another one opens
But the very next day, I received an email acceptance from University of Wisconsin. Wisconsin had been my second choice, but I was worried that I wouldn't find my niche at such a large school. I thought I would get more support at a smaller private college.
After researching the college more, and reading about all of the programs and individual colleges they had at Wisconsin - including a very strong dental school and art department - I began to see that I might find my niche there as well. In fact, I started to see that the UW had even better opportunities for what I want to do.
I went into my visit to Wisconsin telling myself that I'd love it no matter what. Thankfully, I really did. Wisconsin's campus is beautiful and set between two lakes. It has its green areas, but is also set in the middle of a large city. I think the major school spirit coming from Wisconsin is also something I will enjoy.
I began to realize, too, that at a larger university, I might be more likely to take risks and try new things. A large school would force out of my comfort zone and force me to make an effort to meet new people. If you were to give me the option of both schools right now, I know I'd choose UW.
My ups and downs
After I was rejected from Tufts, I was in a place of despair. I felt like my other colleges now wouldn't want me. But I didn't feel miserable for too long, because the very next day I heard from Wisconsin.
I wasn't expecting to hear back from Wisconsin until the middle of January, so when I opened the email app on my phone and saw "Your Admissions Decision is Available," I screamed and ran downstairs to my mom. I opened the letter. It began "On behalf of the committee on admissions …" instead of "Congratulations!" which caused my heart to skip a beat. But, when I fully read it, I jumped out of my chair and said, "MOM I GOT IN. OH MY GOD, MOM. I DID IT! I GOT IN!" and she jumped up from the couch and hugged me for at least two minutes. We were ecstatic.
What I learned
Getting rejected obviously wasn't fun, but I think it was good for me to experience because rejection is a part of life. I like to think Tufts rejected me not because they didn't like me, but because they felt I wouldn't flourish in the highly-competitive environment there.
My Advice
Do your applications over the summer. My mom forced me to work on them all summer, and while it absolutely sucked at the time, it was so worth it, because when senior year started, I had one less (super significant) thing to worry about.
Most of all, keep an open mind when looking at colleges. After touring just one school for a few hours, my mind became very closed off to other options that might have been just as good -- or even better -- for me.
Read More Student Stories:
| | | |
| --- | --- | --- |
| | Amira - University of Tennessee"With the scholarships and grants I received from the university and the state, plus the federal Pell Grant, my college costs were almost completely covered." | |
| | Lauren - Auburn University "As soon as I began to process a rejection from one college, I was faced with a new rejection from another." | |