Resources / Explore Your Options
Questions to Ask on College Visits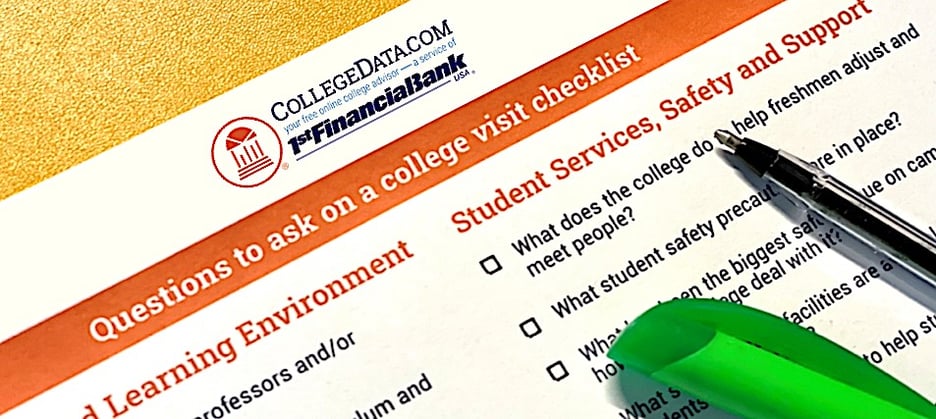 College visits are an important part of researching colleges and they can help you decide whether you should apply to or attend a particular school. Here's a list of questions to consider asking on your next college visit.
On a college visit you may have the opportunity to interact with a variety of people: student tour guides, admissions and financial aid staff, resident advisors, professors, and current students. Not only can you ask them questions about the college, but, depending on which people you meet, you may also gain insight into student life, clubs and organizations, campus culture, course workloads, and more.
ASK THE SAME QUESTIONS TO DIFFERENT PEOPLE
Rick Clark, the director of college admissions at Georgia Tech, encourages students to ask the same questions to different people during a college visit. "You talk to a student, a tour guide, a professor and an alum and you will get different answers to most questions. This is a good thing," he writes in his blog.
Here are a few of his top questions to ask on college tours:
What makes this campus or college different than others?

Can people on campus describe what makes the college unique? "

If you find some uniformity [in their answers], you have likely found the school's real identity," writes Clark. "If you find great variance, you may be excited by the possibility of literally doing anything you want there. But if you find an inability to articulate a unique culture, you have a problem."

What do you wish you would have known about this college before coming here? Do you hear mostly "pleasant surprises" – like how nice everyone is, or all the great things there are to do on campus? Or do you hear mostly negative things like how expensive it is to live in the area, or how you can't get into the classes you need?

What has this college provided you to set you up for success and fulfillment in the future? Are you hearing about the incredible professional and personal network, opportunities to participate in groundbreaking research, or skills and knowledge that you want to gain?

What is the most exciting thing happening on campus? Is the answer something that excites you—or something you couldn't care less about?
45 MORE QUESTIONS TO ASK ON COLLEGE VISITS
When you visit a college for the first time, you might feel excited or apprehensive, or a combination of both. Having some questions prepared ahead of time can help you stay focused and use your time wisely. The questions below are meant to be used as a starting point. Your list should be based on the college factors that are most important to you.
ACADEMICS and learning environment
How easy is it to interact with professors and/or teaching assistants?

Is there a required general education curriculum and what does it involve?

When do I have to declare my major?

What is the process for changing majors?

Is there an honors program and what is the application process?

Do students find it difficult to balance their studies with their social life?

How often can (or do) students meet with an academic advisor? Is the student assigned to the same advisor for all four years?

What is the largest/smallest class size freshmen and sophomores will have?

What tutoring and other academic support is available?

If relevant, ask about support services for students with learning differences or disabilities.

What study abroad options are available?
Tip: If you know what major you'd like to study and have the opportunity to meet with a student or professor in that department, consider asking some of these questions:
Which professors should I take classes with, or avoid?

What is a good balance of classes for my first semester/quarter?

How expensive are books for this major, typically?

Can I study abroad with this major?
CAMPUS and COmmunity
What do students do to socialize on campus?

What's the nearest town like?

How long does it take to get around campus on foot (i.e., from the dorms to the library, classes, and dining hall)?

What transportation options are available to get around and off campus?

Are students allowed to have cars? Is there parking on campus? Do I need a parking pass?

Where do students spend their time when not in class?

How many students typically stay on campus over the weekend?

What's your favorite spot to hang-out on campus?
Tip: During your visit, take in as much information as you can. It wouldn't hurt to jot down important observations, so you can compare this visit with others and make pros and cons lists for each school you visit.
Housing and Dorms
What are the options for on-campus and off-campus housing?

How are roommates determined? If I don't like my roommate, will I able be able to change?

Is housing guaranteed all four years?

How is the dining hall food? Does it offer a variety of food as well as options for people on special diets?

Besides the dining hall(s), what other food options are there on campus, and which ones are included in the meal plan?

When is the dining hall open and accessible to students?

What is the "best" dorm in terms of facilities, community, and proximity to classes?
Tip: While you're paying attention to the buildings, make sure you also observe the students and staff around you. Are they friendly? Do you feel welcome?
ACTIVITIES
What are some fun things to do around town? Movie theaters? Concert venues? Shopping? Outdoor activities?

What extracurricular activities are offered on campus?

What are the most popular clubs or activities?

Are student clubs and activities selective or open to anyone?

If you have a specific interest, say student government or intramural sports, ask about specific clubs and organizations related to that interest.
Tip: While academics are the fundamental building blocks of your college education, a balanced extracurricular and social life are also important factors in choosing a college.
STUDENT SERVICES, SAFETY and Support
What does the college do to help freshmen adjust and meet people?

What student safety precautions are in place?

What has been the biggest safety issue on campus and how did the college deal with it?

What student health facilities are available? How can students access them?

What does the college do to help students find part-time work?

What career counseling or internship-finding services are available?

What does the college do to help students find jobs in their field after they graduate?

What support is available for students applying to graduate school, medical or law school, or other professional programs?
Tip: Try not to ask questions that can be answered on the college's website or elsewhere. For example, you can find graduation rates and employment outcomes in CollegeData's college profiles.
Thinking of questions to ask on your college visit is a great way to prepare for your college tour. But you can also ask these questions at any time – when emailing with a college admissions rep, during interviews with alumni, or when connecting with a professor. The more questions you ask, the more information you'll have to help you find colleges that might be right for you. Good luck!
Want to take this list of questions with you on your visit? Save and print the image below.

---