Is a College Honors Program Right for You?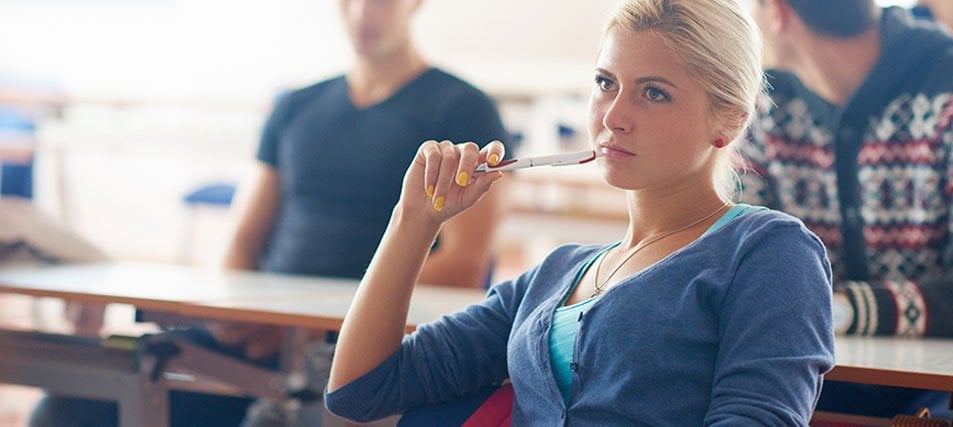 Honors colleges and honors programs are designed for students who excel academically and like a highly interactive and challenging learning environment. Here are some things to consider before pursuing an honors track in college.
On any honors track, you can usually expect smaller and more rigorous classes, more direct interaction with faculty and fellow honors students, and oftentimes enticing perks. Benefits can include special housing, early class registration, exclusive scholarships, and research and internship opportunities.
Hundreds of universities offer some type of honors curriculum. The National Collegiate Honors Council reported nearly 900 member institutions as of 2022. Honors colleges and programs are as varied as individual colleges, and so it makes sense to research any honors program carefully. Here, we'll cover the basics of honors colleges and programs, and provide some tips for evaluating them.
WHAT IS AN HONORS COLLEGE? WHAT IS AN HONORS PROGRAM?
Although the terms "honors college" and "honors program" are often used interchangeably, there is a slight difference between the two. An honors college is usually a separate, stand-alone college within a larger university system — similar to a university's school of business or college of education. Honors colleges usually have their own buildings and facilities, faculty and administration, and dorms.
An honors "program" isn't a separate college unto itself, but a series of courses or seminars within a college or department. For example, San Diego State University's Honors Minor in Interdisciplinary Studies includes 16 units that students can complete outside of their major over four years. Students in the program are required to study abroad and complete one "high impact" experience — such as research or community service.
WHAT ARE HONORS COLLEGES AND PROGRAMS LIKE?
Honors colleges and programs vary widely but there are a few things that most programs have in common. The community within an honors college tends to be close-knit, with lots of interaction inside and outside class with fellow honors students and honors faculty. Some programs provide living/ learning communities around an academic subject and may have faculty living within the honors community.
While the learning community in an honors college or program can be intimate, most honors students take both honors classes and regular classes and participate in the full college experience. Students who are enrolled in an honors college or participate in an honors program often receive special honors distinction at graduation.
Some honors programs last all four years of college, while others can take just two years to complete. Many community colleges also offer honors programs. These programs can enhance a student's transfer application to a four-year college or provide other opportunities. At Orange Coast College in Southern California, for example, honors students attend seminar-style classes, complete special projects, and have access to honors counseling and library privileges at nearby UC Irvine and UCLA.
WHAT CAN YOU STUDY IN HONORS COLLEGES?
The liberal arts are often the focus of honors instruction, yet many programs concentrate on a single discipline. Honors instruction may take non-traditional approaches and encourage learning through experience.
The University of Maryland's two-year "Advanced Cybersecurity Experience" lets students get hands-on experience in the cybersecurity field and live with other cybersecurity students in a living/learning community.
Some programs allow students to design their own course of study, pursue a double major, and simultaneously pursue undergraduate and graduate degrees.
UT Austin's highly selective Plan II honors program, for example, is a liberal arts major unto itself, but the coursework takes up about one third of a student's academic plan, providing room for students to pursue a second major or explore other areas of interest.
HONORS PROGRAMS CAN BE PUBLIC OR PRIVATE
Many public universities offer honors programs to attract top students who might want to attend a selective, liberal arts or Ivy League school. An honors college within a large public university can provide the small class size, academic rigor and individual attention of a small liberal arts college with the resources of a large research university. For some students, this is the best of both worlds. According to a U.S. News and World Report survey, 122 public colleges and universities offered an honors program in 2019.
The Barrett Honors College at Arizona State University, one of oldest and best-known honors colleges in the nation, is one example of an honors college at a large public school. Each of Arizona State's four campuses has an honors college. According to the college's website, "Barrett students benefit from a $12 million endowment used exclusively to support honors students and their projects."
Yet some smaller private schools also offer honors tracks, especially within individual majors. Swarthmore College's honors program lets students design their own academic paths and tackle individual projects in a wide range of academic disciplines — including the arts. The program culminates in oral exams given by outside examiners from renown universities and institutions around the world.
HOW TO GET ADMITTED TO A COLLEGE HONORS PROGRAM
Each honors program has its own entrance requirements, but in general, you need strong grades and test scores than students applying to the college's regular programs. There may be a separate application, or you may be invited to participate based on your strong academic record, or both. You will likely will need to maintain a minimum grade point average to remain in the program.
You may be invited to join a college's honors program when you receive your admissions offer, but many programs require that you apply separately — and deadlines may differ from application deadlines. Some universities, such as the University of Illinois Chicago, provide additional essay questions for honors applicants within the Common App.
The UPSIDEs AND Downsides of pursuing the honors track
There are many advantages to attending an honors college or participating in an honors program, including:
A built-in community of similarly intellectually-driven peers

Individualized academic and career counseling

Access to alumni networks and mentors

Scholarships and funding for research, study abroad, or special projects

"Honors" distinction at graduation
Yet, students should also be aware of some of the drawbacks, including:
You may have a heavier workload

. Classes and assignments are usually more rigorous and demanding than non-honors classes

.

It might take longer to graduate. Some honors programs are a degree unto themselves, pursued concurrently with another major. These additional units could add time to your degree, depending on your educational goals

.

The thesis or capstone projects required by some honors programs can be challenging to manage, especially if you have a demanding course load or other responsibilities during senior year.

If you leave the honors college, your withdrawal may show up on your college transcript.
Questions To Ask About College HOnors Programs
If you're invited to join an honors program or you are considering applying to one, do your research. Talk to students already in that program. If you can visit the college, sit in on an honors class or two so you can visualize yourself fitting in — or not.
Here are some questions you might ask:
How difficult are the courses and how do they differ from regular courses?

If the program is a self-contained college within a college experience, how does the program affect students' social lives and involvement with the rest of the campus?

Will you have to participate in a minimum number of honors-level classes?

Will your studies follow a theme or focus on certain disciplines?

What are the academic performance requirements to stay in the program?

Will you have to write an honors thesis or complete a capstone project?

Are there additional fees involved in the honors program?

How many students complete the honors program? According to PublicUniversityHonors.com,

some programs have completion rates as low as 25 percent.

What happens if you change your mind after you start the program?
Although honors colleges and programs come with many perks, you may be able to experience some of their advantages — such as access to research, study abroad, living/learning communities, and dual degrees — outside of an honors curriculum. However, if you are a strong student with a passion for learning and intellectual challenge, an honors college or program may greatly enrich your college experience.