How Has COVID-19 Changed the College Experience?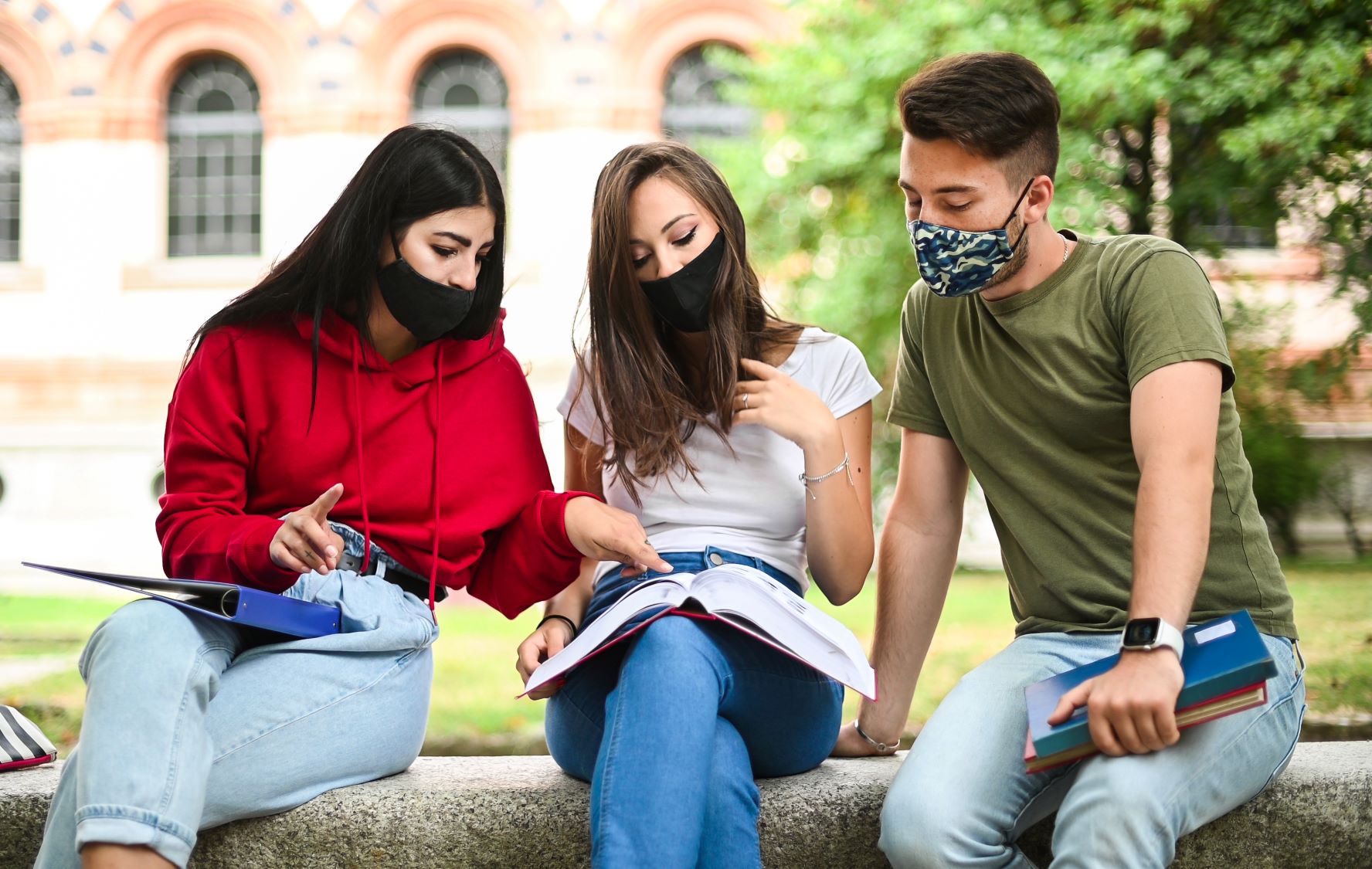 By Matt Musico
What was the most difficult part of this past year for students? One counselor interviewed 20 college students to find out and to hear what they are most looking forward to when life returns to "normal."
It doesn't really matter how much we try -- COVID-19 and its impact has literally infiltrated all aspects of life, changing how we operate on a daily basis. Some of the most mundane activities that many of us took for granted, like going to the grocery store, have a whole new meaning and involve way more preparation than ever before.
One area hit hard by the pandemic is college admissions. While this experience can be stressful at times, there are many parts of it that are usually fun. Unfortunately, COVID-19 has basically made it impossible to enjoy some of the fun parts of the process, like visiting college campuses for in-person tours and information sessions. Applicants are stuck deciding whether a college is a good fit for them without ever stepping foot on campus because of the pandemic restrictions.
There are constant admissions updates that everyone must be aware of, whether it's about SAT/ACT changes, the pushing back of application deadlines, or a change in how admissions offices will be evaluating those applications. Something we need to continue talking about, though, is how students who have been learning remotely and dealing with the pandemic for over a year now are doing once they actually get to campus, and how those already there are doing during these trying times.
In an attempt to get the smallest idea of how college students are getting through what's easily been the weirdest academic year in recent history, I talked with more than 20 of them. Here are some of the interesting answers I received.
First, Details on the Sample
Among the students I reached out to, there was a nice balance when it came to school location and graduation year. The most common colleges within this small group included the following: Connecticut College, Loyola University (Maryland), American University, Ramapo College, Western Connecticut State, University of Michigan, and University of Oregon.
While each graduation year -- from 2021 through 2024 -- is represented, the most common class was easily freshman, who are projected to graduate from college in 2024. They comprised about half of the total sample.
How Classes Are Being Administered
We've heard plenty about how high school instruction has changed during the pandemic. After going fully virtual last spring, common routes for the 2020-21 school year include giving students the option to either stay fully remote or participate in a hybrid schedule that provide for two or three days of in-person instruction and two or three days of remote learning.
College is a whole different arena because campus acts as both school and home for students who reside on or near campus. In some cases, it might be safest to keep students at home with remote instruction, but then it would be hard to justify charging full tuition and room and board for the entire academic year. Of those surveyed, here's what the results looked like: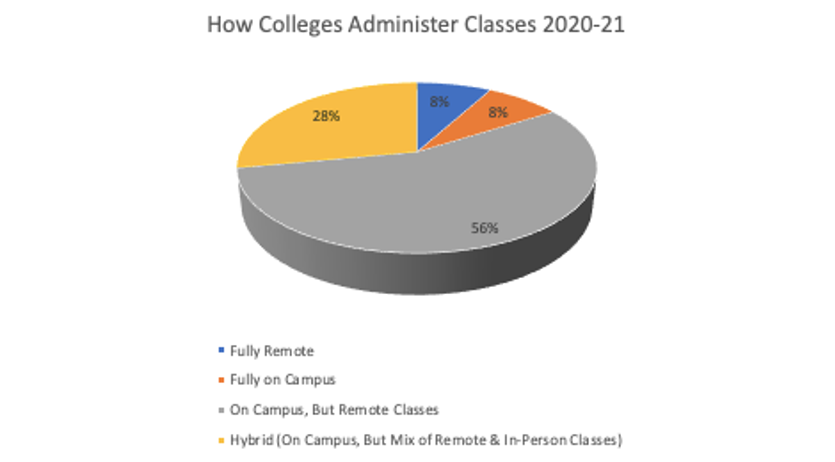 It's very interesting to see that the overwhelming majority of students in this sample are attending schools who tried to split the risk down the middle by having them on campus yet holding classes remotely. Connecticut College, for example, had students quarantine upon arrival to campus following winter break and held remote instruction until positivity rates on campus were low enough to permit in-person activities.
The Most Difficult Part of the Past Year
Asking college students what the hardest part about this past year has been is like asking an artist which painting is their favorite -- it's a difficult question to answer with so many challenges to choose from.
A lot of common answers were shared when answering this question, like social life, managing schoolwork, staying focused while having distractions at every turn in their dorm room, and finding some sort of rhythm/groove with their course load. However, there were a few that really stood out:
"It's hard to participate and have an engaging classroom due to it all being on Zoom. Classes are not nearly as interactive and students can't get to know each other very well."
"Worrying about internships and the future."
"The uncertainty of not knowing where I'll be next semester, since study abroad is up in the air. In addition, not being able to do the activities that we usually do."
These answers are all concerning, but the concern over the uncertainty of internships and the future is also sobering. Not only is the pandemic completely changing the college experience for students, but these students are already worried about the long-term impact on what this past year will do to their respective futures.
What They're Most Looking Forward to When Life Is "Normal" Again
Fantasizing about living in a world without having to worry about COVID-19 is a popular daydream these days, regardless of how realistic or unrealistic that scenario is. As one might imagine, college students are doing plenty of that daydreaming. A number of the responses to this question weren't earth-shattering, either. Students are looking forward to having a social life again, going to large gatherings, having fans back at sporting events, having the ability to travel, making new friends, and simply interacting with others in person instead of electronically.
The most compelling response to this question came from a freshman at the University of Michigan, who said the following:
"Seeing the best college town in America full of people walking down the streets. I'm extremely excited to get into a great routine of going to in-person class and experiencing college for what it should be, not the simulated version they are currently trying to sell me."
Getting these kinds of responses was heartbreaking. As an independent college counselor and former admissions officer, part of the reason why I'm in this career field is that I loved my college experience and I want to help others achieve the same feeling. It stinks knowing none of them is getting that right now, and so many are starting their college experience in a way nobody could've ever expected more than a year ago.
Let's hope students will be able to truly experience what college is like sooner rather than later, and in the meantime, we need to give them a lot of credit for dealing with as much uncertainty as they have with regard to their education, because it hasn't been easy.
Matt Musico, a current college counselor at Collegewise is a freelance writer for CollegeData. He has worked in higher education for the better part of a decade. Half of that time was spent working in an undergraduate admissions office, while the other half has involved working with high school families as a private college counselor.
The views, thoughts, and opinions expressed in this article belong solely to the author, and not necessarily to CollegeData, 1st Financial Bank USA or any other person or entity. All liability with respect to actions taken or not taken based on the contents of this article are hereby expressly disclaimed.