Survey: The Impact of COVID-19 on College Freshmen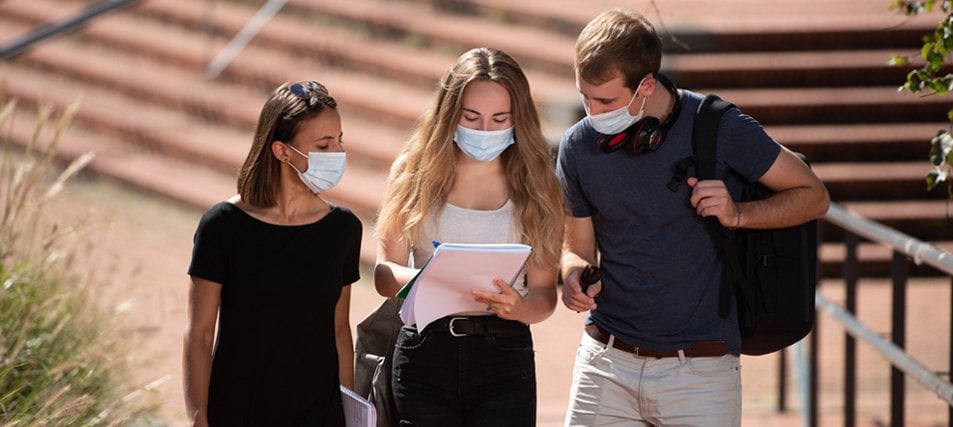 Throughout the COVID-19 pandemic, CollegeData has provided timely information and updates to help students navigate the changing landscape of college admissions and college life. Colleges and universities are responding to the pandemic in a variety of ways and we thought it was important to hear directly from incoming college freshmen about how COVID-19 has affected their college plans.
In August and September, we sent surveys to registered users of CollegeData who graduated from high school in 2020 to find out what college life looks like now, and what they're looking forward to in the future. We received responses from students attending colleges in 24 states across the country. Here are some of the findings from the survey.
The Impact of COVID-19 on College Choice
The pandemic made the task of choosing a college more difficult as a nationwide shut-down of campuses in March eliminated the opportunity for some rising college freshmen to visit campuses or attend admitted-student events.
Of the respondents to our survey, 23% said they chose a different school or otherwise changed their college plans because of the pandemic. However, 78% indicated that the pandemic had no effect on their college plans.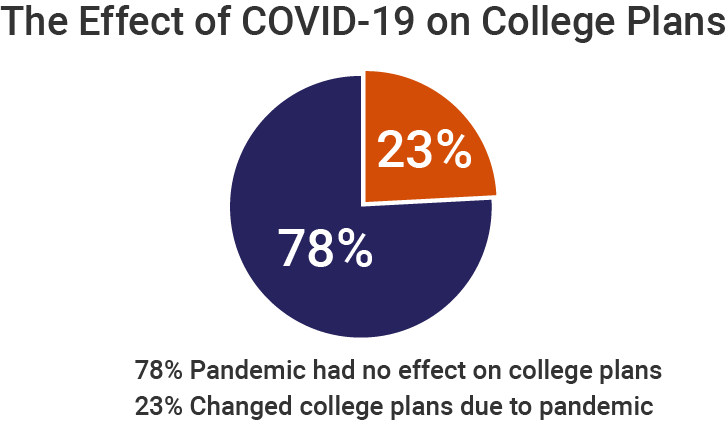 Of the respondents who did change their college plans:
44% indicated that they chose a different four-year college
39% indicated that they planned to attend a two-year college instead of a four-year college
16% indicated that they chose another option, such as taking a gap year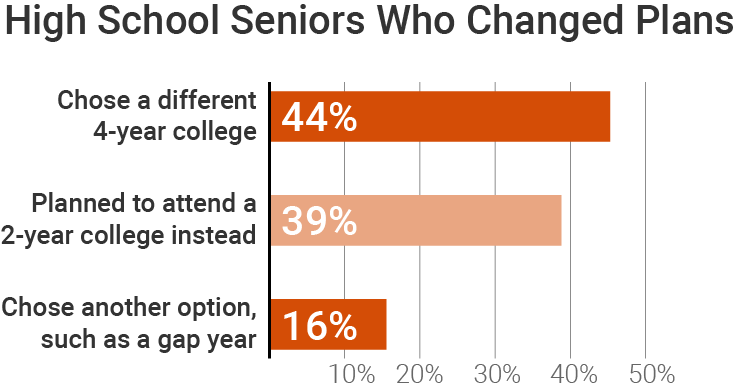 Reasons Why Students Changed Their College Plans
"I did not feel safe going far away from family."
Students had multiple and different reasons for changing their college plans. Some students did not want to take part in online-only instruction or forgo a traditional college experience. Others indicated that they changed their college plans because of financial reasons, a concern for their personal safety, and wanting to be closer to home during the pandemic.
Here are some of the responses we received:
"Even though we were allowed on campus, 80 percent of my classes were still online. It doesn't make sense to pay thousands upon thousands of dollars to sit in a dorm all day."
"[It is] better financially to stay home and be safe and attend online classes and earn money than to head off into the unknown."
"My first choice was the University of Aberdeen in Scotland. When the COVID-19 pandemic began to get worse in the United States, the government of the United Kingdom issued a ban on incoming flights from the US. This made getting to the university impossible, meaning I had to switch universities."
College Instruction During COVID-19
Fifty-five percent of respondents reported that their colleges had adopted a hybrid model of instruction with some classes online and some in-person.

COVID Safety Measures at Colleges
Respondents attending colleges offering in-person classes indicated that the colleges have implemented social distancing and other CDC recommendations to reduce COVID-19 exposures including:
Daily or weekly COVID testing
Mandatory on-campus (excluding dorms) wearing of masks
Mandatory on-campus (including dorms) wearing of masks
Closed dining halls
Wellness tests including temperature checks and surveys before entering class
Gym facilities moved to tents
Gatherings limited to groups of 10 or less
No cross-dorm events
Single-occupancy dorm room
Fifty-four percent of respondents indicated that they agree with the measures taken by their college to reduce COVID exposures and 32% indicated that they agree with some of the measures taken by their colleges.
Looking to the future: Life after COVID
"I am most looking forward to being able to experience my classes in person. I am also looking forward to spending time with my friends and family again, without seeing them through a screen."
Most of all, we wanted to find out what students are looking forward to once COVID restrictions are lifted. We received a variety of responses. The answers given by most respondents included socializing in person, meeting new people, and attending in-person classes.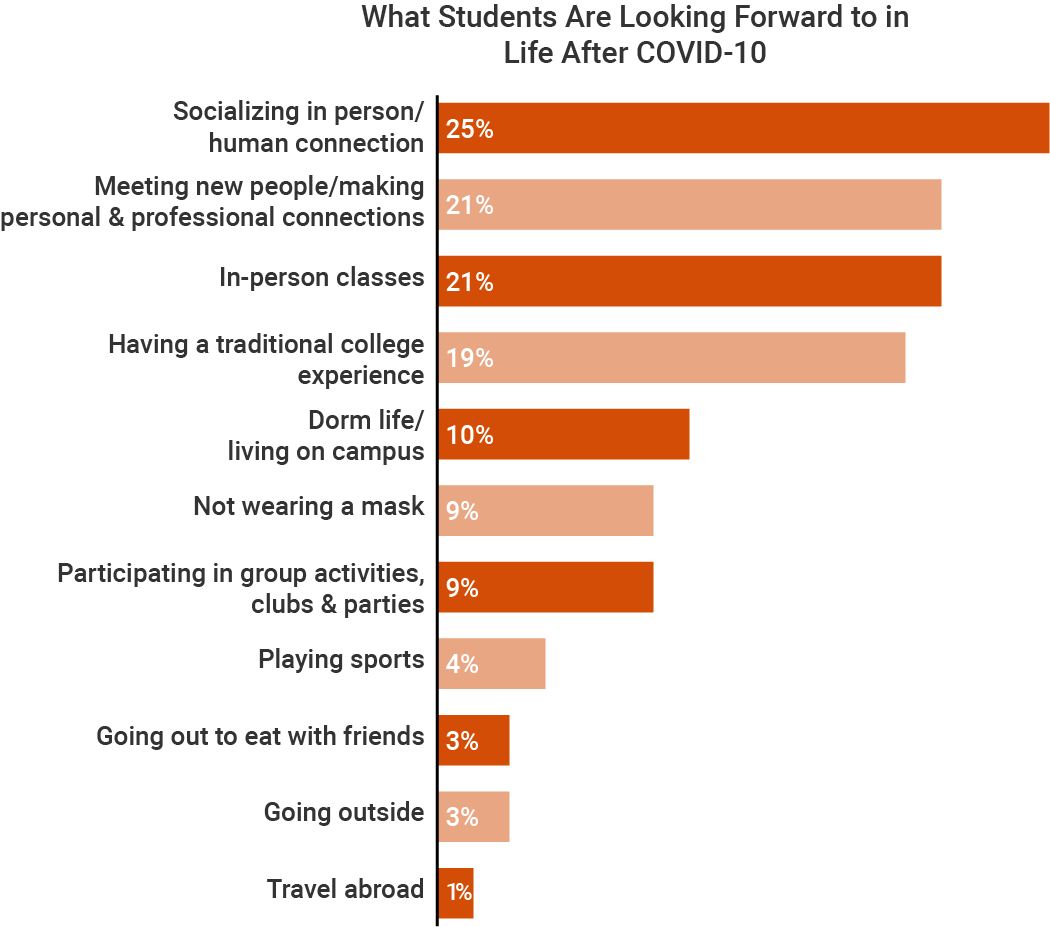 Here are some of the responses we received to the question: "Once the COVID-19 pandemic and its restrictions have ended, what are you most looking forward to in or outside the classroom?"
"Seeing people in person and building community. I'm not gaining any connections (casual or professional) and I feel like I'm not being set up for my future well at all."
"Socializing with peers again! However, I think this pandemic has left me with a lot of anxiety and I'm not sure I would be comfortable in a classroom with more than 10 people because of it."
"It's been so lonely out here because of restrictions. We have no opportunities to meet other students, other than from online apps or such. It's so much more impersonal than getting to go to an activity fair or new student weeks."
"Normal life; going out to eat; life without a mask."
Tell Us What You're Experiencing
If you are a registered user of CollegeData who graduated from high school in 2020 but did not receive or respond to the survey we sent in August and September, please take the survey here, or email us at info@collegedata.com to tell us about your college experience during COVID-19 and what you're most looking forward to once COVID restrictions have ended.
Methodology:
Survey results presented in this article were generated from an email survey of CollegeData registered users sent to high school seniors who graduated high school in 2020. The survey was conducted throughout August and September, 2020. A total of 80 CollegeData registrants completed the survey. Responses were provided anonymously.