6 Reasons to Feel Hopeful About College This Spring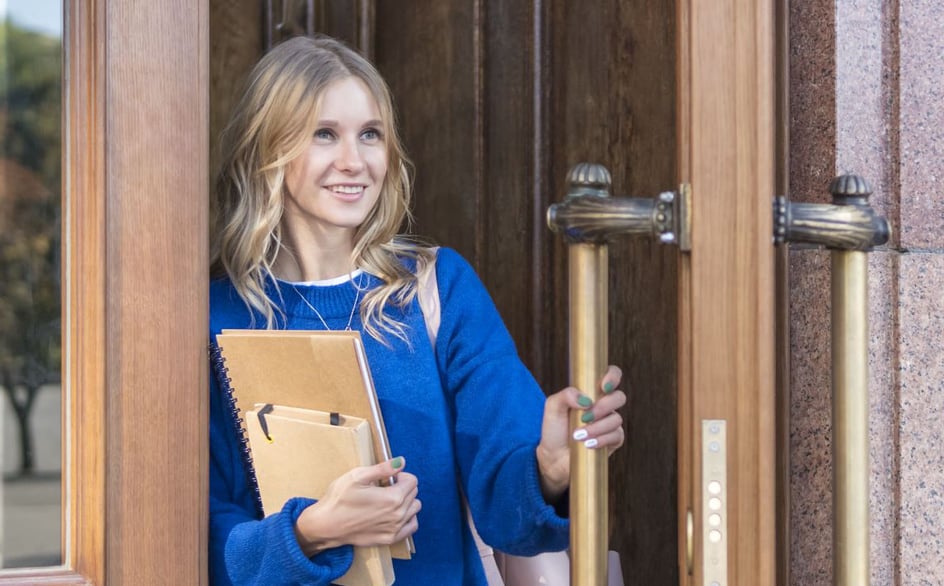 During the past year, COVID-19 has altered the college landscape – from how students apply to college to college life itself. What's in store this spring for students who are preparing to apply to college in the fall? Here are the latest college updates and resources to help you move forward on your college path.
1. Colleges look ahead to a "more normal" fall term
Some colleges are announcing their plans for fall 2021—and many include a partial or full return to in-person classes. Michigan State predicted "a more typical fall semester" and plans to offer 75 percent of freshman classes in person. The University of Maine is also preparing to welcome students for a "traditional, in-person college experience," and New York University opened its study abroad applications for fall 2021. University of Wyoming, Ohio State, and University of Alabama each also announced similar plans for in-person classes.
Yet, colleges are being cautious. According to Edward Seidel, University of Wyoming's president, as reported in the Chronicle of Higher Education: "Much could change between now and the start of the fall semester, including transmission of new variants of the virus and other unforeseen developments. However, we see great reason for optimism that we'll have much more of a pre-pandemic campus environment this fall."
Some schools are welcoming more students back to campus this spring. According to Inside Higher Ed, University of Arizona is doubling in-person class sizes from 50 to 100 students after seeing a sharp decline in coronavirus rates. At Stanford University, juniors and seniors will be able to return to the dorms for spring term.
For updates on colleges' plans for spring and fall 2021, see the Chronicle of Higher Education's COVID Updates Page.
2. Admission decision dates extended
To give students more time to consider their admission offers, several colleges have extended the date by which students must secure their spot in the incoming freshman class. For example, Queens University of Charlotte extended its deposit deadline from May 1 to June 15 and college admissions experts expect more colleges to follow suit. Stanford University and other Ivy League schools are giving students until May 3 to make their decision, a few days later than the traditional May 1 deadline.
However, because some of the most competitive colleges received record numbers of applications this year (Harvard, as an example, had 57 percent increase in the number of applications from the previous year), applicants might find themselves waiting longer to receive their decisions. Ivy Day, which is the day, usually in late March, when the Ivy League schools release their regular admissions decisions online, is April 6, more than 10 days later than last year's Ivy Day.
Visit college test prep company IvyWise's blog for admission notification dates at many colleges across the U.S. If you're still waiting for your admissions decisions, see How to Survive Until Decisions Arrive for constructive ways to pass the time.
3. Some campuses are open for in-person tours
Several colleges are holding in-person campus tours this spring, with restrictions. Willamette University in Oregon is offering in-person tours to admitted students who plan to enroll. American University in Washington D.C. is also welcoming prospective students in groups of three who register in advance. Goucher College in Maryland and St. Mary's College in California have instituted drive-through tours.
When visiting college campuses, students need to follow the school's COVID safety guidelines and be prepared that some areas of the campus, such as classrooms and residence halls, may be off limits.
Whether you're taking a virtual or in-person college tour, it's a good idea to prepare some questions to ask your tour guide. For suggestions, see Questions to Ask on College Visits.
4. Test-optional policies continue – and fewer students submitted scores
Hundreds of colleges and universities became test-optional, test blind or test flexible during the COVID pandemic. Not surprisingly, the number of students who submitted test scores with their applications during the 2020-2021 admissions cycle dropped significantly from the previous year (from 77 percent in February 2020 to 44 percent in February 2021, according to the Common App).
College admissions experts predict that test-optional policies will continue at least into the next admissions cycle. Some schools have extended their policies for the 2021-2022 admissions year or made them permanent. Others embarked on multi-year pilot programs or have yet to confirm their plans. To stay on top of colleges' testing requirements, visit the Spark Admissions website for an up-to-date list of test-optional schools for 2021-2022.
Meanwhile, SAT and ACT tests that are to be administered in April and May are scheduled to take place as planned. Be sure to check with the ACT and SAT websites before your test to confirm your test site.
For more information about test optional admissions, see Test Optional, Test Blind, Test Flexible: What's the Difference and 5 Reasons High School Juniors Should Still Plan to Take the ACT or SAT.
5.

Student loan payments are suspended until September 2021
To help student loan borrowers during the pandemic, the federal government has suspended federal student loan repayment obligations and temporarily reduced the interest rate to 0%. This relief has been extended through at least September 30, 2021.
If you are waiting for financial aid offers to arrive, or evaluating offers now, take some time to review the facts about federal loans, including interest rates and fees. Two great places to start are the CollegeData article What You Need to Know About Federal Student Loans, and the federal student aid website.
6.

Vaccines for teens are on the horizon

In a March 7 broadcast of CBS's "Face the Nation," Dr. Anthony Fauci, director of the U.S. National Institute of Allergy and Infectious Diseases (NIAID) and the chief medical advisor to the President, said tests were underway to determine the safety and efficacy of the coronavirus vaccine in high school students. He estimated that vaccines might be available to teenagers sometime during the fall of 2021 and said: "We project that high school students will very likely be able to be vaccinated by the fall term — maybe not the very first day, but certainly in the early part of the fall for that fall educational term."

For information about vaccine availability by age and other factors as well as other COVID-19 resources and information, visit the Centers for Disease Control's COVID-19 website.