Resources / The Road To College
Meet Your College Admission Support Team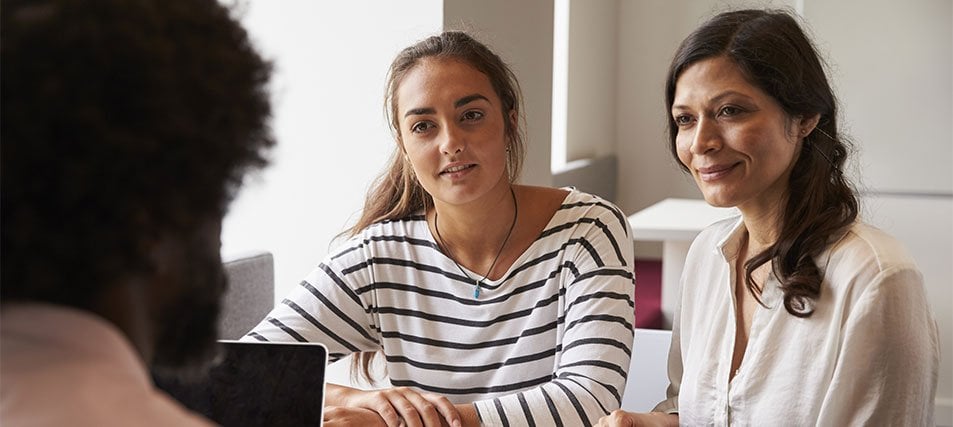 Planning for and applying to college is a major effort. And it's all on you, right? Well, not quite. It turns out there's a team that has your back.
The pressure on you to get into college has been building for years. Talk about tension! Good thing there's a whole lotta people ready to help.
Your Guidance Counselor
Your high school counselor plays a key role in your college applications. He or she arranges for your transcript to be sent to colleges and may provide recommendation letters. Your counselor also helps you plan a challenging course of study throughout high school, so you become a strong college candidate.
He or she can also recommend colleges, provide information about local and state scholarships, and counsel you if you experience difficulties in school. Some families engage a private college counselor to provide more personalized assistance with college selection.
Take the initiative to meet with your counselor at least once a year, and make an advance appointment if your counselor, like many counselors, is very busy.
Your Parents
Your parents are not only your personal rooting section, but they can be very useful in your college planning and applications. And while they shouldn't run the show, their opinions of the colleges you are considering are important and may give you valuable insight.
Parents can help track deadlines, look up facts about colleges, arrange for college visits (and drive you there). And of course, they can help pay for college.
Even if you prefer your parents to be "hands-off," it's important to keep them in the loop.
Your Teachers and Mentors
A teacher, coach, or other adult who knows you well can help guide and encourage you through the college admissions process. Such a teacher is also a good candidate to provide letters of recommendation to colleges. Other mentors may also be able to provide recommendations based on your extracurricular commitment.
Teachers who recommend you should be able to report your outstanding academic performance, passion for the subject matter, and contributions to their classroom.
Your English teacher may also help you by coaching you as you craft a personal college essay.
Your College Admission Rep and Local Alumni
Most colleges assign staff to represent them at high schools and college fairs, and to develop student interest in their college. Many colleges also have active alumni networks, and encourage alumni to meet with prospective students.
Get to know the local representatives for schools you are serious about. He or she knows what the college is looking for in an applicant and can answer your questions. Your rep is likely to be the first reader of your application, and it helps if he or she knows you.
Many colleges make local "alumni interviews" available to applicants. You can find out more about the college from someone who knows it well, and spark a positive report back to the admissions office.