Resources / The Road to College
5 Questions to Answer Before Starting Your College Search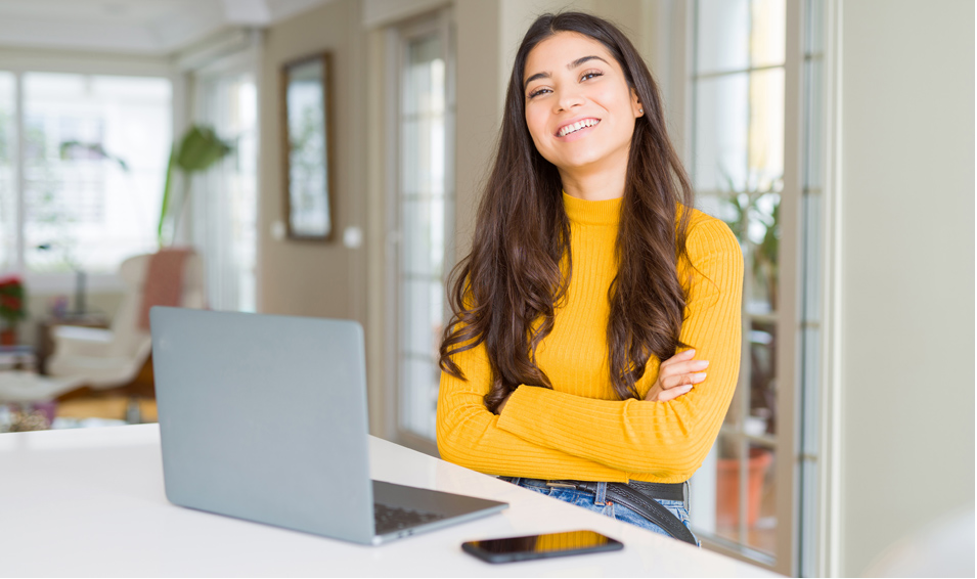 By Matt Musico
The beginning of a student's college admissions journey can be both exciting and overwhelming. Here's how one college counselor helps his students research colleges.
As a college counselor, I urge students to have fun during the initial phase of their college research. While there will be times when applying to college gets stressful, researching colleges, thinking about their future, and imagining themselves on certain campuses is an enjoyable exercise. But for those who are jumping into this process without a clue what they're looking for, it can be intimidating.
There are thousands of four-year colleges in the United States, and it can feel like an impossible task to narrow a list down to just eight or 12 prior to senior year of high school. Before heading out on a journey like this, it's important to have accurate and detailed information available, and CollegeData's College Search tool and college profiles are the perfect starting points. With these tools, you can search a database of more than 2,000 colleges by various characteristics, such as location, size, acceptance rate, majors, and graduation rates, and have access to a wide variety of information about each college.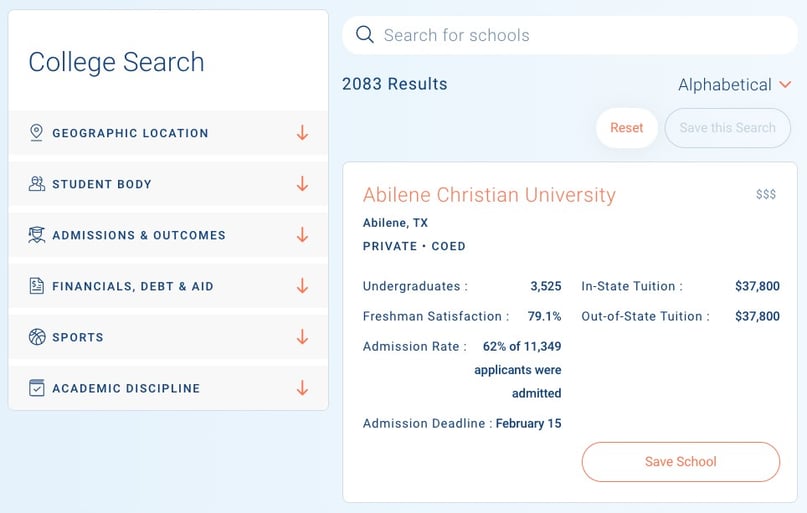 CollegeData's College Search lets you search for colleges by characteristics, such as geographic location, student body size, acceptance rate, and more.
Below are five questions many students that I work with want to have answered before beginning deeper research into any particular school. Consider using these questions as a starting point for your own college research.
1. What's Important to the Admissions Office?
This is the most common question I hear from families beginning to navigate the college admissions experience, and it's a good one. As students begin putting colleges on their list, it's helpful to know what, exactly, is important to the admissions office. I've absorbed a lot of information about colleges over the years, but it's impossible to keep tabs on them all, especially with COVID-19 significantly changing the admissions landscape.
Thankfully, I don't have to because CollegeData's college profiles have it all laid out for me to discuss with families. Let's use Northeastern University's college profile page as an example. There are six different tabs at the top, and the one I use to answer the question, what's important to the admissions office, is the "Admissions" tab.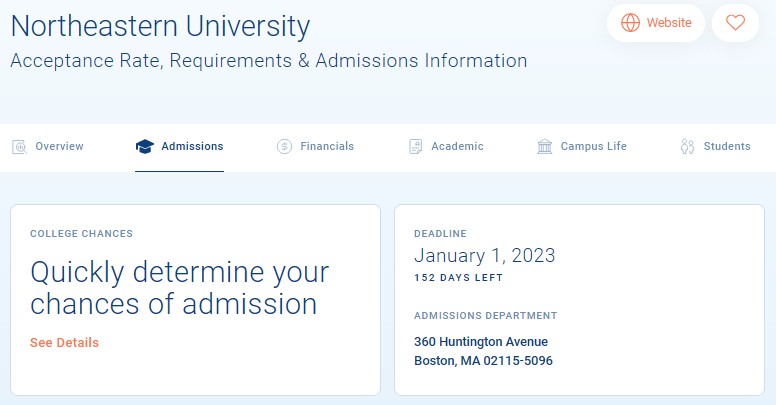 Scroll down to "Selection of Students" and you'll see the admissions factors considered by each school as "Very Important," "Important," "Considered," or "Not Considered."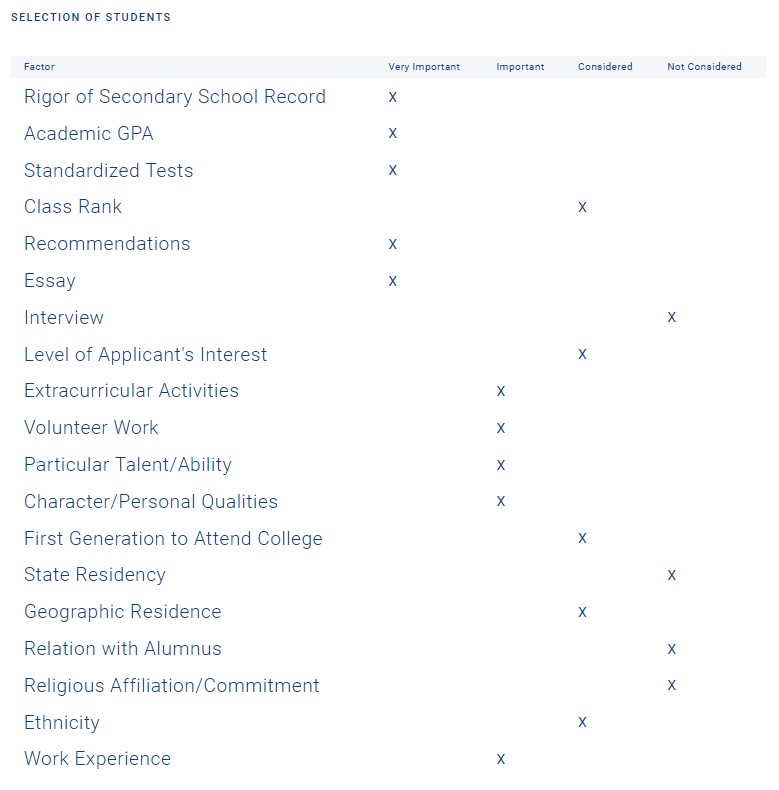 The college profile shows the how important different admissions factors are at different colleges.
Two factors that many schools consider are demonstration of interest and interview. When you click on the arrows to the right of each category for Northeastern, you can see that while a level of an applicant's interest is listed under "considered," an admissions interview is "not considered" during the university's evaluation of applicants.
2. How Big Is The School…Really?
Seeing how big a college is by accessing its college profile on CollegeData is easy. For each college profile, the number of undergraduate and graduate students is displayed under the "Overview" tab.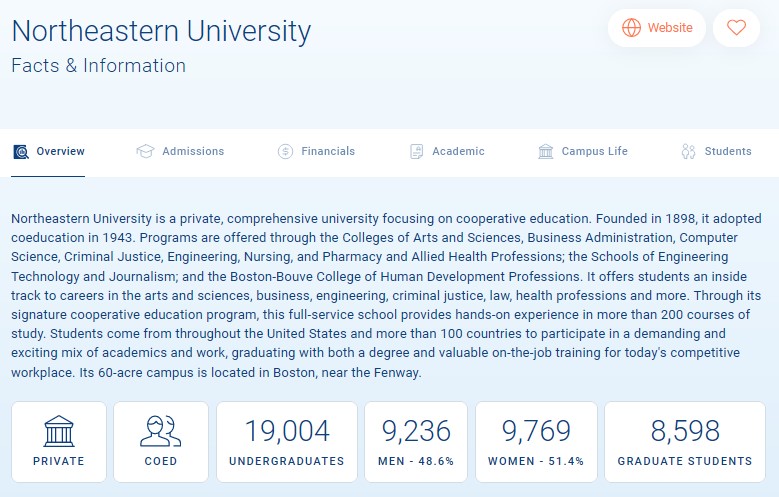 You can view the number of undergraduates and graduate students in the Overview tab.
Many students I work with want a larger campus but are not interested in attending a college full of lecture hall classes.
Keeping Northeastern as our school of choice, we can see there are nearly 18,400 undergraduate students and just over 9,000 graduate students currently enrolled. This sounds like a school that'd have a number of larger classes, but that's actually not the case.
You can get specific information under the "Academic" tab on class sizes, which makes this conversation a lot easier for me to have as a college counselor. By scrolling down to the "Faculty and Instruction" section, there's a breakdown of typical class size. We can see here that 55% of classes have between 10 and 19 students in them and another 12% have between two and nine students. While there are larger classes on campus, only 1% has more than 100 students.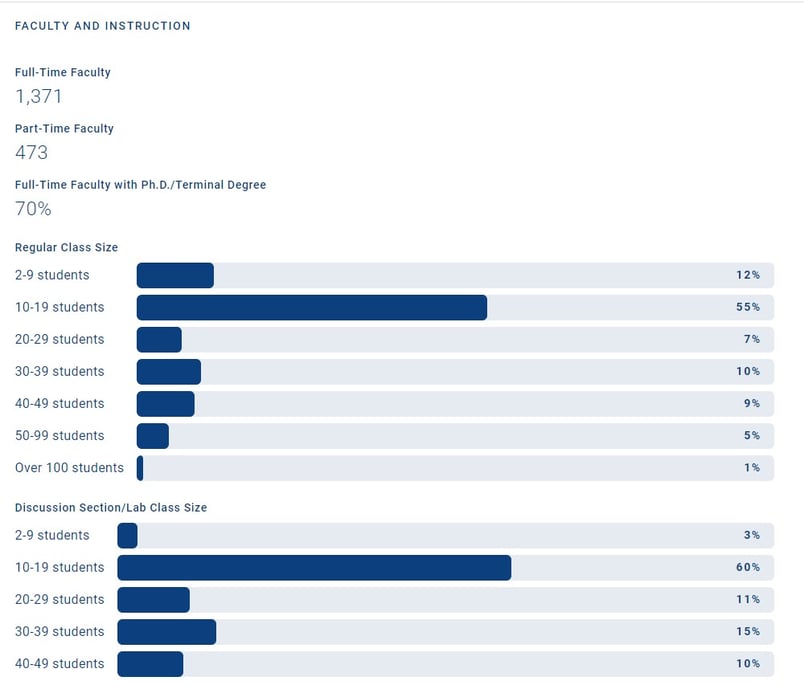 3. What Does the Financial Aid Profile Look Like?
How a college handles financial aid has always been crucial to the college admissions experience for families. With the economic uncertainty COVID-19 has thrown into the mix, it's more important than ever for families to determine if a college education is financially possible.
For each college profile, the total cost of attendance is displayed under the "Financials" tab and links to the college's financial aid website. Financial aid information is also displayed under the "Financials" tab including the required forms and submission deadline.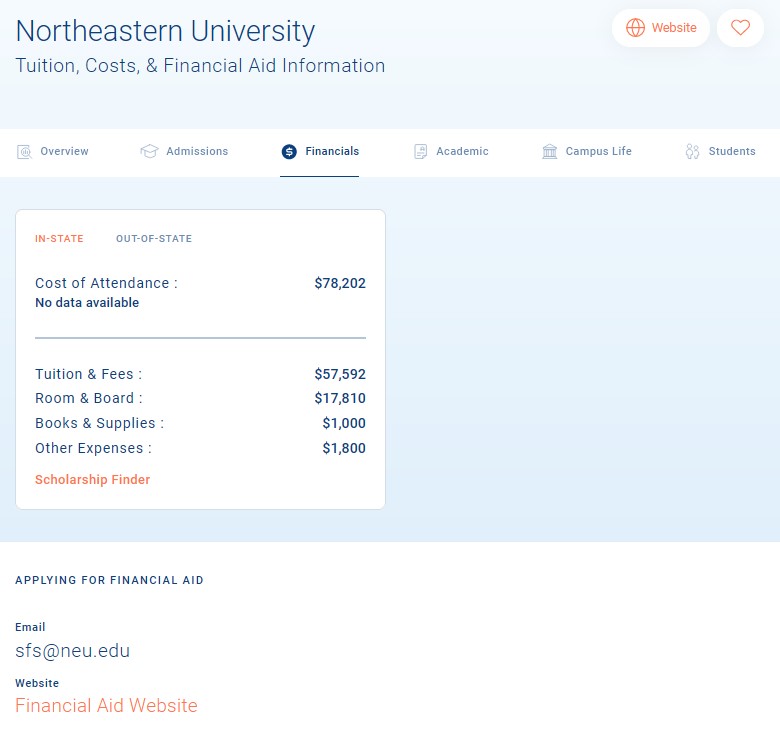 The "Profile of Financial Aid" section under the "Financials" tab is also helpful. It displays for the freshman class and all undergraduates the number of financial aid applicants, the number of applicants found to have financial need, the number of applicants with financial need whose need was fully met, the average percent of need met, and the average dollar amount of need- and merit-based awards.
The information described above can't always be easily found on a college's website. While I've experienced many financial aid situations with students, I don't claim to be an expert and must rely on accurate tools and resources, such as those provided by CollegeData. Whether I'm having a conversation on how generous a college is with financial aid or I need to make sure I'm suggesting a financially friendly school for a student to research, this is the first place I go to find this information.
4. How Diverse Is the School's Student Body?
CollegeData's college profiles can also give you a sense of a college's student population.
The "Students" tab of each college profile provides details regarding retention rate, graduation rate, what students do after graduation, and a breakdown of the current student body by gender and ethnicity. Using Northeastern as an example one final time, we can see that 54.3% of the student body identifies as white, 17.3% identify as Asian, 10.0% as Hispanic/Latino, and 4.9% as Black/African American.
Many students tell me they're interested in a diverse campus because they're ready for a new environment after typically living in the same town or region for the majority of their young lives. This is a great starting point to get a sense of a campus' diversity before digging in more.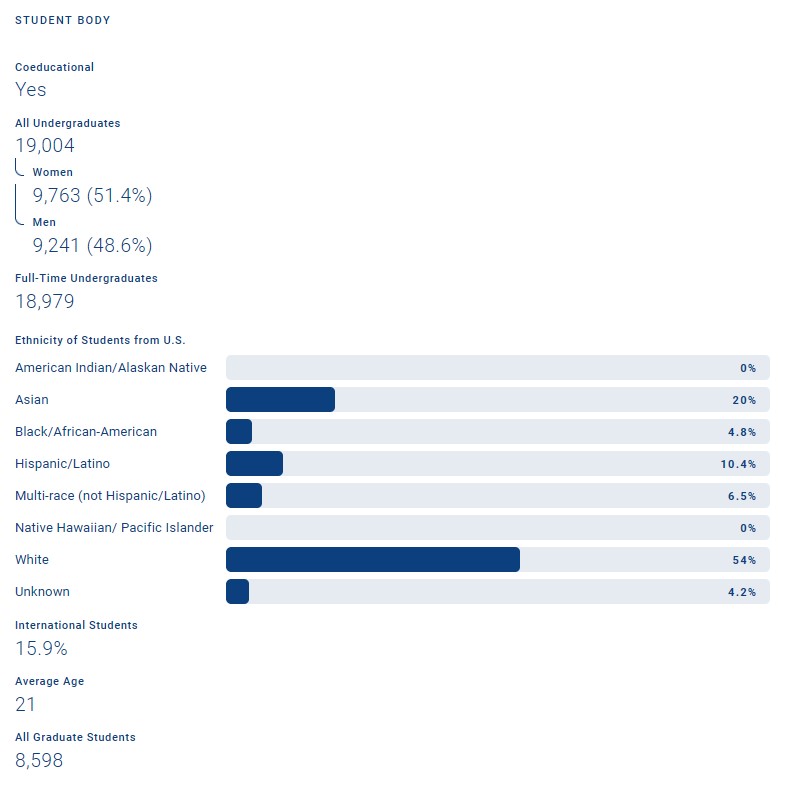 5. Are There Any "Must-Have" Criteria?
Often, students share specific "must-have" criteria for colleges they eventually want on their list.
College Search allows users to search colleges by specific preferences, including by location, size, gender, institution type, admission, outcomes, financial aid, sports available, student backgrounds, or majors offered.
Having the right tools and accurate information at your fingertips is crucial at the start of as well as throughout the college search experience and should also reduce anxiety and frustration with the process. There's a lot of noise out there in the college admissions world, and the best way to tune it out is having easy access to accurate information.
Using College Search to answer the important questions on your mind should help you avoid endlessly searching a school website or struggling to find the right search phrase to enter on Google. Believe me – I'm speaking from experience. Head over to the College Search tool today and start dreaming about your college future!
Matt Musico, a current college counselor at Collegewise is a freelance writer for CollegeData. He has worked in higher education for the better part of a decade. Half of that time was spent working in an undergraduate admissions office, while the other half has involved working with high school families as a private college counselor.
The views, thoughts, and opinions expressed in this article belong solely to the author, and not necessarily to CollegeData, 1st Financial Bank USA or any other person or entity. All liability with respect to actions taken or not taken based on the contents of this article are hereby expressly disclaimed.