Camilla

- New York University - Class of 2021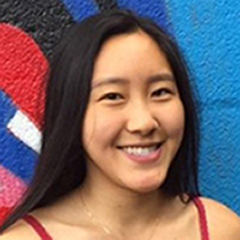 "After being rejected by 11 colleges, I thought how could NYU possibly want me if no other school did?"
Hometown: Centerville, VA
High School: Public
GPA: 3.35/3.85 (weighted)
SAT: 1310
Major: Education Studies
Goals: Work hard and get good grades while pursuing figure skating and coaching
I've been a competitive figure skater for eleven years and an ice skating coach since the age of 15. While I felt my ice skating was an unusual hook, my high school grades put me at a big disadvantage when applying to colleges.
Spinning on ice, slipping in grades
During freshman year, the transition to high school sort of hit me like a train. I thought I could get straight A's without studying, like I did in middle school, but I was wrong. I finished sophomore year with a 2.8 unweighted GPA. While I managed to turn things around junior year, my overall GPA was still low for the schools I wanted to apply to: top universities with outstanding academics, renowned professors -- and nearby ice rinks.
At the beginning of my senior year, my first priority wasn't applying to college; it was training for a regional skating competition. I planned to start my applications after that, but I had to take a sudden trip to China to visit my grandmother who was ill. Upon returning, homework from several classes had piled up, so in addition to working on my apps, I needed to complete extra homework to maintain my semester grades.
Soon, things started to feel insanely stressful. To cope, I stayed up late reading threads on college admissions forums rather than finishing my homework. I wanted someone to tell me that I had a chance at a top college, but it ended up stressing me out even more.
Essay anxiety strikes
I finished my personal statement first. It was about my passion for figure skating and I planned to use the same essay for all of my colleges.
But then I read samples of other people's personal statements online, and realized that mine was nowhere near as good. With only a few weeks left until my regular decision deadlines, I completely changed my essay and wrote about my passion for teaching skating instead. By the time I finished it, I had to study for midterms. So I put off working on my 15 supplemental essays until Christmas break--which gave me only a few days. This resulted in many late nights, reading and editing my writing until I felt sick.
Rejected at every turn
Hearing back from colleges was absolute torture. I was denied by 11 schools. I had one acceptance: to George Mason University. It was a great school for my major, but it was just 15 minutes from my house, and I didn't want to attend college so close to home.
I still hadn't heard from University of Richmond or NYU. I held onto hope for Richmond. Based on its admission statistics, I believed I had a pretty good shot at getting in--and after so much rejection, I needed some good news. Every day after school I walked to my mailbox with my fingers crossed hoping for a big acceptance package. When I finally saw a letter from Richmond in my mailbox, it was just a normal-sized envelope. I was waitlisted, and in some ways it felt worse than a rejection. I thought, "How could NYU possibly want me if no other school did?"
Days later, coming home on the school bus, I logged into the NYU housing portal and noticed that my status had changed from "summer housing" to "undergraduate freshman" -- and I immediately knew what it meant! After reading my actual acceptance letter at my house, the first thing I did was call my parents. They were just as ecstatic as I was, and I could barely manage to hold back my tears of joy. Finally, one of my top choices wanted me! The rejections from the other schools no longer mattered.
My ups and downs
Hearing that my friends had gotten into top universities while I was getting rejected from schools left and right really hurt my self-esteem. It was especially painful when they got into schools that had denied me.
Getting my acceptance to NYU was probably one of the most shocking, happy, exciting moments I've ever felt in my life. After that, my best moment was when I finally finished my essays. I felt like a heavy weight had fallen off my shoulders.
What I learned
The whole college admission process helped me realize that I need to be more realistic about my time and my goals. If I want to do well in college, I'm going to need to manage my time better and not procrastinate!
Now I realize that given my GPA, I should have applied to more match and safety schools and fewer reaches. Yet college admissions can be extremely unpredictable. For example, two friends of mine with much better grades than me were denied from NYU when I was accepted.
The Money Factor
I was lucky enough to get a $30,000 scholarship from NYU and a large sum of money from the tuition assistance program at my dad's workplace. The rest will come from my parents and student loans.
My advice
Learn from my mistakes and start the application process early. Studying for the SATs and writing your essays the summer before senior year will not only give you more time to prepare, it will also lift a great burden off your shoulders during your last year of high school, which I promise you will need.
Read More Student Stories:
| | | |
| --- | --- | --- |
| | Will - University of Minnesota "Waiting a year to start college wasn't what I originally wanted, but it's a sacrifice I am willing to make to not go into debt." | |
| | Audrey - Saint Mary's College "Sit down with your parents and discuss what is realistic in regards to college. This includes distance, type of school, and most importantly money. It might be uncomfortable, but it is a necessary step." | |