Miriam

- Binghamton University - Class of 2023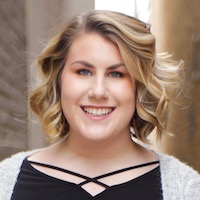 "It didn't take me long to realize how great Binghamton is!"
Hometown:

Mundelein, IL
GPA:

3.89 (uw)
ACT:

34
Major:

Premed
Goals:

Prepare for medical school and study the flute
I was looking at schools with strong premed or biology programs and good music departments so I could continue studying the flute. When deciding where to apply, I looked at what graduates did post-graduation, because I feel that what the alumni end up doing is a good representation of the college.
What I Did to Stand Out
I went to a competitive science and technology high school--one of the top public high schools in the country. Besides the rigorous curriculum, it requires 200 hours of volunteer work, which I did with different non-profits and at my school's writing center.
I was also active in gun-violence prevention, creating with my friends a local chapter of the national movement March for Our Lives after there was a local shooting in our community.
Early Decision to Vanderbilt
A lot of students from my high school have been admitted to Vanderbilt. When I visited the campus over spring break, I fell in love. Besides its strong premed program, I liked how the campus was central to the community. I felt at home and could see myself there.
My school counselor recommended that I apply Early Decision, so I'd have a better chance. The acceptance rate for students from my school who applied Early Decision was about four times higher than for students applying Regular Decision.
Fortunately, I had started writing my essay in August, so I felt confident about meeting the Early Decision deadline. I wrote about my Jewish identity--what it's like being Jewish in a predominately Christian community. But when I showed it to my advisor, she didn't like it and she pushed me to revise it five times! When I finally submitted it, I thought it still wasn't good enough.
I also spent a lot of time on my personal statement for Vanderbilt, even though it was only 350 words! I described my visit to campus, why I wanted to attend, and the things I wanted to experience at Vanderbilt. Overall, I felt confident I would get in, given that I was applying early.
Moving on…Tulane? BU? Or Northwestern?
When I was denied early decision from Vanderbilt, I was really upset, but I got over it fairly quickly. Luckily I had kept working on applications to seven other schools. My top choices from this group were Tulane, Boston University, and Northwestern.
Iowa was also on my list because I knew it was a good school, plus my mom and many family members had gone there and I felt I had a good chance of getting in. I was attracted to Brandeis because of its relationship with Tufts medical school, but I was less excited about the small community of 600. My high school and grade school were both very small and I wanted to branch out at a larger school.
My counselor suggested that I apply to Binghamton University, part of the State University of New York (SUNY) system. It had a strong honors college and a program with early acceptance to medical school, but I considered it only a "safety." I also applied to Dartmouth because…why not? My best friend was applying to Yale.
Four colleges, one choice
After receiving my acceptances (and denials), my choice came down to Brandeis, Binghamton, Iowa, and Boston University.
I was thrilled to be accepted to BU, but not receiving merit aid or acceptance to their honors college was disappointing, and the lack of merit aid made BU unaffordable. Brandeis offered me a very generous aid package, but while it is a wonderful university, it really was too small for me.
A Safety School Becomes #1
Binghamton gave me a scholarship and acceptance into its highly selective Scholars Program. While I hadn't seriously considered Binghamton, I had liked it a lot when I visited.
I liked how the campus was designed like a brain stem, and the different schools were different quadrants of the brain. The campus is in a small town, but Binghamton is a large school with lots of different things to do on and around campus. It's on a 200-acre nature preserve so I could see myself taking walks there.
I also liked that Binghamton had multiple orchestras and bands I cold join, and my flute teacher knew Binghamton's flute teacher so there was a connection. After I accepted my admissions offer, I secured a position on campus helping a professor with cancer research, which is unique for a freshman. It didn't take me long to realize how great Binghamton is!
My advice
Use all the resources available to you. Attend any classes or application prep events your school holds, even if you think you don't need it.
Definitely start the process early, but be careful about setting overly ambitious goals. I had a goal to finish all my applications by mid-October and I met that goal. However, I went back and revised my applications because I felt they weren't my best work. You need to allow time for feedback on your essays and your own revisions.
Don't think of your colleges as "safeties" or "reaches." Look at them for what they have to offer and how well they can help you achieve your goals.
Read More Student Stories:
| | | |
| --- | --- | --- |
| | Tayon - Emerson College "Knowing how to talk about yourself is crucial. Colleges want to know who you are!" | |
| | Lila - Oberlin College "I didn't have an 'aha' moment where I thought 'Oh! This is where I'm supposed to be!' I had no idea how I would make a decision." | |