Angela

- University of South Carolina - Class of 2025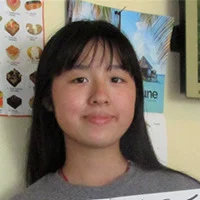 "University of South Carolina had many of the same resources as some of the other schools higher up on my list."
Hometown: Columbia, SC
High School GPA: 3.8/4.5 (weighted)
ACT: 22 (Not Submitted)
Major: International Studies and Economics

Extracurriculars:

Volunteer teaching assistant; wellness club, Ladies of LE, Army JROTC sergeant first class, worked full-time at family's restaurant during school plus additional part-time jobs, family translator.

Goals for college: Succeed academically, study abroad, make new friends, explore my passion, become fluent in Mandarin, and make connections for my career.
*Applied through Questbridge College Match
I was worried I was never going to get accepted to college. I didn't have strong relationships with my teachers because I moved to a new high school in the middle of my junior year. I didn't participate in many extracurricular activities due to my family responsibilities, which included working at my family's restaurant six days a week. I thought I was missing out on opportunities to make myself "stand out."
Looking for a diverse, inclusive campus
I am interested in international relations and working at the United Nations. Campus diversity -- in the student population, in clubs, and in the faculty and staff -- was important to me. I wanted to feel like I belonged on campus regardless of my race, gender, and the color of my skin. I also wanted a school with high graduation rates, internships and opportunities during and after college, and support and resources for first-generation and low-income students.
Online resources – and other students – guide the way
Through social media, I discovered Questbridge, Matriculate, and the Matchlighter Scholars Program. All offer free college advising to low-income students – and connected me with mentors and other first-generation college students who were applying to college. I was especially interested in the Questbridge College Match – a selective scholarship and college application program. Students admitted by Questbridge's partner colleges during its early application process receive full, four-year scholarships.
At first, I was afraid to apply to prestigious, low-acceptance rate colleges. I thought I didn't have the experiences that admissions officers expected to see. But my online mentors helped me identify some of my greatest strengths -- my work experiences, life experiences, and background.
For example, I was a manager at Dairy Queen, a sales representative for a fragrance store, and a cashier/food server at a restaurant at my local mall. I have attended eight different schools in three states. From a young age, I translated for my parents, who are not from the U.S. Once I saw that these things demonstrated qualities like resiliency, responsibility and drive, I began to believe in myself. I realized the worst answer these colleges could give me was a 'no'.
Prestigious colleges top the list
I applied to 10 highly selective colleges through Questbridge's National College Match, including Princeton, Columbia, Tufts and my first choice, Wellesley. I also applied to six other schools that were not part of the Questbridge Match.
After not "matching" to any of my Questbridge colleges through early decision, and then applying to them again regular decision, I was admitted to five colleges: Grinnell, Furman, Agnes Scott, Wooster and the University of South Carolina. I researched them all more closely and attended their online admitted students' events.
Learning about Grinnell

–

and what my parents think

I fell in love with Grinnell's diverse campus community and small classes and it became my first choice. Even though Grinnell's admitted student's event was online, I felt a real sense of belonging that I just didn't feel from the other colleges. Grinnell also offered me great financial aid. The only downside was that it was in Iowa, 1,000 miles from home.

When I told my parents about Grinnell, they said they wanted me to stay closer to home and attend the University of South Carolina in my hometown. I wasn't surprised; whenever I talked about attending college out-of-state, they would always bring up negative things about it. They reminded me that it would be difficult for them to visit me—especially if something happened and I needed them.

I understood their feelings. I had wanted to attend college out of state, but earlier in the year I suffered a health issue that put me in the hospital. I thought about how difficult that experience would be if it happened away from home. I realized then that part of me really didn't want to attend college so far away.
Finding similar resources at South Carolina
Even though University of South Carolina was never a top choice, I attended its three-day online orientation and asked a lot of questions. It turned out that South Carolina had many of the same resources as some of the other schools higher up on my list. Although the community wasn't as diverse – or nearly as small -- as Grinnell's, South Carolina had a program for minority and first-generation students, and students were starting a club for Asian Americans and Pacific Islanders. I also had an option to live in the International House with students from all over the world.
Best of all, the tuition was much cheaper than Grinnell's, and they offered me a large scholarship! I remembered what my mentors from Questbridge and Matriculate said: that most colleges provide students with the same amount of knowledge regardless of their name, and for students who want to attend graduate school, as I do, it can make sense to attend a less expensive college for undergrad. Two days before the May 1 deadline, I committed to South Carolina. I know that I made the right decision!
My ups and downs
My worst moment was when I found out that I did not earn a full ride to any of the colleges I applied to through Questbridge's early decision application. I had put so much work into my applications, so I was just shocked. I went to the Questbridge class of 2021 student group and saw that many of my fellow scholars got accepted to the colleges that denied me. I was angry at myself for not spending enough time on my Questbridge essays. I was mad at Questbridge for even choosing me as one of its National College Match scholars. I was jealous of my fellow scholars for a little while, but I was able to recover after seeing so many happy faces in their reaction videos. It made me feel happy to see them happy.
My best moments were getting awarded scholarships and (despite my frustration later) being selected as one of 6,800 Questbridge National College Match scholars out of more than 18,000 applicants. In retrospect, I know that becoming a Questbridge scholar allowed me to meet other students across the nation and learn valuable skills that I believe will help me thrive in the future.
My essay: Afraid of the Blizzard machine
I wrote about my job at Dairy Queen and how it taught me to be responsible, accountable, respectful, and prepared me for the real world. I wanted the admission officers to see that I am resilient, and I will never give up on a goal or dream until I fully achieve it. So I described how on my first day, I was afraid to touch the Blizzard machine and made so many mistakes. I thought of quitting but the earnings from the job helped my family, so I continued. Three months later, my fear of the Blizzard machine had faded. I could make picture-worthy cones and Blizzards that could be turned upside down – and I was promoted to manager!
What I learned
I learned that college sticker prices are not necessarily what you will pay. I was accepted to many colleges that seemed expensive according to their sticker prices, but after financial aid, scholarships, and grants, my cost of attending was way lower than what I expected.
The money factor
Scholarships and grants are covering about 90% of my total cost. For this year, almost all of the cost is covered by financial aid, scholarships (outside and institutional). No family contributions this year and I am currently not taking out any loans.
My advice
Apply as early as possible for fly-in programs

. Many of the applications for fly-in programs are due in August.

Fly-in programs are really helpful if you are interested in a specific college and want to learn more about it. Before COVID, most colleges offered in-person fly-in programs where students can stay on campus for a couple of days to learn and experience what it's like to be on campus. But due to COVID, most colleges' fly-in programs were online.
Look outside of your high school for resources

. But make sure you don't overload yourself with resources either. I juggled three different programs and some of their resources overlapped.
Make sure to take care of yourself.

Don't put too much pressure on yourself. Know that your senior year is supposed to be fun and for you to enjoy. And even though the college application process may not seem fun, trust me, it becomes more enjoyable near the end, when when you get to make your final choice.

How CollegeData helped me on my college journey
CollegeData helped me look at the diversity stats for the colleges I was interested in and find other information that I couldn't find on college websites. Everything — Scholarship Finder, college facts, Financial Aid Tracker, and many more resources — are all in one place. Plus, it is 100 percent free to use.