Tayon

- Emerson College - Class of 2022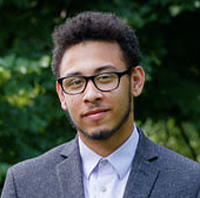 "Knowing how to talk about yourself is crucial. Colleges want to know who you are!"
Hometown: Norwich, CT
High School GPA: 3.4/3.8 (weighted)
SAT: 1060
Major: Political Communication
I wanted to make sure college was what it was supposed to be: a new experience. I wanted to move out of my home state, to a beautiful campus full of diverse people. I was first looking at name brands, schools like Harvard, Columbia, places like that, because of their reputations.
I really, really liked Harvard. They had an excellent program in my major (political communications), and that's where it began for a lot of political people! I applied early action, but was denied. So I got serious about my other schools and the factors that were important to me:
Cost and financial aid
Academic program in my major
Location (I wanted to feel comfortable in the location)
Opportunities on campus
George Washington University was a top choice. It was a wonderful school in the heart of Washington D.C., full of opportunities in politics. Howard was also high on my list for similar reasons.
Please Don't Make Me Brag
My biggest struggle was writing about myself. I started writing my college essay in August before my senior year. My English teacher read it and said I needed to tout my accomplishments more and tell a more personal story. I had some notable leadership experiences. I was student body president, served on the recruiting committee for my school, and organized walkouts and other political activism. I just didn't know how to write about these things without sounding egotistical.
Denied at My Top Three but Not Discouraged
At the end of the admissions process, let's just say I wasn't too pleased. I didn't get in to most of my top schools. The schools that accepted me were College of St. Rose, Emerson College, Hofstra University, University of Connecticut, and St. John's. While none of these were in my top three, I told myself that I applied to these schools for good reasons and needed to look into them further. It was just that each one had something my top schools were missing.
I loved UConn, but it was in my home state and I wanted to move.
I visited St. John's and it was fine, but I didn't connect with it all the way.
Hofstra and College of St. Rose were out of the question because of their locations.
I wasn't sure that Emerson would prepare me as well as my top schools for a political career.
A Closer Look at Emerson
My grandmother encouraged me to go to Picture Yourself at Emerson Day. Visiting Emerson helped me see that its political communications program was stronger and more focused than I originally understood.
I got to talk to current students, engage in a mock lesson, and experience the community. I left loving the program and the college's dedication to it. The curriculum was thrilling with hundreds of opportunities. I was going to end up a political expert, it felt like.
Plus, the location was ideal. Boston isn't Washington D.C., but it is a wonderful city with all kinds of opportunities in political communication, and the campus itself is right near the State House.
My Ups and Downs
I was shocked when I was contacted by an admissions counselor from Harvard for an interview. My interviewer was a woman who graduated from Harvard in the 70's, and she truly loved everything about it. I felt encouraged by our conversation until she asked, "Why do you want to go to Harvard?" I almost said, "It's Harvard…why not?" But in all seriousness, I didn't really know.
Getting denied at George Washington was the hardest. I thought I had a chance there, and I put a lot of thought into my application. But then, visiting Emerson was one of the most eye-opening, beautiful experiences I've been a part of. Every current student and incoming freshman I met was so passionate about what they were doing! They loved it. They were invested. It was really enriching.
What I learned
Knowing how to talk about yourself is a crucial skill. Colleges want to know who you are! I don't think I did enough to give myself credit for the things I accomplished. I would try to dumb it down so I wouldn't sound egotistical, but that's okay to some extent! You can say, "Hey, look what I did!"
My Advice
I recommend defining your goal for going to college and coming back to that goal throughout the college admissions process. For me, I wanted to attend a college that will provide me with the skills and assets to be involved with political work. Sticking with that goal helped me make my college choice.
Know why you want to attend the colleges on your list. If you don't know, it means you don't know enough about the school. Don't apply just to apply. Make sure you have a purpose!
Do not be afraid to call an admissions counselor for questions, comments or concerns. They are there to help. Use your guidance counselors as well.
Read More Student Stories:
| | | |
| --- | --- | --- |
| | John - Kenyon College "Don't be afraid to ask for what you want, particularly with respect to financial aid. You might get a 'no' but you can't get a 'yes' unless you ask." | |
| | Olivia - Yale University "I was used to writing an essay based on facts or figures, not one that is spontaneous, fun, or intriguing." | |