Lauren

- Auburn University - Class of 2022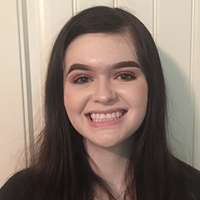 "As soon as I began to process a rejection from one college, I was faced with a new rejection from another."
Hometown:

Auburn, AL
High School: Public
GPA:

4.1 (weighted)
SAT:

1230
ACT:

29
Major:

Journalism
Goals:

Become a music journalist
I had zero interest in attending my local college, Auburn University. I had lived in the small, college town of Auburn my entire life and did not want to have the same experience during my college years. It's ironic how I was later forced to eat my words.
Location, location, location
When I was applying to college, my two primary concerns were 1) Getting out of my hometown in Alabama and 2) getting into a prestigious university. The cost of tuition and room and board rarely registered as dilemmas in my idealistic mind. Even the question of whether or not the school I applied to offered my major - journalism- was not a priority. If a college was located in a beautiful area, near a major city, or in California, I was sold.
My list of elite dream colleges
My top choices were all selective, prestigious colleges: Northwestern, USC, Vanderbilt, and Emory. Northwestern was my "dream" school in terms of location (near Chicago), and reputation (it had one of the best journalism programs in the country). But it was also a dream for other reasons; it cost over seventy thousand dollars a year to attend--far more than my family could afford. And the average composite ACT score of admitted freshmen was 32. My highest score was 29.
My father and my counselor advised me against applying only to these prestigious universities. They recommended that I also apply to state schools or less-elite private schools. But I refused. I had worked hard in high school, taking rigorous classes in the International Baccalaureate program. I had a high GPA and volunteer hours. I thought I was "guaranteed" acceptance into a selective university. To appease my father, I agreed to apply to Auburn as my one safety school.
Procrastination adds pressure
At the start of senior year, I was consumed by school work and preparing for the ACT. I did not start my applications until December, and I waited until Christmas break to request teacher recommendation letters for applications that were due on New Year's Day. I missed some Early Action deadlines because I wasn't finished with my applications in time. In one case, I completed an entire short-answer section the day before the deadline.
My ups and downs…and downs
About two weeks after I had submitted my application to Auburn, I received an email from the university. I skimmed it and immediately sent a screenshot of my acceptance to my dad. I was excited, I really was. The fact that the first decision I received was an acceptance set an optimistic tone.
So I was nothing short of devastated when I received my rejection letters. What made matters worse is that they wouldn't stop coming in. I received rejections from Emory, Northwestern, USC, and Vanderbilt within the span of a week. It felt like I was never able to catch my breath; as soon as I began to process a rejection from one college, I was faced with a new rejection from another. I cried every day that week. It is not an exaggeration to say that I was grieving.
After all my other options fell through and only Auburn remained, I knew I couldn't fight against my fate any longer. I would be attending Auburn, not an elite school, not a college out-of-state, not a college near a major city. And, at some point, I would have to learn to accept that.
What I learned
Here are some things I'd do differently if I could go back in time:
Extensively research my colleges. When asked by a particular university why I wanted to go there; I couldn't answer because I knew next to nothing about the school.

Be realistic about my chances of admission. My 29 ACT score was my Achilles heel. It was on the low end for average ACT scores at every college I applied to except Auburn.

Start my applications early. I think my essays and short answers sounded rushed and thrown together.

Listen and comply with the advice given to me by my parents and my counselor. I refused to comprehend that the adults in my life were trying to help me, not discourage or undermine me.

My advice
Be selective about the colleges you apply to. Limit yourself to one or two "dream" schools, and include several schools that you know you have a good chance of getting into. Make sure your grades and test scores fall within the range of accepted students.
Also, remember that a rejection letter does not define or diminish your worth. It does not render your hard work in high school pointless. It does not mean that you are not intelligent or likable. College admissions officers do not know you personally, so they cannot reject you personally. No matter what happens when you apply to college, be kind to yourself, and be proud that you have the desire to further your education.
Read More Student Stories:
| | | |
| --- | --- | --- |
| | Ethan - Indiana University "Don't base your college decision on first impressions. The second and third visits really made up my mind." | |
| | Vita - Wellesley College "You have to put your authentic self into the process of applying to college. My voice and enthusiasm were my strongest qualifications. So I made sure both were present in my essay." | |