Marcus

- UCLA - Class of 2026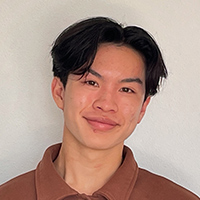 "With so many students applying to the University of California, figuring how to make myself stand out was the most challenging part."

Hometown: San Francisco, CA
High School: Public
High School GPA: 3.92/4.28 (weighted)
Major: Chemistry
Extracurriculars:

Founded student activists club, environmental advocate for associated students, internships at the Southeast Asian Development Center and San Francisco Public Library, developed a six-week curriculum addressing anti-Black rhetoric within the Asian American community.

Goals for college: Attend graduate school for business; develop my own skincare line.
I've always tried to keep in mind that it's more important what you do at the college you attend than where you go, and so when I started my college search, I was open to all types of schools. In a college, the most important factors to me were a diverse and inclusive student body, a location in a metropolitan area, the college's offerings in chemistry, and its ability to provide me with both rigorous academics and an active social life.
Bruins, Bears, and Balance
Living in California, I wanted to take advantage of the amazing in-state colleges we have and the lower in-state tuition, so I was not interested in applying out of state or to privates. UCLA and UC Berkeley were my top choices, even though I didn't think I would be admitted to such prestigious schools.
With so many students applying to the University of California, figuring how to make myself stand out was the most challenging part – especially given that the UC system does not consider SAT or ACT scores or demonstrated interest. I knew these policies would place extra weight on my essays, but I was happy about this because I felt that I could stand out more with my writing than with a statistic.
My Unconventional Approach to Writing Essays
The UC application requires students to complete four, 350-word "personal insight" essays. I didn't think 350 words would be enough space to thoroughly explain my multiple activities and interests (skincare, chemistry, social justice, sustainability, and baking). I also found it difficult to work on my essays in my free time during the day or when my classes allotted time for writing them. I'm not sure why, but ideas did not come to me during the day even when I had nothing else going on.
To deal with my inability to write during the day, every single one of my college essays was written somewhere between 12 a.m. and 3 a.m. Each weekend, I would wait until the middle of the night, make a pot of tea, put on some music, and work on my essays. Something about the combination of caffeine and late-night creativity allowed me to come up with my best ideas.
To make the most of the low word-count, I tried to stick to one topic for each essay but describe or illustrate multiple qualities about myself. For example, for a prompt about creativity, I wrote about my love for science and chemistry and my passion for creative expression – and how I hoped to combine these to create skincare. For a prompt asking me to describe how I overcame challenges, I discussed how I dealt with the challenges I faced as a queer person in school, and how I channeled my frustration into positivity by establishing a student activist club at my high school aimed at creating a supportive school environment.
UCLA or CAL? How Do I Choose?
When I was admitted to both UCLA and Berkeley I was unbelievably stunned and immediately called my friends and family. Given that they are arguably two of the best public schools in the country, it was a very tough decision and took me over a month to decide.
I liked both campuses equally, although UCLA's felt more like me with the sunny weather and more social feeling. I was impressed by UCLA's strong departments in film and dance as well as its rigorous STEM programs -- complete opposites yet equally as robust at the school. Students I spoke to also seemed to be very balanced in the sense that I could be talking to an engineering major who was also involved in environmental science and music. The Berkeley students I met talked about their research projects and rigorous classes -- and this felt less like me. Yet, I couldn't ignore the fact that Berkeley's chemistry department is ranked higher than UCLA's.
A Current Student Weighs In
As much as I tried to compare information about both chemistry programs, it was difficult to figure out what made one department better than the other. I spoke with a student in Berkeley's College of Chemistry who also had to make the choice between UCLA and Berkeley. He said that what set Berkeley above UCLA for him were its connections to nationwide labs and its long history of groundbreaking research. Since I am not very interested in doing research, this pushed me further towards UCLA.
In the end, it came down to the campus environment and how the school could help me in my specific career path – not the chemistry department's ranking. I deduced that UCLA might offer me a more balanced academic and social environment, and with its Los Angeles location, access to more businesses in the fashion and cosmetics industries.
My Ups and Downs
When I started my college applications, I did not intend to apply to any private schools because they just didn't seem practical financially and none of them really stood out to me. However, it seemed like everyone around me was applying to at least a few privates. I had friends applying to Brown, Columbia, USC, and a bunch of other prestigious schools. I worried that I was missing out on something and possibly losing an opportunity by not applying to any private schools. It also made me feel like I wasn't as good or as smart as my friends.
This pushed me to apply to one private school, USC, just so that I wouldn't regret not applying in the future – even though I couldn't afford the tuition even with financial aid. When I reminded myself that there's way more to a person than the name of their college, I felt more secure in my value. I realized that going to a school that doesn't have a low acceptance rate or top ranking doesn't make it any less of a school. You can achieve great things no matter where you go to college.
The Money Factor
My first year of college will be paid by grants (45%), scholarships (27%), and savings (28%). After my first year, I may have to take out student loans depending on how much I am awarded in scholarships and grants.
My Advice
Make sure every activity or opportunity is something you genuinely want to do. While it is important to have extracurricular activities, playing catch-up with others and doing things that you aren't passionate about will not be helpful. It's not about the number or type of activities you do; it's more about the impact you've had and how you've used or learned from your experiences. There is a difference between taking part in activities just for the title and taking part for the experience.