Amira

- University of Tennessee - Class of 2026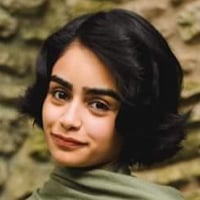 "With the scholarships and grants I received from the university and the state, plus the federal Pell Grant, my college costs were almost completely covered."

Hometown: Knoxville, TN
High School GPA: 3.9/4.37 (weighted)
ACT: 32
Major: Japanese
Goals for college: To learn as many new languages as I can, and to improve my musical abilities under the tutelage of experienced professors.
When it came to applying to college, I don't think there was a way for me to feel less lost. At first, I was only looking at prestigious private schools. I considered Wellesley, Bryn Mawr, Vanderbilt, and Yale, but I thought these schools were out of my league. My test scores were below average compared to the admitted students at some of these schools, and even though I was in an International Baccalaureate (IB) program, I didn't take the most rigorous courses available to me. I think I wanted to feel the exclusivity of a competitive school, but not the pressure that comes with applying to one.
Most of all, I was unsure that I would receive enough financial aid to cover the higher costs of a private college. When I researched the average financial aid awarded by some of these colleges based on my family's income, it wasn't enough, especially when I accounted for travel.
Tennessee to the Rescue
As I approached my senior year, I met with my counselor to discuss the financial aid I might qualify for based on my ACT score, GPA, and my parents' income. My counselor told me about scholarships and grants offered by my state — namely the Hope and Aspire scholarships — but I would have to attend an in-state college to qualify. If I attended the University of Tennessee (UT), I was also eligible for the UT Promise scholarship, which covered costs for tuition and fees that were not already covered by other financial aid.
UT wasn't as exclusive as some of the schools I first considered, but it did have a selective honors college and a selective music department, which satisfied my need for competitive admissions. I also liked the idea of being on such a large campus with an equally big student body. As the University of Tennessee's flagship campus and premier research institution, UT had more than 400 student organizations and a wide variety of multicultural organizations and classes to explore, including Arabic! The more I learned about it, the more it seemed like an exciting place to explore my interests in music and languages. In addition to the potential scholarships I might receive by attending UT, I could live at home my first year, which was another cost savings.
I decided to apply early action. I felt sure that I would get into UT and be offered good financial aid and so I didn't consider any other in-state universities or plan to apply to any other colleges -- which in hindsight might not have been the best idea.
Having Second Thoughts
About a month after I applied, I started feeling nervous about whether I would be admitted to UT, and whether I should have applied to only one school. I did not have a backup plan, other than attending community college and transferring to UT later. I also wondered if I had sold myself short by not applying to more schools, even if only for the sake of knowing if I could make it in or not.
Fortunately, before the end of my fall semester, I was accepted to the University of Tennessee as well as to its honors program! With the scholarships and grants I received from the university and the state, plus the federal Pell Grant, my college costs were almost completely covered. I even received additional scholarships from the university because my GPA and ACT score were higher than the scores of the average applicant. It felt really good to realize that I made the right decision in applying to a school where the state could help finance my education.
My ups and downs
Understanding my financial aid award was difficult. When I first opened my financial aid letter, I could not figure out if the scholarships in my award covered all of my tuition or if I still needed to apply for more aid. I also didn't see the UT Promise scholarship listed, which I was counting on.
Later, I met with a financial aid officer at UT and was told that I was not eligible for the Promise scholarship – which was a surprise – but I was getting the UT Pledge scholarship, which not only covered tuition and fees but also room and board costs! If I had known earlier that I was eligible for the Pledge scholarship, I would not have decided to live at home and would have instead lived on campus. Unfortunately, I found this out too late to change my plans.
What I learned
After getting admitted to Tennessee early, I wasn't motivated to complete applications for other colleges. It took some effort on my part to get through the whole application process, since I didn't have someone guiding me through it. Looking back, I wish I had persevered and researched and applied to more colleges -- especially to Wellesley. I am still curious to know whether I could have gotten admitted. Doing so would have given me a sense of pride --- and more choices if I hadn't been admitted to Tennessee.
The Money Factor
Scholarships and grants will cover more than 80 percent of my college costs, and I do not plan to take out any loans or work during my first year of college. I will need to reapply for certain scholarships yearly. Here's the full accounting:
Federal Pell Grant: $6,895
State Grants: $6,000
University Scholarships: $8,200
My advice
Learn as much as you can about financial aid. I wish I had more guidance on submitting the Free Application for Federal Student Aid (FAFSA) and understanding my financial aid offer. Take advantage of your high school counselors for help when you can. Counselors at my school offered abundant resources for how to submit the FAFSA, and they hosted help nights which I did not attend. If you have questions about your financial aid offer, address them right away with the college.
Find out what works best for you and go for it. I knew that in-state tuition was what I needed, and that the University of Tennessee would provide that and even more aid because of my academic record. Sometimes applying to just one school is all you need to do if you know exactly what you want.
How CollegeData Helped Me on My Road to College
CollegeData helped me review schools during the early parts of my college journey, when I was just discovering schools that may be a good fit for me. It was my introduction to many institutions, and my source of general information about colleges.