Gabby

- Xavier University - Class of 2023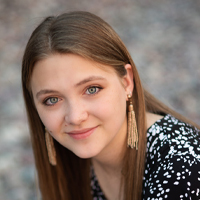 "Not taking care of yourself during the college application process only leads to stress and tears."
Hometown: Alburtis, PA
High School: Public
GPA: 3.8 (weighted)
ACT: 26
Major: Undeclared
Goals: Broaden my knowledge and world view; grow emotionally, mentally and academically
Freshman Update
My first week of classes was a small disaster. I started as an Exploratory Major because I wasn't quite sure what I wanted to do. I took Philosophy as part of this major and really disliked it. So, I booked an appointment with my advisor and talked to the Biology Department Chair and switched my major to biology, which I am very happy with.
College has always been a big, shiny achievement in my mind. My older brother and sister both attended four-year universities, and I wanted to live up to their college-entrance legacies. Vowing to do my best, I started working on my applications at the end of summer before my senior year. But I quickly found myself in over my head.
A busier-than-ever senior year
Besides taking challenging courses, I belonged to every possible group that let me practice my passion—music. By senior year, I was in four choirs. I also participated in student council and color guard, and I worked part-time 30 hours a week at a local restaurant.
When school started, I was overwhelmed with studying for classes (I was taking AP Biology, AP Calculus, and AP History), my job, my applications, piano and voice lessons, and concert performances. I wasn't getting much sleep. I also decided to take the ACT one last time to try to boost my score, so I was also studying for that.
One day, I came home from work sobbing, not knowing how I would finish all I had to do without passing out from exhaustion. I had a really helpful talk with my mom. Ultimately, I decided that I had to prioritize myself, my grades, and my applications.
A new plan
I gave my two-weeks notice at my job and cut down on practicing music. I made sure I got a decent amount of stress-free sleep each night. I kept checklists to stay organized and files for separate college documents. By taking this approach, I finished all my applications early, and was accepted to all of the schools to which I applied!
How I made my college choice
I wanted a mid-size college with a safe campus, strong study abroad programs and several highly-acclaimed schools within the university so I could explore different majors.
Duquesne University and Xavier University were my top choices. I loved both of them because they were in bigger cities than the other colleges I applied to and met most, if not all, of my requirements.
A few factors led me to choose Xavier University. 1) Xavier offered me a full-tuition scholarship. 2) I was impressed with the student resources Xavier had available, including tutoring, writing labs and success coaches, which gave me the sense that I would be valued as a whole person at Xavier. 3) I knew in my gut that Xavier just felt more like home to me.
My ups and downs
Cutting back on my music practice was extremely difficult. I was trying to do every musical activity I could to add to my resume and impress potential music schools, and I thought if I gave up any of it I would lose my competitive edge. But I realized that this wasn't true; ultimately, it would be my talent that spoke for me and not a long list of activities.
A high point was getting a complimentary note about my essay from an admissions officer. I wrote about a trip I took to Glacier National Park and how it sparked a thirst for adventure in my heart and led me to "redefine" adventure on my own terms.
What I learned
I learned the hard way that not taking care of yourself during the college application process only leads to stress and tears. Prioritizing yourself and your time is really important.
The money factor
A Tuition Exchange Grant from Xavier (which I was eligible for because my mother is a professor at another university) is paying for about 80% of my education. The rest is being funded by federal and private student loans, federal work-study, summer employment, and family contributions.
My advice
Give your teachers and counselors lots of time to write your letters of recommendation. I was nervous to ask my teachers for such a big favor, so I put it off until about a week before the letters were due. My teachers had to take time from their personal lives to write and submit my letters by the deadline. I wish I had given them more time.
Remember to take breaks from staring at computer screens, snuggle with your pets, go to that football game, or watch your favorite movie with friends. Enjoy your last year of high school before it slips away. It really does go by quickly!
Read More Student Stories:
| | | |
| --- | --- | --- |
| | Riley - Vanderbilt University "When I got home after touring Vanderbilt all I could think about was the fact that I had to wait 12 months to go to school there. Oh yeah, and I had to get in" | |
| | Audrey - St. Mary's College"Sit down with your parents and discuss what is realistic in regards to college. This includes distance, type of school, and most importantly money. It might be uncomfortable, but it is a necessary step." | |