Audrey

- St. Mary's College - Class of 2021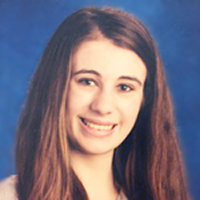 "Sit down with your parents and discuss what is realistic in regards to college. This includes distance, type of school, and most importantly money. It might be uncomfortable, but it is a necessary step."
Hometown: San Francisco, CA
High School GPA: 3.93/4.29 (weighted)
SAT: 1360
Major: History
When it came to applying to college, I had every teenager's dream: my parents left it completely up to me. There were no questions, no nagging, no limits -- and no direction. As my older brother did not apply to a four year university, this was my parents' first experience with the college admission process since they had applied themselves. I felt like I was forging my college path alone, and I didn't know what I was doing.
Touring colleges to create my list
Being a strong student, I felt I had a lot of options, but that made choosing colleges overwhelming. At first, I was looking at small, liberal arts colleges because they were similar to my private Catholic high school, with the small community and individual attention.
But as I toured more schools across the county, my top choice became the University of Oregon. I was surprised how much I liked it considering it was not anything like the colleges I had been focusing on. It had a beautiful campus and all the amazing resources of a large university, yet it still had a small-school vibe. I also was really attracted to its honors college, which had a smaller community.
St. Mary's steps up
My first acceptance was from St. Mary's College of California. I was really happy about it, and so were my parents when they saw the large merit scholarship they offered me. St. Mary's wasn't my top choice. It was just a half-hour's drive from home and a lot of students from my high school went there. I didn't want college to be a continuation of high school; I really wanted to branch out, gain new perspectives, and experience an independent life.
As I received more acceptances, especially to U-Oregon, Boston University, and St. Olaf in Minnesota, I was thrilled! While my offers all came with scholarships, none were as large as St. Mary's. University of Oregon, in fact, was going to be quite expensive because I'd be paying out-of-state tuition.
My parents have their say
When I sat down with my parents to discuss my options, they weren't as excited about my acceptances as I was. They seemed interested only in the scholarships. Then, they told me they didn't want me attending college far from home. They wanted me to stick with colleges on the West Coast. This was news to me! Why had they let me tour -- and apply to -- so many schools across the country if they felt this way?
Over the next few days, I thought about what I actually felt ready for. I realized it probably was not moving to a state I knew nothing about, like Minnesota. University of Oregon was closer to home, but it was going to cost an extra $80,000 over the next four years compared to St. Mary's, and I wasn't sure it was worth it. St. Mary's was a great school with lots of opportunities and a small community. I also liked that they had a "Jan Term" where students spend the month of January taking just one class and have many opportunities to travel outside of the country. With the money I'd be saving on tuition, I could afford to travel in college.
So I chose St. Mary's. At first, I felt like I really compromised on my college choice. But since I'm the one who can make my college experience as boring or as exciting as I want it to be, I'm going to make the best of it.
My ups and downs
I think the hardest part was discussing my college choices with my parents. I was annoyed that I had wasted time on applications and visits to schools my parents weren't willing to consider. I wished I had known about this limitation earlier; I could have crossed a lot of schools off my list.
The best moment was when I saw all my hard work in high school pay off. I felt this in my acceptances but especially with the scholarships I received. The scholarships made me feel valued, like the schools wanted me for what I would bring to the campus.
What I learned
I wish I hadn't visited all my schools during senior year. I felt like I was cramming and it was hard to take the time needed to really consider each one. Instead, I'd visit all my colleges during sophomore and junior year and try to have a somewhat solid list before senior year began.
But the visits are important! Looking at colleges online did not give me an accurate sense of the school. Seeing the students, facilities, and surrounding neighborhood, allowed me to really picture myself on campus.
The money factor
My scholarship covers all of my tuition. I am only paying for books, room, and board. My family is able to cover these costs without a loan.
My advice
Don't take a school you love off your list just because the total cost of attendance is too high. If you are a good student, scholarships are a real possibility.

Most important, before you apply to colleges, sit down with your parents and discuss what is realistic in terms of college. This includes distance from home, type of school, and most importantly money. Ask them where they see you going and what they can contribute financially. It might be uncomfortable, but it is a necessary step.
Read More Student Stories:
| | | |
| --- | --- | --- |
| | Sophie - UCLA "When I was waitlisted at UCLA, I didn't have much hope. From what I'd heard, hardly anyone gets off the UCLA waitlist." | |
| | Sydney - UC Berkeley "I was prepared to be rejected from all my reach schools and I tried not to have a clear favorite. I didn't want to get my hopes up." | |