Fatoumata

- University of Southern California - Class of 2027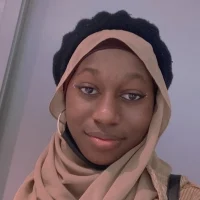 "Applying for admission to two competitive major programs was both exhilarating and daunting — and I was told "maybe" more than once."
Hometown: Hercules, CA
High School: Public
GPA: 3.91/4.1 (weighted)
SAT/ACT: Did not take
Major: Business Administration

Goals: Become a fashion designer/creative director and/or entrepreneur with my own fashion brand as well as a published author of fiction.
Cornell had been my dream school ever since the fourth grade. My mother went to an Ivy League school and part of me wanted to follow in her footsteps. I toured Cornell and fell in love with the campus and with its specialized Fashion Design and Management Program for undergraduates that seemed like a perfect fit for my career goals.
My top choice after Cornell was the University of Southern California's World Bachelor's in Business (WBB) program, which gives students the chance to study in Los Angeles, Hong Kong, and Milan. It is highly selective, admitting only 45 students each year. I also liked Thomas Jefferson which offered both bachelor's and master's degrees in fashion merchandising and UC Davis which had a major in general design that included a few fashion courses and was my least expensive option.
Applying Early with Extra (and Terrifying) Requirements
I was committed to applying to Cornell early decision to show my enthusiasm. I also had to apply early action to USC to be considered for the WBB program. This accelerated my admissions process. On top of the earlier application deadlines, Cornell's fashion program asked for a business proposal for a fashion product line, USC required a pre-recorded interview, and both applications included several supplemental essays.
Doing the pre-recorded interview was terrifying. Overcome with nerves, I asked my mom to sit in on the interview. Though she wasn't on camera, having her with me made me feel calm. First, I was given a few practice questions. I had only so many seconds to answer each question. When the real interview began, I was definitely caught off guard when I was asked different questions from the practice round. Luckily, I had a 10-second thinking window before the filming began. It was a little awkward and sometimes I didn't have time to fully formulate my answer, but I think since I had been practicing all day I was able to stay composed.
I also struggled a little with my Common App essay. I had so many facets to my personality that I wanted to highlight, but I found it hard to incorporate them all into one coherent essay. I went through three different concepts before I chose to use colors to describe different aspects of myself. Using prompt #7: "Share an essay on any topic of your choice," I described how six different colors shaped me as a person by using personification similar to how Pixar personified emotions for their 2015 movie Inside Out. I was able to weave in personality traits such as my drive, passion, and creativity and mention various artworks I've created.
Call Me "Maybe"
On Cornell's early decision day, I was a nervous wreck. I kept trying to distract myself through music or cleaning the house. I prayed all day that I would get accepted, but also mentally prepared myself for getting rejected. Finally, at 7 PM EST came an email from the admission committee.
I hooked up my computer to the TV and set my phone to record my reaction. I was so nervous that I had to have my dad read the status update. When it was revealed that I had been deferred I felt a little defeated, but still hopeful because at least I wasn't rejected. My parents were very supportive, and they congratulated me for my valiant efforts. They surprised me with cake and Fanta soda (an inside joke amongst my family because my name is also Fanta).
Later, I wrote a letter of continued interest to Cornell, and asked its admission committee why I was deferred. They said they were concerned with aspects of my transcript but loved my supplemental essays and business proposal. I wasn't sure whether they were concerned with my "C" in college chemistry, or because I took college statistics instead of college calculus, but I'll never know for sure.
Next, I was deferred from USC and denied from the WBB program. But again, I had a second chance for admission during USC's regular decision round, so I was still very optimistic. USC didn't allow me to submit any additional supplements or letters, so there was nothing else I could do.
Regular Decisions Bring Better News
Then March came around and the UCs began to get back to me. I was extremely relieved when I got into both UC Irvine and UC San Diego after having so many friends get rejected from these and other UCs.
USC's decision came out a few days later and getting the email that there was an update sent shivers up my spine. When I saw the digital confetti, I didn't believe that I got accepted. I was like, this has to be a joke. The letter said I had been selected with 1,000 other students to begin my Trojan journey in the Spring of 2024 – not in the fall of 2023.
I was confused. Was I being waitlisted? Was this another "maybe"?
I went to USC's website and learned that USC admits some qualified students in the spring, when more spaces become available as people graduate early or study abroad. I was guaranteed a spot at USC – I just had to start my freshman year a little later!
Although I hadn't heard back yet from Cornell, I felt ready to accept USC's offer after comparing it to my other options. I had been admitted to Thomas Jefferson, but on top of being out of state, it had a huge price tag that wasn't fully covered by financial aid. And, UC Davis, while affordable, was located in a secluded rural area where I might have a harder time getting internships.
A Surprise Offer from Cornell
Then I received my decision from Cornell. I was denied, but they offered me the opportunity to transfer sophomore year to their College of Human Ecology – if I met specific requirements.
I was grateful for this offer – and for a couple of days I considered it. However, I wasn't guaranteed admission, and at this point, it seemed desperate to apply to Cornell again as a transfer student.
Plus, although I wanted to make the dreams of my fourth-grade-self come true, over the past few months, my romanticization of Cornell had begun to fade. I realized that I would be extremely far from my family and transportation would be expensive. I was also having second thoughts about pursuing such a hyper-specialized major in fashion. I wouldn't have anything to fall back on if a career in fashion wasn't successful.
I didn't want to go to USC with the idea of transferring to another college in the back of my mind. I was tired of being told "maybe." I wanted to give USC a fair chance.
A Trojan Welcome
I made my decision at USC's admitted students' event, where I felt the amazing school spirit as I watched the students dance to the amazing Trojan Marching Band. I felt my brain come alive when I saw the incubators and business simulation rooms. I had no idea that this type of education was possible; I wanted to start learning right away! I met my admissions counselor, who welcomed me with open arms and told me how much she liked my application. I felt like USC saw me for who I am, both inside and outside of the classroom, and that mattered. Meeting faculty, current students, and witnessing the strength of the Trojan network solidified my decision to attend USC. I am excited to be a part of such a supportive community!
What I Learned
There are advantages to being a spring admit: I was initially worried that it might be hard to meet people starting college in the spring, but then I met a bunch of other spring admits and learned that USC has special events for us too. I will also get to take a break from school to focus on myself and my fashion business and spend time with my family. The only drawback is that I do not have guaranteed housing.
Try not to fixate on your class rank. It might not matter as much as you think. I was ranked in the top 50 percent of my senior class and my top schools only admitted students in the top 10 percent. I was so focused on my ranking and how it would affect my admission, that I ignored the fact that most selective colleges look at more than just your grades. They look at your extracurriculars and what you do inside and outside of the classroom.
The Money Factor
USC's need-based aid is covering 87 percent of my tuition and fees. I was also awarded several private scholarships, which will cover the rest of my tuition and most of my meal plan. My parents will be paying for my books, transportation and small fees. I'll pay for my remaining expenses with work-study and summer jobs. I don't plan to take out any loans due to religious reasons.
My Advice
Find a mentor: I worked with a mentor through College Essay Guy's Matchlighters Scholars Program, which provided students with free access to college counselors. She workshopped essay ideas with me, helped me manage stress, provided advice, and helped me stay organized.
Academics isn't everything. Your college will be your home for the next four to five years. Considering a college's student body and surrounding community is important, because if you don't enjoy the company you keep, it may be hard for you to focus on the education you are there for.
How CollegeData Helped Me on My Road to College
CollegeData's College Search gave me a broad overview of each college and helped me find colleges that matched my broad wants such as size, sports, and tuition. I've been using College Search since middle school when I was dreaming of what college I wanted to go to. Now I use CollegeData to help me search for scholarships. I am constantly on the lookout for ways to pay for college, so this tool has been a great aid!