Elizabeth

- Northwestern University - Class of 2023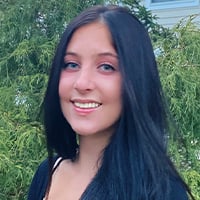 "It is important to do your research and truly think about each school you're considering applying to. By knowing the exact reasons why I wanted to apply to Northwestern, it made it much easier to decide that it was the right school for me."
Hometown: Mamaronek, NY
High School GPA: 98.6 /100 (weighted)
SAT: 1530
Extracurriculars: National Honor Society treasurer; varsity soccer team captain; student senate; Students Against Destructive Decisions (SADD); Key Club; band (Flute); volunteer at Reach Out and Read and Cerebral Palsy of Westchester; summer job as a lifeguard at local country club.
Major: Learning and Organizational Change
Goals: Discover my passions, meet other like-minded individuals, become involved in the campus community, make meaningful friendships
When I first started my college search, I heavily considered the "rank," "name," and prestige of the school. In high school, math was definitely my best subject and I was interested in potentially going to an undergraduate business school. Around my sophomore year, I became obsessed with the idea of going to University of Pennsylvania's Wharton School of Business – not because I knew a lot about the school and its student life, but because of the school's ranking and prestige.
The Importance of Doing Research
However, over time, once I started doing more research and became more educated, I realized that there are so many other factors that would influence my college search – and that the University of Pennsylvania may not be the best fit for me. It was not all about rank and having an undergraduate business school, but also about the location of the school, size, school spirit, variety of extracurricular opportunities (such as clubs, organizations, and Greek Life), and study abroad opportunities.
After doing some research and talking to some older students I knew who attended UPenn, I felt the school didn't have the strong school spirit and sports culture that I was looking for in a school. This was one of the main reasons why I chose not to apply to UPenn in the end.
I also realized that I did not have to close myself off by only applying to colleges with undergraduate business schools. Prior to doing any research, I thought the only way you could get a successful job in the business field or get into a good business school was to go to a college with an undergraduate business school. However, in reality, I learned through my research, college visits, and chats with current undergraduate students that you don't need a business degree to work in business. I also discovered that many employers value a liberal arts education -- and the analytic, teamwork, and communication skills that accompany it, which are all necessary to have in the business world. This is when I started to consider and learn about other colleges – including Northwestern.
Northwestern Is the Clear Top Choice
I visited seven schools, Northwestern being the first one out of the seven that I visited. This was the first time I had ever been to the campus – and I fell in love with it right away. I went for a guided tour and I was blown away by the beauty of the campus and was in awe of the resources and programs available on campus. Also, while I was nervous about the quarter system and how fast-paced it is, on the tour they explained how the quarter system really allows you to have time explore various majors and career paths – and take the classes that interest you.
Additionally, I was really drawn to the close-knit community and how friendly everyone was on campus. I remember asking a student walking by if she had any lunch recommendations – she was so happy to help and ended up giving a long list of places that we should try. That small interaction made me really excited about the people at Northwestern. Throughout all of the other six tours I went on (Vanderbilt, Washington University in St. Louis, Emory, University of Michigan, Duke, and Cornell), I always had Northwestern on the back of my mind. While there were aspects of each school I liked, there was no question that Northwestern was my favorite school.
To ED or not to ED?
After an extensive amount of research, visits to seven different schools, and a lot of thought, I applied to Northwestern early decision. While Northwestern is still a very highly ranked school, there were so many other more important reasons why I eventually chose to apply early decision (ED) there. First and foremost, my mom is a Northwestern alumna, and she raved about her experience from the valuable lessons she learned to the lifelong friends she made. However, I was never forced to apply to Northwestern because of my mom and the legacy pressure. While my mom encouraged me to look into applying to Northwestern, I ended up making the decision to apply completely on my own.
I really wanted a school with a nice campus that was close to a city, yet not directly in a city. Northwestern ticks all of those boxes as it has a beautiful campus, right on Lake Michigan. Also, Evanston, where Northwestern is located, is a really cute city, very close to the great city of Chicago. I was also looking for a school that was not too large, but not too small. I thought that Northwestern was the perfect medium-sized option – with just about 8,500 undergraduate students.
Furthermore, I wished to go to a school with strong school spirit. At Northwestern, there is prominent sports culture and strong Big 10 school spirit that was very inviting and really stood out to me. Not only did I want a school with strong school spirit and social life, I also I wanted a school with a strong, rigorous academic culture. I hoped for a good, rewarding balance between work and a social life. Northwestern definitely has strong academics – and a lot of opportunities for students to take advantage of. Even though there is no undergraduate business school, Northwestern offers a business minor and many extracurricular activities and clubs related to business.
Northwestern was my clear top-choice college – and even though if I was accepted, I would have to attend, that was okay with me. I knew that applying early decision would help my chances of getting in, so I decided to take the risk and apply.
An ED Strategy and Hard Work Pay Off
I made sure that I spent the time to perfect my personal essay and my Northwestern supplemental essays. I was confident, yet nervous when making the decision to apply ED to Northwestern. I knew I had a strong application and a good chance of getting in, but with college admissions, you never know what is going to happen.
I remember when I was in the middle of getting ready for my band concert, I saw that the Northwestern Admissions Instagram posted a picture congratulating the accepted ED students. A felt a rush of nervousness and excitement as I ran to grab my computer. Sitting at the kitchen table with my family gathered around, I opened the decision, and saw the 'Congratulations' on the screen. I cried of happiness and jumped up to hug my family, who were all screaming – and at that moment, I knew my hard work had paid off. I was going to my dream school!
My Ups and Downs
While I had my heart set on applying to Northwestern, I still was applying to three other schools early action (EA) – Indiana, UVA, and Michigan. Also, if Northwestern did not work out, I knew I had to apply regular decision to some schools. However, I procrastinated on my EA and regular decision supplements and became very stressed and overwhelmed about getting them done. On top of trying to get my supplements done, I was taking five AP classes and had soccer every day after school.
I think one of the best moments of the process was finishing my personal essay and my Northwestern supplement essay. Both my personal essay and Northwestern supplement took a very long time to write and perfect. It took me about two to three months to finalize an idea for my personal essay and then another two months to write and perfect it, while my supplement essay took a little over a month. However, the time and hard work paid off as I was very proud and happy with how my essays turned out. I was very confident about my essays and thought they were definitely a strong part of my application.
What I Learned
Applying to college is a very long and hard process. However, I learned that it is important to do your research and truly think hard about each school that you are considering applying to. By knowing the exact reasons why I wanted to apply to Northwestern, it made it much easier to decide that it was the right school for me.
Also, I learned that a school having a high "rank" should not be the sole reason why you apply there. In the beginning of my college application process, I thought that the Wharton School of Business at UPenn was the place for me – just because of its high ranking. However, there are so many other factors that go into your college decision. And, yes, while Northwestern is high ranking, it was definitely not the main reason why I wanted to apply.
The Money Factor
I am very lucky that my parents have been saving for college since I was very young.
My Advice
Start your essays over the summer before your senior year and take your time. This will reduce a lot of stress during the school year.
Visit schools in person or schedule virtual tours/chats. I thought that visiting the schools and going on tours was the most helpful to me throughout my college application and admission process. Actually going to the school and getting a firsthand view of what the campus was like and how the students interacted really helped me get a feel for the school and see if it was a good fit for me. If you do not have the opportunity to visit schools in person, I highly recommend going on virtual tours and trying out virtual chats to get a better feel of the schools you are thinking about.
If you are thinking of applying early decision, make sure you put in a lot of thought and do a lot of research. Early decision is definitely not for everyone, but if you are truly passionate about a certain school, then I say go for it!