Sydney

- Emory University - Class of 2026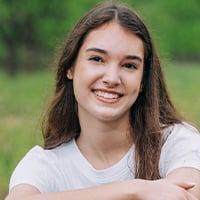 "I am okay with not being exactly what every university wants. I worked hard at the things I cared about because I cared about them -- not to get into a certain university."

Hometown:

Gainesville, FL
High School:

Public
GPA:

4.4 (w) / 4.0 (uw)
ACT:

32
Major:

Neuroscience
Goals:

Graduate school or medical school

Extracurriculars:

Started and led a nonprofit organization, received state and national awards for public service, participated in dance, student council, National Honor Society, and French Honor Society.
I started a nonprofit when I was nine years old that is still running today. I was a straight-A student, with national awards for service including one from a former U.S. President. I've been on "The Today Show," featured in Parade Magazine, and I am fluent in three languages. For these reasons, people acted like I would get in anywhere I applied. I heard it often and did not believe it. So, I only applied to schools I thought I would actually want to attend and that might choose me, too.
Looking for a budget-friendly liberal arts college
I began my college search with a small, liberal arts college in mind; one with a good reputation and diverse student body. Vanderbilt, Barnard and Emory were on my list, but so were large universities such as UNC Chapel Hill and University of Texas.
I really wanted to go to an out-of-state college, but the budget my parents and I discussed would pay for only an in-state public school. My parents were very open about their budget and told me I would need to apply for scholarships. While they said I could apply anywhere, I needed to keep in mind the extent to which they were willing and able to help me.
UT Austin or UNC Chapel Hill?
For a while I was certain I'd be attending the University of Texas at Austin. It was the only university I was able to visit prior to acceptance due to the pandemic. Getting accepted was very exciting. At the time, my family lived in Texas, so UT was an in-state college and the most affordable option.
Then I visited the University of North Carolina at Chapel Hill after I was accepted, and I just loved the school and the town. I was impressed by the honors college, the students seemed friendly, and I even identified some clubs that I could join. It just seemed like a great fit.
My mom and I met with the UNC financial aid and admissions offices during our visit. I expressed how thankful I was to be admitted to the university and the honors college. I explained that I really wanted to attend, but the out-of-state tuition with no scholarships made the cost much more than my other options in-state. While they were kind and understood, there was nothing more they could offer.
In the end, I decided to attend UT Austin. I liked the college, and unlike the other schools that admitted me, the price was within my parents' budget.
A surprise from mom, dad, and EMORY
Just before I graduated from high school, both my parents got new jobs in Florida and announced they would be moving there over the summer. The cost of traveling from UT Austin to visit my parents was going to be expensive.
Then, I got off the waitlist at Emory. I could not believe it! Emory was a reach for me. I was thrilled. It was a great match being a smaller institution, and now, being located in Georgia, it was also much closer to my parents. The only problem was the price – it was over my parents' budget.
I had two great options and a choice to make. I could attend a wonderful, large university, end up debt free by the end of college, but also be two flights away from family. Or I could attend a wonderful small university, owe money when I graduate and be only five hours away from family.
a financial decision
My parents told me that Emory was not an option due to the high tuition. Without scholarships from Emory, I would have to take out loans, repayment for which I would be responsible.
And then Emory offered me two scholarships and suddenly it was something we could consider! With the scholarships—and when I factored in what I'd save in travel expenses (about $10,000!), my cost to attend Emory wasn't too far off from my parent's original budget. My parents' budget would cover almost three and a half years at Emory; I would need to pay for my last semester. I called the financial aid office and asked if the scholarships were renewable, so I would know what to expect each year – and they were.
Auto Payment
I wanted to show my parents how much I wanted this and what I was willing to give up, and over the summer I sold my car and worked at a restaurant to help pay for college. I will continue to work during school and in the summers – tutoring Spanish, babysitting, pet sitting, housesitting, and working other jobs to pay for my last semester at Emory.
I'm looking forward to my future at college. I want to take every class at Emory – it's going to be hard to choose.
My Advice
Applying to college is like a lottery; you may get the call, and you might not. Put your best on the application and don't worry about anyone else. If you don't get into a certain college, don't feel ashamed. Like the lottery, you didn't "lose," you simply didn't win.
Be authentic. It was important to me that my application reflect who I actually am. That way, if a university determined that I wasn't a good fit, they may well have been right. It was sad to be rejected from some colleges, but I am okay with not being exactly what every university wants. I worked hard at the things I cared about because I cared about them, not to get into a certain university.
How CollegeData Helped Me on My Road to College
CollegeData, Niche, College Scorecard, and Unigo were my family's top places for advice, reviews, suggestions, ideas, scholarships and anything we could learn about the process.