Aanand

- Columbia University - Class of 2020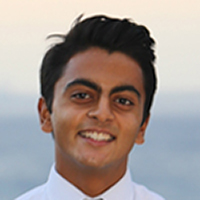 "Don't be intimidated if you go to a smaller high school or have fewer extracurricular opportunities. Colleges consider what you do with what you have."
Hometown: Davidson, NC / Kadena AFB, Okinawa, Japan
High School: Public
GPA: 4.0/4.39 (weighted)
ACT: 34
Major: Economics and Math
Goals: Learn, make connections, and prepare to attend a great law school
Harvard and Yale were my first choices, not necessarily because I thought I'd enjoy them but because of their rankings. But I was nervous. I had good grades, but I didn't have the typical list of extracurricular and academic achievements other Ivy League applicants typically have on their college applications.
Making do with limited extracurriculars
My mom is an officer in the U.S. Air Force, and I spent my last years of high school on a military base in Okinawa, Japan, at a school with limited access to things like robotics, AP classes, and SAT/ACT prep. I had to take advantage of the opportunities I had available and make some of my own. I joined as many clubs as possible, played sports, and acted in plays. I also worked hard to improve my test scores (using test prep books), eventually achieving a 34 on the ACT.
Visiting Colleges from Japan
I couldn't visit any colleges, either, so I had to gauge the "feel" of a campus from college websites and YouTube videos. Fortunately, I am an outgoing, adaptive person, with an "I'll love wherever I go!" mentality.
In December, I was elated to find out that I got into UNC-Chapel Hill, my safety school. It was a relief knowing that I was going to college for sure. But Ivy Decision Day was one of the saddest days of my life. I was denied or waitlisted by all my Ivy League schools.
Falcons, Bears, or Blue Devils?
For the entire month of April, I struggled to decide between the Air Force Academy, UC Berkeley, and Duke. My mom, the Air Force officer, zeroed in on the Academy. My dad, the mathematical thinker, calculated that Duke would be best. Me? I was attracted to UC Berkeley's fun atmosphere and great urban location near San Francisco.
After admitting I didn't want the restrictive environment of the Air Force Academy, I explored Duke and Berkeley. Duke had been very communicative with me throughout the admission process. My admissions officer sent me a handwritten congratulations card, and my parents received personalized emails, plus bumper stickers and banners. We really felt included in the Duke "family." When I considered Duke's highly ranked academics, small class sizes and community atmosphere, Berkeley seemed too big. I chose Duke just before midnight on May 1, happy to be a Blue Devil!
Columbia comes a-calling
When I woke up to an "application update" email from Columbia, I freaked out! I was accepted off its waitlist! I scrambled out of bed, ran to my dad, who was sipping coffee and watching the news, and told him. He freaked out too!
But choosing to leave Duke was far from a no-brainer. I had found a roommate and made friends through the Facebook group. I felt a little intimidated by Columbia's big-city atmosphere and late to the party since everyone had chosen roommates. But I reminded myself, the reason I applied to such difficult colleges wasn't to find the right "fit" or family or Facebook group--it was to learn, make connections, and become a competitive professional. I couldn't deny myself such an incredible opportunity. Letting my "rankings" mentality take over, I withdrew from Duke and set my sights on Columbia.
My ups and downs
Most of the time, I worried whether I'd done enough extracurriculars, scored high enough on my tests, and proofread my essays often enough. I especially struggled with my essays. I wrote two different essays, picked one, and then scrapped it in favor of the other. Despite the stress, it felt wonderful to read the word "Congratulations" from any school. There's no feeling quite like it, except when you ask someone to prom and they say yes.
What I learned
At first, I considered whether or not I got accepted to a college as validation of whether I'd worked hard enough. But as time went on, I learned to take my rejections with a grain of salt. I was applying to the most competitive schools in the world. If I'm confident that I did my best and tried my hardest, then not getting in simply meant it was not the right school for me. Life goes on.
The money factor
Fortunately, Columbia gave me enough aid to match Duke's cost of attendance, removing the financial factor from my decision. I hope to earn an ROTC scholarship, but otherwise, my parents are footing the bill.
My advice
Don't be intimidated if you go to a smaller school or have fewer extracurricular or academic opportunities. Colleges consider what you do with what you have.

Applying to college takes dedication, but it's worth it to commit to the process. Too many of my friends with potential didn't apply to schools they could have gotten into because applying took so much time and effort. If you don't put in the work, you won't have a chance to reap the rewards.
Read More Student Stories:
| | | |
| --- | --- | --- |
| | Vita - Wellesley College "You have to put your authentic self into the process of applying to college. My voice and enthusiasm were my strongest qualifications. So I made sure both were present in my essay." | |
| | Alexander - Stanford University "I hoped my essay would highlight the intensely human element of my journey, which couldn't really be seen through my activities, transcript, or test scores." | |