6 Things You Should Do After Submitting a College Application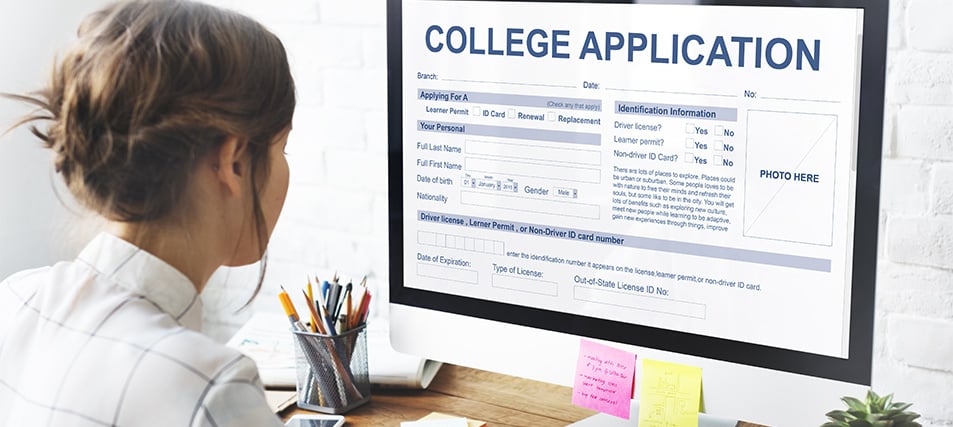 By Matt Musico
The day you've been dreaming about has finally arrived – you just submitted your college applications! Here's what to do next.
Most of the important work is done. You've built a thoughtful list full of colleges you're excited about attending, you've written an awesome college essay, and you stayed organized while completing all the pieces of these applications. Let's not forget how much work that is – it's a lot and you did a great job of getting it all done. That must feel good!
However, once you hit that submit button and wait for admission offices to receive each piece of your application, there are several things you should be doing while waiting for decisions to be released.
1. Registering for Online Applicant Portals
Although it varies by school, you'll likely get an official "Thanks for applying to [XYZ school]" email anywhere between two and 10 business days after your application has been submitted and downloaded. Most schools will also send information in these emails regarding how to access and register for their online applicant portal.
When you receive this information, create an account and put your login information in a safe place. Having access to the college's applicant portal will allow you to confirm what an admission office has received and what they're still waiting to process and add to your file. Also, many colleges release admission decisions via their respective portals, so you'll need to have an account set up to find out whether you've been accepted or not.
I advise students to make a habit of periodically checking applicant portals – maybe once a week or so. This not only ensures their application is complete and ready for review leading up to a deadline, but they can also check for any communication from the admission office that may require a response or an action to be taken.
2. Completing Supplemental Application Requirements
Yes, while your application is complete and submitted to various colleges, there still may be more work for you to complete before your file will be considered ready for review. This extra work will vary by college.
Some colleges may not have any supplemental short essays in their application itself or in the Common Application, but they will appear in your portal once you have access to it. For example, the University of Delaware has done this in recent years for students who submitted applications under their test-optional policy.
Other institutions like Bowdoin College for example want students to answer questions via recorded video, and that information isn't available until after you've officially submitted your application. Alternatively, schools like Brown University require your video intro to be submitted by the regular college application deadline.
The most common "extra work" I've seen in recent years includes the Self-Reported Academic Record, also known as the SRAR. This is essentially an opportunity for you to self-report your transcript, and generally requires you to include all courses and final grades for each year of high school, as well as your grade 12 courses in progress.
How this is used can vary by college, but the University of Pittsburgh uses the SRAR in place of your official high school transcript during the admission committee review process. Pittsburgh makes this an optional part of your application, but there are other colleges, like Penn State University, that require the SRAR to be complete prior to reviewing your application. Colleges will send an email with directions on how to complete the SRAR, and many times, you'll need access to your online applicant portal to successfully submit it.
3. Submitting Necessary Financial Aid Forms
It's critical to submit your application for admission by the published deadlines or they won't be considered. But there are also deadlines to submit financial aid forms to the colleges on your list. There are two main forms that might need to get filled out and submitted: the FAFSA and the CSS Profile.
The FAFSA is the more universal financial aid form that colleges need. It's required for students who want to be considered for federal student loans, grants, and federal work-study programs, as well as qualifying for state and institutional scholarships. This mostly concerns any need-based aid that a student would be eligible to receive within their financial aid packages.
The CSS Profile is an additional form some colleges require. Colleges will use this form to award institutional aid to eligible students. Here's a list of colleges that require the CSS Profile.
These forms are similar to the Common App because you only need to complete each one once before sending it to all the colleges on your list. The CSS Profile only needs to be completed prior to freshman year, while the FAFSA must be completed each year you're in college.
You'll likely need help from your parents to complete these forms because they each ask financial questions you probably don't know the answers to. Make sure everyone in your family is aware of what needs to be completed and by when, so it's all submitted prior to the stated deadlines on each college's financial aid website.
4. Scheduling an Interview (If Possible)
As part of your research process, you'll find out which colleges on your list require or recommend interviews, and which ones don't offer them. In some cases, students will be able to interview once they've applied for admission.
The thought of having an interview can be anxiety-provoking, but those nerves will dwindle a bit if you prepare. I often tell students to anticipate common questions, be yourself, and have your own questions ready to ask.
It's also helpful to do research on that specific school before the interview. If you're scheduling one after applying, though, you've probably already researched the school to make sure it's a good fit for you. To get more details on the above tips and more suggestions on how to have a great college interview, check out this article.
5. Demonstrating Interest in Colleges
It's possible that you've already engaged with the colleges on your list in some way prior to applying, but if you haven't done so yet, now is a great time to start. You can engage with a college in different forms, such as an in-person or virtual campus visit, meeting a college rep at your high school or a college fair, following the admissions office on social media, or any other type of in-person or virtual event experience.
The schools on your list may offer a variety of opportunities for you to engage with them via specific admission-related events like campus visits, information sessions, or academic program events. This is important because as part of the evaluation process, some admission offices will consider a student's level of demonstrated interest when making decisions.
Demonstrated interest is typically not considered at highly selective colleges and large public universities. However, institutions that don't fall into either of those categories are more likely to be interested in knowing if you hold their campus in high regard. It can be difficult to figure out which schools consider demonstrated interest and which don't, but this information can be found in the college profiles here on CollegeData. For example, demonstrated interest is very important at Sacred Heart University, and that's reflected in their profile, which you can see on CollegeData under the "Admissions" tab and scrolling down to the "Selection of Students" section.
6. Maintaining Good Grades
Another benefit of completing applications is that it allows you to solely focus on being a high school senior again. And that means keeping your grades up and staying involved in your extracurricular activities. Your academic progress throughout senior year will be sent to colleges in the form of a midyear report and your final transcript. You've worked hard for three-plus years prior to applying to college. Make sure you finish your high school career strong by staying engaged.
Completing and submitting college applications is a huge accomplishment that should be celebrated accordingly. A lot of work has gone into it, and finally hitting the submit button likely feels like reaching the top of Mount Everest. However, even when you reach the summit, you can't stop paying attention on your way back down the mountain. After officially becoming an applicant, and putting your best foot forward in your application, stay engaged and pay attention to the details. That way, you'll put yourself in the best possible position to receive good news from admission offices.
Matt Musico is a full-time sportswriter, but he's also spent the better part of a decade working in higher education. Half of that time was spent working in an undergraduate admissions office, while the other half has involved working with high school families as a private college counselor.
The views, thoughts, and opinions expressed in this article belong solely to the author, and not necessarily to CollegeData, 1st Financial Bank USA or any other person or entity. All liability with respect to actions taken or not taken based on the contents of this article are hereby expressly disclaimed.