6 Tips to Finish Your School Year Strong, Prep for College, and Stay Hopeful
Here are six tips and resources to help you finish your school year and keep your college plans on track.
As COVID restrictions on social distancing begin to lift in many parts of the U.S., some students will get to experience a more traditional end to the school year, including smaller but in-person graduation ceremonies and proms. Many colleges and high schools are also looking forward to a "more normal" college and high school experience this fall. Even so, life isn't completely back to normal. Here are some tips for navigating the rest of the school year during the latest phase of COVID-19.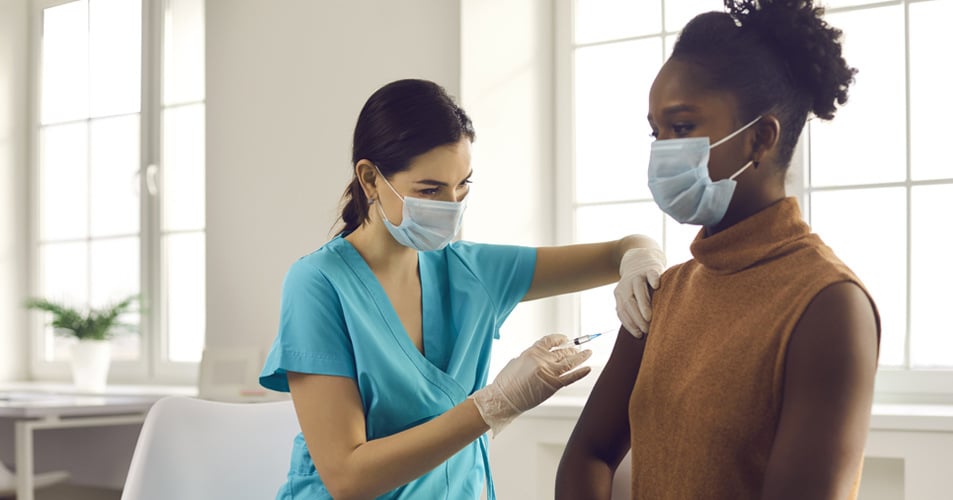 1. Know Your School's COVID Vaccine Requirements
Most high schools and colleges consider vaccination an important step towards returning to normalcy and are encouraging incoming and returning students to get the COVID-19 vaccine prior to the 2021-2022 school year. Some colleges are even offering incentives to motivate students to get vaccinated. For example, the University of North Carolina at Greensboro entered vaccinated students into a lottery to win free housing, meal plans and other prizes. Rowan University in New Jersey is giving $1,000 to vaccinated students who plan to live on campus.
Yet, most colleges have stopped short of mandating COVID vaccines for legal and privacy reasons. But recently, several colleges including Boston University, University of Michigan, Princeton University and UCLA, announced that they will require COVID vaccinations for all students on campus by the beginning of the 2021 school year. Now's the time to find out if vaccination will be required at your school.

2. Prepare for Changes to AP Tests
The 2021 Advanced Placement tests will be different than last year's shorter, online, open-note exams. This year, students will take full-length tests and notes will not be allowed. Depending on what your school decides, you'll take either a digital version of the test on your computer at home, or you'll take either a digital or pencil and paper version of the test at school or at another testing location.
For security reasons, all students worldwide will take their AP tests at the same time: at 12 noon EDT or at 4 pm EDT, depending on the subject of the test. One of the most significant changes to the test is that students who take the digital exam will not be able to go back to questions they previously answered or skipped. The College Board recommends that students download the testing app and practice using it well in advance of the test date.
The Princeton Review put together some helpful videos with last-minute test-prep tips and an overview of the security measures and changes in this year's test.
Also see the College Board website for important steps to take before the AP Test, which include technology requirements and directions for downloading the digital testing app and

the AP test schedule

.

3. Plan Creative Graduation Ceremonies and High School Proms
Social distancing has changed the way we gather, especially to celebrate milestones like graduation and prom. As pandemic restrictions loosen, some high schools and colleges are re-thinking graduation and organizing hybrid virtual and in-person celebrations, although many schools are cancelling large graduation ceremonies and indoor proms.
Regardless of what type of prom or graduation your school has planned, remember that the important thing is to celebrate your graduation and all you and your friends have accomplished! As people have showed us throughout the COVID pandemic, a little creativity can make any celebration meaningful and fun.
Take a look at these unconventional ways to celebrate the senior class of 2021 and tips for throwing a socially distant graduation party

.

Even if your senior prom is being held in your backyard or online, you can still dress up. What's a hot fashion trend for pandemic-era proms? Matching face masks and bow ties

!

Speaking of prom fashion—Duck® brand Duct Tape's "Stuck at Prom®" scholarship contest is accepting applicants until June 9. Entrants have to create a high school prom dress, tuxedo or other prom outfit completely out of duct tape. For inspiration, or to just appreciate amazing design talent, see Duck Brand's gallery of past's winners.




4. Cope with Waitlists and Heal from Rejection
The increase in the number of test-optional and test-blind colleges has correlated with a record number of college applications at the most sought-after schools. As a result, waitlist offers and denials also increased. It's not fun to experience a waitlist or a flat-out denial, but this year especially, you won't be alone. Here are some resources to help yourself—or your friends—cope with a college denial or waitlist offer.
First, go ahead and wallow in your hurt/angry/sad feelings---for a limited time. According to Psychology Today it's important to acknowledge your feelings, but to also make sure you don't descend into self-pity or self-criticism. Take some time for yourself. Perhaps have one of these comfort foods as a treat, or read about all the wildly successful people who also got rejected from their dream colleges.
Next, take steps to move on. Start by reading these tips from CollegeData for dealing with a rejection or waitlist.
Finally, help others: Cheering up any friends who were denied from their dream schools will not only help your friends, but also help you. Here are some suggestions from Teen Vogue on how to comfort friends who were rejected from their dream college.
5. Study Smart for Finals
At the end of the school year, it can be challenging to stay focused on your schoolwork. If you have final exams coming up, or if you want to improve your study habits before your next academic term, check out these science-backed study tips and ways college students can prepare for finals.
Also, even though you've been admitted to college, your grades from your last semester of senior year are still important. If your grades slip the last semester of senior year, your admission offer could be in jeopardy. Here are some tips for fighting senioritis.
6. Be Productive this Summer
Looser or fewer COVID restrictions may provide more opportunities than last summer to get involved in your community, gain work experience, or explore an academic interest. Here are a few different ways, some virtual, that you can spend your summer.
Volunteer. Discover volunteer opportunities in your local area at VolunteerMatch.org. Consider getting involved with one of the campaigns organized by DoSomething.org, or start a petition for a cause you care about at

Change.org

.
Plan an independent project. Summer academic or arts programs sponsored by colleges can be an impressive thing to add to your college resume. But taking on a summer project of your own design can also help you stand out to colleges.

For some guidance, check out this four-week, pay-what-you-can seminar on

designing and executing an independent project

.

Take a high school or college class. Your local high school or community college might be offering summer sessions—either in-person or online. Plus, many colleges outside of your local area offer free or fee-based online access to their courses.

See this list of

24 free Ivy League online courses

you can take this summer, regardless of your GPA.
We Are Rooting for You!
We know that high school and college life has been challenging for many of you this past year. We wish you and your loved-ones a happy, healthy and safe end-of-school year, as well as joyful celebrations of all you have accomplished during this unprecedented time.